27 June 2022 / Laura Garvin Gomez
Top 10 Best Essential Oils
Discover the best and most popular essential oils to keep in your aromatherapy collection.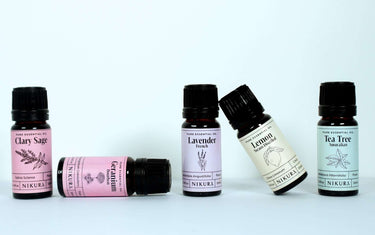 There's a whole sea of essential oils out there to choose from...
And sometimes the sheer variety can be extremely overwhelming, particularly if you're new to the world of aromatherapy.
Whether you're looking for a calming scent to soothe you to sleep, a new cleaning agent for your sparkly, newly installed kitchen set, or a remedy for a painful series of cramps, knowing which is the best essential oil for what purpose may seem like an almost impossible task.
Thankfully, we're here to help with our list of the top 10 essential oils that every aspiring aromatherapist should have in their collection, and tips for how they can help you.
Which essential oils are the best?
Lavender oil
Known as the "mother plant" of modern aromatherapy, lavender essential oil must unmistakably take the number one position on this list. Its popularity in recent years has soared, thanks to its incredible sedative abilities, its effects on the limbic system, and its calming scent.
The smell of lavender is said to help stimulate the olfactory systems in the brain, which in turn stimulates mood, heart rate, and blood pressure to facilitate a relaxing and fulfilling night of sleep, as well as a calm and de-stressed mind.
Lavender's significant anti-inflammatory properties can also be used in the treatment of burns and wounds. In fact, lavender was famously used by French chemist Rene-Maurice Gattefosse for this purpose. Gattefosse later coined the term "aromatherapy" as a result of his experience with lavender oil.
On top of these great qualities, lavender can also help dispel low moods, treat infection, reduce pain and strengthen hair.
Lemon oil
Refreshing and energising with a positively invigorating effect, lemon essential oil is a classic and diverse addition to any collection.
Producing a light and citrusy aroma, lemon is a popular ingredient in many home cleaners due to its powerful antibacterial properties. A study conducted in 2019 even declared lemon as one of the most effective pure essential oils against bacteria and other microbes.
Lemon has also been known to be effective against acne and skin inflammation, and can often be found in facial toners and cleansers. This oil's astringent properties also benefit this purpose, as they allow for tighter, brighter skin and reduced pores.
Unlike other essential oils, lemon can be extracted in two different ways: cold pressing and steam distillation. If you plan to apply this oil to the skin, we generally recommend using our steam distilled lemon essential oil, as cold-pressed citrus oils may produce phototoxic effects.
Rosemary oil
Having recently skyrocketed in the aromatherapy world due to its incredible benefits for hair growth, rosemary essential oil is the perfect modern pick. With a distinctive scent that is both floral and herbal, this Mediterranean oil gives a fresh boost to the mind and the body.
Using rosemary oil for hair has been said to improve thickness, promote growth, and prevent thinning. It also contains a number of benefits for scalp health, including reducing and preventing dandruff as well as stimulating blood flow.
Rosemary is also considered to be a great companion for study. A 2017 study found that the inhalation of rosemary improved the performance of several cognitive functions, including memory, alertness, and concentration.
Stress levels have been known to be impacted as well, with a study in 2007 finding a significant reduction in stress after 5 minutes of smelling rosemary.
Bergamot oil
Renowned for its incredibly uplifting properties, bergamot essential oil is another citrus oil that should not go unnoticed. Its abilities to promote positivity and mental clarity are unlike any other oil on this list, helping with several ailments from combating low moods and balancing emotions to reducing fatigue.
Like its citrus cousin lemon, bergamot is also known for its antibacterial properties, making it effective for cleaning and toning as well as promoting good oral hygiene. The presence of linalool in bergamot assists in boosting these properties, and can also help in producing pain-relieving qualities.
Bergamot can, however, be very phototoxic when applied to the skin. If you are looking to use this oil on your body, we recommend trying our Bergamot FCF Essential Oil, which contains all the same wonderful benefits without this harmful effect.
Learn more about the benefits of bergamot essential oil.
Frankincense oil
Famous for being given as a gift to Jesus in the Bible, Frankincense Essential Oil is so much more than just a festive addition to your wellness routine.
A smooth and velvety oil with a woody and luxurious aroma, frankincense carries a host of rich benefits that aren't necessarily as well known as other oils on this list.
Many studies have linked the use of frankincense with a healthy gut and good digestion, which can be facilitated by applying a diluted amount of the oil to the stomach a few times a week. Doing so may also create improvements to the skin, as frankincense is known to help reduce redness and irritation on the body, as well as act as an astringent.
Frankincense has also been shown to boost immunity and stimulate the body's responses, which in turn improves our energy levels as well as supports our general health. This makes it a particularly beneficial oil for the colder months where illnesses and low moods are particularly prevalent.
Learn more about the benefits of frankincense essential oil.
Clary sage oil
Soothing and calming with a sweet, floral scent, clary sage essential oil is a great ancient remedy for relaxation and renewal.
Dubbed as "the women's oil", clary sage is renowned for its properties in women's health and against menstrual symptoms, including cramp pain, mood swings and even the menopause, as well as its ability to balance and regulate hormones. These properties also make it a popular oil for inducing labour.
Clary sage has been labelled as an aphrodisiac throughout history, with its common presence in modern-day liquors often being linked to the sixteenth-century prediction that mixing alcohol and clary sage creates potent aphrodisiac effects.
Linked to heart health, this oil is said to boost circulation, which in turn helps to reduce stress on the mind and inflammation in the body. It is also known to be beneficial for skin health and can work as a great natural cleanser when diluted with vegetable oil.
Tea tree oil
Considered to be one of the most versatile essential oils for the body, tea tree essential oil has long been coined as 'a medicine cabinet in a bottle', due to its unbelievable number of restorative benefits. These include effects against several ailments such as bodily infections, bad breath and acne.
Tea tree oil's refreshing and classically herbaceous scent also contributes to its popularity, helping to relieve congestion and open up the airways during periods of illness.
Its antibacterial, antifungal, and antimicrobial effects have long been studied on different regions of the body, producing strong levels of success for wound healing in almost every case.
It is because of this that tea tree is so consistently present in beauty and lifestyle remedies including disinfectants, skin creams, and detergents among other household products.
Tea tree is perhaps most commonly found in shampoos and anti-dandruff remedies, due to its strong anti-inflammatory abilities that assist in aiding dry scalps and reducing dandruff. It is also considered to be a head lice repellent.
Lemongrass oil
Though the main benefits of this oil may be a bit more seasonal, it is still a great oil to feature in our top ten.
Lemongrass essential oil is widely known for being a strong insect repellent, particularly against flies and mosquitos, however its benefits span far beyond this.
Like many oils with citrus qualities, lemongrass is celebrated for its incredible antibacterial properties, which make it an ideal asset for home cleaning and upkeep.
These same properties are said to help prevent gastric damage and soothe gut irritation, promoting comfort and relief against digestive issues. It can also be applied topically to help relieve sore muscles as well as treat irritations and promote healthier skin.
A herbaceous oil with a refreshing lemony scent, diffusing lemongrass oil can help to lower stress levels and dispel negative emotions, as well as ease tension headaches and soothe sore muscles.
Learn more about the benefits of lemongrass essential oil.
Peppermint oil
Refreshing, stimulating, and naturally sweet, peppermint essential oil is nature's natural air freshener in a bottle. A popular choice among athletes, this oil is great for energising and uplifting, as well as improving breath flow due to its ability to increase ventilation in the body.
The levels of menthol present in peppermint can help it to clear your sinuses, making it particularly beneficial against colds, coughs, cases of flu, and other respiratory conditions. These same menthol properties can be used to benefit the skin, reducing levels of itchiness as well as soothing and cleansing irritations.
Peppermint's cooling, antispasmodic properties can also be used as natural painkillers, helping to soothe and relax sore muscles and reduce inflammation.
When diluted and applied to the abdomen, peppermint oil can help to relieve symptoms of irritable bowel syndrome and gastric stress, as well as promote general gut health.
In the summer months, Peppermint makes for a great spider repellent, commonly added to water and sprayed around the corners of the house to stop unwelcome infestations.
Learn more about the benefits of peppermint essential oil.
Eucalyptus oil
Another refreshing remedy for the airways, eucalyptus essential oil is ideal to have on hand during cold and flu season.
Rich and herbaceous with a strong menthol scent, eucalyptus is considered to be one of the most resourceful oils for use on the body.
The expectorant properties of eucalyptus are known to relieve congestion and cleanse the body, improving pressures in the sinuses as well as aiding productive coughs.
Its antimicrobial and anti-inflammatory effects have also been said to help fight infections and manage pain, including relief for tension headaches and earaches, as a result of these expectorant properties.
Eucalyptus is also known to repel rats from the home or garden, with studies showing their active avoidance of areas where the oil has been sprayed.
Learn more about the benefits of eucalyptus essential oil.
Frequently Asked Questions
Got your selection of essential oils ready to go, but still not entirely sure on how they work? These frequently asked questions can help tie up some loose ends.
Do I need a diffuser to use essential oils?
Diffusers, particularly electric diffusers, are sometimes marketed as the only advantageous way to use your essential oils - but this simply isn't true.
While electric diffusers are certainly handy, and learning how to use one may seem simple enough, they are by no means the only method by which you can enjoy the scent of your oils.
Other popular methods for using essential oils without a diffuser include room sprays, burners, adding to cushions or pillows, sprinkling in the bath, and even creating your own DIY reed diffusers.
Can I put essential oils directly onto my skin?
Essential oils are very potent substances, and while they have a number of benefits when applied directly onto the skin, this should never be done without first diluting the oil with a carrier oil.
Carrier oils, like essential oils, are natural products but with a much more gentle, lightweight consistency. A carrier oil can easily transport the benefits of the essential oil into your skin with minimal risk of irritation or damage.
Before topically applying an essential oil you should always perform a patch test to check for allergies and intolerances.
Our complete guide on how to dilute essential oils is a good point of reference if you're just getting started.
How to use essential oils?
There are countless ways to incorporate essential oils into your wellness routine; whether you're a seasoned aromatherapist or a complete beginner.
Some of the most popular uses for essential oils include:
You can learn more about what each of the uses can do for you by following our guide on how to use essential oils.
Since everyone is different, not all of these essential oils may work best for you. For example, you may prefer using citronella to repel pests instead of lemongrass, or perhaps you find the luxurious scent of myrrh more invigorating than frankincense.
Nevertheless, the popularity of these oils directly derives from their restorative effects, and many have been studied explicitly for their common purposes.
Feel free to play around with whatever essential oils you feel suit your needs and scent preferences, and don't be afraid to experiment with essential oil blends to find a remedy that targets all your wellness needs.
If you're unsure about where to start, why not try out one of our bespoke essential oil gift sets? Ranging from our starting 5 sets to our expansive 32 collection set, these oils are curated specifically for any and all of your aromatherapy needs.
Shop our essential oils here.