Fragrance Oils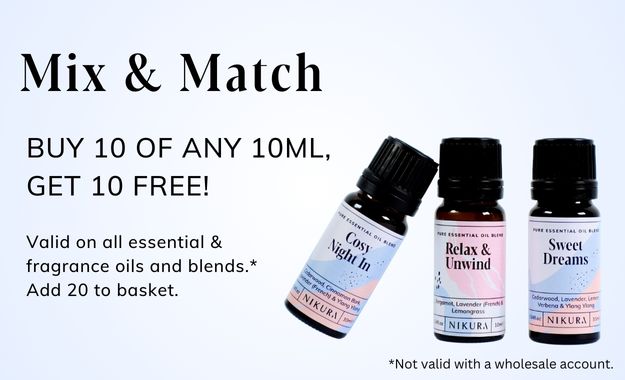 From classic florals and indulgent spices to vibrant fruits and nostalgic childhood favourites, our premium fragrance oils for candles, soaps and diffusers are designed to capture your imagination.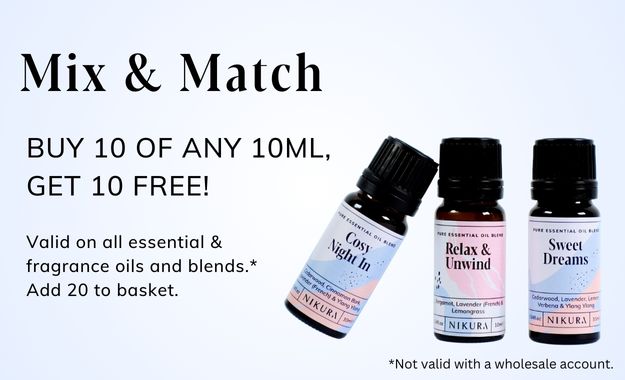 Information
What are fragrance oils?
We hear a lot about fragrance oils in the crafting world, but what is fragrance oil? Fragrance oils are substances created by perfumers to mimic a particular scent.
From fruity and fresh scents to baked goods, seasonal specialities, fruity fragrances and floral fantasies, the aromatic possibilities are endless. Many people tend to enjoy using fragrance oils for candle making, as well as creating soaps and wax melts.
What can fragrance oils be used for?
Much like our pure essential oils, our premium fragrance oils are perfect for making luxury candles and soaps due to their long-lasting, potent scents. Finding the right fragrance oils for wax melts is also an easy, streamlined experience.
Fragrance oils are also great for adding to slime, enhancing potpourri, and creating bath bombs, along with a wide range of other bath and body products.
Containing a bespoke, professional range of fragrance oils for candle making and fragrance oils for soaps, our Fine Fragrance range has been specially formulated for use in these sorts of projects and can produce a longer and stronger scent than other fragrance oils for candles.
Visit our blog to find recipes and guides on how to best use your fragrance oils for candle making, soap making, and many more.
What are the best fragrance oils for candles?
The great thing about fragrance oils for candles is that they can accommodate a number of scent preferences and possibilities, however, there are some fragrance oils that are considered most popular for use in candles.
Vanilla: This classic, luxurious scent is a great base fragrance oil for candle-making due to its rich and versatile scent. Our vanilla fragrance oils come in a number of varieties including Vanilla Bean, and Vanilla Cream.
Fresh Linen (Floral): Ideal for creating the timeless aroma of cleanliness, this premium fragrance oil combines delicate notes of baby powder and light musk with soft stains of lavender, jasmine, and tulip.
Sandalwood: Gentle and musky, this scent is a great choice if you tend to like more natural fragrance oils for candles. This fragrance oil is also a great base for classic and calming candle-making, combining soft florals with fresh earthy notes.
All of these fragrance oils for candles are also perfect for making luxury soaps, and can function as wax melt fragrance oils too.
How to use fragrance oils to make soaps
Another popular way to use our fragrance oils is in soap making. As with candles and wax melts, fragrance oils lend themselves very well to soaps due to their unique but powerful scents, as well as their easy formulas.
While soaps can be a little trickier to work with, we've broken down the steps into a handy beginner's guide to help get you started.
What's the difference between essential oils, fragrance oils and blends?
Essential oils are natural substances derived from plants, fruits, trees and herbs.
Fragrance oils, on the other hand, are created by perfumers to mimic a particular scent profile.
Learn more about the differences between fragrance oils and essential oils.
All of our essential oils are 100% pure and natural, and our homemade blends combine the essential oils to create bottles packed full of benefits for your wellbeing.
Why Nikura?
All of our premium fragrance oils are vegan, cruelty-free, and bottled by hand in the UK. We also provide wholesale rates for businesses.
How to buy wholesale fragrance oils
Are you a small business? Do you love making soaps, candles, wax melts, and more for yourself and others? Check out our wholesale page to enquire about our bulk fragrance oil pricing.
Frequently Asked Questions
The ideal fragrance load for candle wax generally falls between 6% and 10%.
Therefore, for 100g of wax, you would typically add between 6g to 10g of fragrance oil.
It's important to start with a lower amount and increase gradually, testing for desired scent strength.
Always follow the manufacturer's recommendations for both the wax and fragrance oil you're using to ensure optimal performance and safety.
You can find all of our fragrance oils right here at Nikura.
Learn more about how to measure fragrance oils for wax melts and candles.
Finding strong fragrance oils for wax melts, soaps, and candles is easy with our collection of fine fragrances.
Ranging from sweet and comforting to refreshing and floral, these oils will help make your next scent project the best one yet.
Sometimes the best fragrance oils for wax melts, candles, and soaps are the ones you've never even considered - like Baked Cinnamon Roll or Cream Soda.
Other times, it's the classics like Apple & Cinnamon or Fresh Sea Air that keep your family members and clients coming back for more.
If you're unsure of the best way to scent your creations, our list of the best fragrance oils for candles can help set you on the right path.
There could be several reasons why your homemade candles aren't emitting a strong fragrance. Firstly, you might not be using enough fragrance oil; typically, 6-10% of the wax's weight is recommended.
Secondly, the quality of fragrance oil matters. Lower quality oils may not give off strong scents. Thirdly, the scent might not be dispersing properly if you're adding the fragrance oil when the wax is too hot or too cool.
Finally, the type of wax can also affect the scent. Some waxes, like soy wax, don't carry scent as well as paraffin wax. Always follow the manufacturer's instructions for the best results.
Explore our range of fragrance oil supplies and pick your favourite scent, add the correct percentage and enjoy an incredible homemade candle!

You can use our fragrance load guide to help you along the way.
Most scented oils will create a good, clean burn without the need for worry. The main thing to focus on if you want your candles to burn well is the type of candle wax.
Soy wax is a good choice for those wishing to use fragrance oils for candles.
Yes, most fragrance oils can be used in soy candles, but it's crucial to ensure they are specifically designed for candle making to ensure proper scent throw and safety.
However, not all fragrance oils will perform the same in soy wax as they might in other types of wax. Soy wax often requires more fragrance oil to achieve a strong scent throw.
Additionally, some scents may not be as potent in soy wax compared to paraffin wax.
Always adhere to the recommended fragrance load of your specific wax and test your candles to achieve the desired scent strength.

Fragrance oils are ideal for use in candles because they provide excellent scent throws, long-lasting aromas, and easy-to-work with formulas - particularly if you're a beginner to candle making.
If you're looking for an easy, beginner-friendly recipe on how to make candles, you can check out our candle-making guide.
If you're not quite ready to dive into the world of candles, using fragrance oils for wax melts is a simple alternative that can be just as lovely for your home.
Our fragrance oils will give these tiny wax creations a powerful and long-lasting smell, while still keeping the process easy and stress-free.
Learn more about how to make wax melts.
Related Articles:
{ stuck = document.querySelector('#products').getBoundingClientRect().top < window.innerHeight - 10 && document.querySelector('#footer').getBoundingClientRect().top > window.innerHeight }" >