29 November 2022 / Laura Garvin Gomez
Best Fragrance Oils for Soap Making
Bring your homemade soap creations to life with this list of powerful yet comforting fragrances.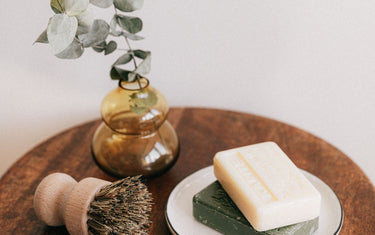 When it comes to soap making, you could say that the fragrance is almost as important as the functionality.
Having the right scent on your skin can change the way you feel during and after a bath or shower, although with so many fragrance oils to choose from you may need a little help finding the right one for you.
With that in mind, we've put together a short list of some of the best fragrance oils for soap making to give you an idea of some of the wonderful scents you can enjoy.
Learn more about the differences between fragrance oils vs essential oils when it comes to soap making.
What is the most popular fragrance for soap?
Given the huge range of fragrances available, it's well worth doing a little research before you put your hand in your pocket.
Whether you're new to soap making or an old hand, there is always something new and exciting to try. And if you are in search of some extra gifts for friends and family this Christmas, you could try your hand at making candy cane soap that looks just like the real thing.
Jasmine Fragrance Oil
With its light, uplifting scent, jasmine fragrance oil is the perfect fit for homemade soap.
Take one look at the product range in the skincare section of any supermarket or chemist and you'll see just how regularly it features in the ingredients. That's because the scent of jasmine can naturally evoke feelings of peace and serenity, while still maintaining a fragrant but classic aroma.
It is also one of the best oils to mix with lavender so if that is one of your favourite essential oils, you'll love how well the two blend together. The therapeutic properties within lavender can also help with skin inflammation, blotchiness, irritation and acne.
Fresh Linen (Floral) Fragrance Oil
If you can't get enough of the wonderful smell of washing taken out of the machine, then you could add some Fresh Linen (Floral) Fragrance Oil to your homemade soap.
It's the kind of smell that brings comfort and ease of mind, making everything feel clean and crisp.
Using this fragrance means you don't have to wait until laundry day to enjoy its aroma and can cherish that same relaxing sensation every day when you pick up a soap bar made with your own hands.
Ocean Breeze Fragrance Oil
When it comes to some fragrances, it can sometimes feel like they can only be enjoyed in certain locations or in specific circumstances.
But that isn't the case with the scent of the sea, and our Ocean Breeze Fragrance Oil bottles up the undeniable smell of the crisp and beautiful ocean for you to mix into your homemade soap bar.
It's a fresh and revitalising scent with notes of lemon zest, exotic florals and green melon, helping you to drift away imaging the cooling air of the big deep blue.
Cocoa Butter Fragrance Oil
The allure of cocoa butter remains as strong as ever and the scent is absolutely perfect for homemade soaps.
A combination of vanilla and coconut will leave your skin feeling fresh and revitalised, giving it the TLC it deserves every day.
Its popularity is no surprise, as cocoa butter is one of the most commonly used oils and fragrances in a wide range of beauty products.
If you are also a keen candle maker, or simply want to take in the scent around the home, the oil is also versatile enough for a whole host of other applications.
Cloudy Petals Fine Fragrance Oil
The unforgettable scent of fresh petals can feel heavenly and unlike anything else.
It's something you can enjoy at home by mixing in a few drops of our cloudy petals fine fragrance oil, adding some floral elegance to your homemade soap.
You'll quickly detect aromas of pear and orange, with a delightful base of rose, cedarwood and vanilla adding the finishing touch.
Use the oil for soap and candle recipes and also add it to an oil burner or diffuser to enjoy the aroma around your home.
Are there fine fragrances made for a long-lasting scent?
Given how frequently you will use your homemade soap, you may want to use a fine fragrance that has been specially formulated for a long-lasting scent.
These types of oils are made specifically for candles and soaps, so even under heavy use you won't have to worry so much about the scent fading away.
You can choose from a wonderful array of fragrance oils, with scents ranging from warming baked cinnamon bun and elderflower to sparkling dew and tantalising tropical sorbet.
How do I make my fragrance oil smell stronger?
Whether you are making soap with essential oils or fragrance oils, you will want to make the scent last as long as possible. There are a few things you can do to retain your favourite scent for longer, such as:
Using the correct amount of oil: Be sure to pay close attention to the recipe you are using, as different quantities are needed depending on the fragrance to get the right balance.
Use clay in the recipe: When using the cold press process, adding clay can intensify the scent of the oil. Kaolin, bentonite and French clay all work well, although some may change the colour of your soap, so ensure they match before starting the recipe.
Try a combination of oils: You may have more luck producing a stronger smell by using a combination of oils in your soap. Blending a top note, middle note and a base note could give it more balance once the soap is ready to use. You can learn more about what each of these notes mean in our blending guide.
Everyone has their favourite scent and even if you prefer to stick with what you know, rather than experimenting, some of the tips above will hopefully help you get more from your homemade soap.
Whether you use the cold press or melt and pour process, you'll never be short of fragrance oil options. And remember, you don't have to choose the most popular fragrance oil, just whatever one is right for you.
If you want some more tips on how to customise your soaps and make them the best they can be, you can check out our blog post here.
Shop our fragrance oil range here.
{ if (visible && product == e.detail.data) return; ready = false; const articleTop = document.querySelector('[data-article]').getBoundingClientRect().top + window.scrollY; $nextTick(() => { product = e.detail.data; selected = product.variants[0].id; ready = true; setTimeout(() => { top = e.detail.target.getBoundingClientRect().top + window.scrollY - articleTop; show(); }, 10) }) }" @scroll.window="close()" >