30 September 2022 / Laura Garvin Gomez
Essential Oils Blending Guide
Wanting to create your own unique scent combinations? This guide is for you.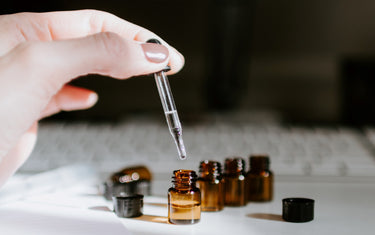 Let's face it, everyone has their favourite aroma that they simply can't get enough of.
Some of us may even have two or three that beam from every diffuser, light up every candle and adorn each home cleaner.
Occasionally, though, we might ask ourselves: "wouldn't it be so much easier if all my favourite scents were combined into one?"
Where do I start with making blended essential oils?
Learning how to make your own unique blended essential oils may seem like a daunting prospect, especially for those of us who are new to aromatherapy and perfumery.
While some may be led to believe that the perfect blend requires tons of complicated ratios and distinct formulas, the bottom line of essential oil blending is really just that simple - combining scents that you love.
Still not sure where to start? We've created a handy essential oil blending guide for those that want to dive a little deeper into the ins and outs of mixing essential oils.
Why do people blend essential oils?
There are multiple reasons why someone might choose to create their own essential oil blends.
For some, the appeal comes from wanting to replicate a real-life fragrance - like a refreshing ocean breeze, for example - into an all-natural oil.
For others, it can be a great way to make signature scents that can be used around the home, at weddings, or even in bespoke candles and soaps.
How To Blend Essential Oils
There are a few common methods for blending essential oils. These are largely separated into three main categories:
In short, you can choose whether you want your essential oil blend to simply smell good, be well balanced, or have a specific function.
1) Blending by purpose
Do you use your essential oils to relax and de-stress? For energy or for grounding your mind?
Essential oils themselves have a ton of different benefits that make them powerful, and combining these together can truly supercharge your wellness for the better.
You can find out more about what each essential oil can do for you here, but for now we're just going to break down some of the most popular oils for a few common purposes.
Essential oils for relaxation
Lavender (French)
Clary Sage
Cedarwood (Himalayan)
Bergamot
Ylang Ylang (Complete)
Essential oils for energy
Bergamot
Grapefruit (White)
Lemon
Peppermint (Piperita)
Tea Tree
Essential oils for grounding and centring
Lavender (French)
Frankincense Serrata (Indian)
Thyme (White)
Black Pepper
Geranium
This just scratches the surface of the purposes you could target with homemade blends, so feel free to get experimental by combining a few essential oils with similar benefits.
If you're just getting started, we recommend blending these oils in equal amounts, however feel free to play around with the ratios if there's a scent you prefer to be more prominent, or that works better for you.
2) Blending by scent
This is possibly the most self explanatory - and the simplest - blending method to wrap your head around.
The bottom line here is simply finding essential oils that smell great to you, and mixing them together into one big scent cocktail to diffuse around your home.
You may be thinking - but surely there are some oils that work better together than others? And, in theory, you would be right.
What pure essential oils blend well together?
Generally, it's advised to blend oils within the same fragrance "family", i.e. floral oils with florals, citrus with citrus etc., for the best results.
This isn't necessarily a cardinal rule, however, and it's a known fact that many different fragrance families can blend together just fine, without causing any major scent catastrophes.
If you do choose to blend different scent families, these rough guidelines may help decide which combinations work best for you.
Floral: Blends well with earthy, spicy and citrusy essential oils.
Citrus: Blends well with earthy, herbal, spicy and floral essential oils.
Herbal: Blends well with earthy and spicy essential oils.
Spicy: Blends well with earthy, citrus and floral essential oils.
Earthy: Blends well with citrus, herbal, spicy and floral essential oils.
3) Blending by note
If you've ever bought a nice perfume or been to any sort of beverage tasting, you may have heard the term "note" thrown around.
Unlike in music, these notes don't quite produce a sound but - much like music - they can be joined together to make a perfectly balanced, perfectly pleasant harmony around your home.
Essential oils all tend to evaporate at different speeds, so if you create a blend with a tiered selection of notes, the aroma is likely to last longer, as well as change slightly overtime to let a new scent shine through.
Top notes
These essential oils will be the very first ones you smell, and will also evaporate the quickest - as they are the lightest.
Some examples of essential oil top notes include: Bergamot, Lemon, Orange (Sweet), Eucalyptus (Chinese) and Sage.
These should make up 30% of your final blend.
Middle notes
Middle notes tend to bind the whole blend together, providing a consistent centre that is often made up of a strong herb, spice or flower.
Some examples of essential oil middle notes include: Lavender (French), Geranium, Cinnamon (Bark), Tea Tree and Rosemary.
These should make up 50% of your final blend.
Base notes
These oils take the longest - sometimes up to several days - to evaporate. They are heavy, often earthy scents that will help your blend last longer as well as balance out all the other aromas in your mix.
Some examples of essential oil base notes include: Cedarwood (Himalayan), Frankincense Serrata (Indian), Patchouli (Indonesian), Vetiver (Indian) and Peppermint (Piperita).
These should make up 20% of your final blend.
How many drops of essential oils to use per blend
Before starting any kind of blending, it's important to think about how much oil you're going to need overall. We always recommend starting with a small amount of oil and working your way up.
If you want to use your blend for topical application, you'll need a carrier oil to help apply the final product. A good rule of thumb is to use 15 drops per 30ml of carrier oil and mixing together.
When using your blend in soap or in a candle, we recommend following a trusted recipe like this one to ensure you're using the right amount of oil for your creation.
No matter how you choose to blend your oils, it's important to keep a note of which formulas you like best.
Be sure to have a pen and paper handy, as well as some empty bottles and caps, so you can test out the scent of each blend and note down how many drops of each oil you prefer.
Ultimately, just have fun! These oils are made with you and you only in mind, so don't worry if it doesn't come out perfect first time.
Shop our essential oil range here.
{ if (visible && product == e.detail.data) return; ready = false; const articleTop = document.querySelector('[data-article]').getBoundingClientRect().top + window.scrollY; $nextTick(() => { product = e.detail.data; selected = product.variants[0].id; ready = true; setTimeout(() => { top = e.detail.target.getBoundingClientRect().top + window.scrollY - articleTop; show(); }, 10) }) }" @scroll.window="close()" >