Essential Oils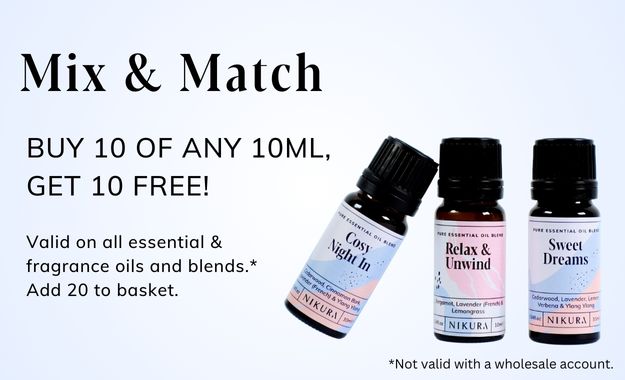 Essential oils have been used for centuries to benefit both body and mind - join the ancient tradition.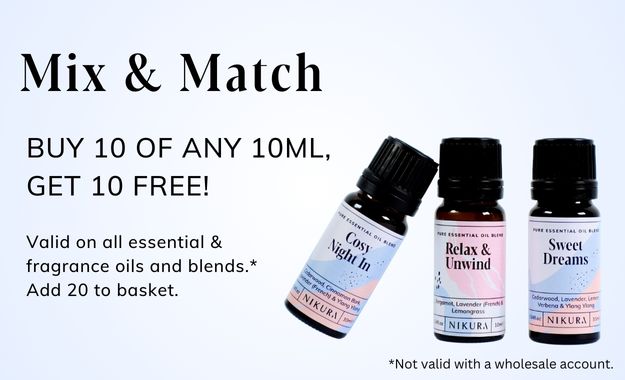 Information
What are the different types of essential oil?
Our pure essential oils have a variety of uses, benefits and scents to explore. Some floral essential oils such as clary sage, geranium and ylang ylang can help to relax and calm the mind, whereas citrus essential oils such as bergamot, orange and lemon tend to help with energy levels and stimulation.
Discover the right pure essential oils for you and your needs by visiting our blog to find out more.
Which essential oils are best?
Everyone is different, and therefore has different needs and uses for their essential oils. However, certain essential oils are considered to be the ideal basics for everyone's collection. These include:
Why are these natural essential oils considered the best?
What's the difference between essential oils, fragrance oils and blends?
Essential oils are natural substances derived from plants, fruits, trees and herbs. Fragrance oils, on the other hand, are created by perfumers to mimic a particular scent profile.
Learn more about the differences between essential oils and fragrance oils.
All of our essential oils are 100% pure and natural, and our homemade blends combine the essential oils to create bottles packed full of benefits for your wellbeing.
Can you use any essential oil in a diffuser?
Any one of our essential oils can be considered essential oils for diffuser use.
One of the best ways to experience aromatherapy is through inhalation, and electric diffusers allow for the seamless opportunity to enjoy their many benefits.
Diffuser can also fill your home with the scents of only the best essential oils, so feel free to treat yourself with some of your all-time favourites.
How are essential oils made?
The most common way to extract essential oils is through steam distillation. This involves using cold water and steam to extract the oil from its botanical.
Steam is passed through a dome-like vessel containing the plant material necessary for the essential oil. This releases the aromatic compounds of the plant and pushes them to the top of the vessel. These vapours are then sent to a cooling chamber where they condense.
This liquid is separated and collected, making a pure essential oil. Some citrus oils can be cold pressed as opposed to steam distilled, but most common oils will use this method as standard.
Can I pick more than one essential oil at once?
Can't decide on just one scent? Thankfully, you never have to!
Explore our range of pure essential oil gift sets and treat yourself or a friend to a variety of hand-picked scent collections. Alternatively, enjoy our range of pure essential oil starter kits for smaller aromatherapy duos and trios.
Lost on what to do with your quality essential oils? Try mixing them with our range of carrier oils to make a sleek and luxurious massage oil.
What can essential oils be used for?
Our pure essential oils have a variety of uses and benefits for the mind, body and soul. Traditionally, they are known to help with anything from hair growth to menstrual pain relief, and can even be used as effective insect repellents in the summertime. Our pure essential oils can also help to promote feelings of positivity, relaxation and focus.
You can also buy essential oils to be used in the making of candles, soaps and potpourri. Visit our blog for tailored recipes on how to get started.
Discover our range of pure essential oil blends made in-house to help target your specific needs and uses.
Why Nikura?
All of our quality essential oils are 100% pure and natural, as well as being vegan and cruelty-free. We are proud Aromatherapy Trade Council members, and all of our oils are bottled and boxed in the UK.
Frequently Asked Questions

Pure essential oils are brought directly from their method of extraction to the bottle, with little to no refinement done to them in the process. They are extremely concentrated plant extracts with powerful scents, meaning they are great for use in diffusers and oil burners.

Pure essential oils are usually distilled either through either steam distillation or cold pressing, though certain oils can also be solvent extracted. Pure essential oils should never be applied directly to the skin, and instead should be diluted with a carrier oil before use.
If you're looking for the best way to use your essential oils, look no further than an Aroma Oil Diffuser.
Diffusers are an easy way to circulate the scents of essential oils throughout your home and work as great fire-free substitutes for candles or oil burners. 
There are lots of oil diffuser scents available - from floral to fresh - that can help create an ambience in your home. 
Learning how to use diffusers for essential oils is simple. Most of the time, your chosen diffuser will come with instructions on how to set it up, as well as how to customise the settings to your liking. 
Still in need of more information? Check out our guide on how to use an electric diffuser. 
Once you've found the right aromatherapy oils for diffuser, all you need to do is add them to your model's water reservoir or similar compartment to start enjoying them. 
If you don't have an electric diffuser to hand, have a look at our guide on how to use essential oils without a diffuser. 
Not keen on using your essential oil for diffusers? Oil burners work in a similar way but follow a more traditional method. 
Most models will come with a small dish, which usually sits above an open candle. Add a few drops of your favourite oil to this dish, light the candle underneath, and enjoy. 
In the world of aromatherapy, organic essential oils are becoming increasingly popular.
This is because organic essential oils contain only natural ingredients, which means no plants that were sprayed with fertilisers, herbicides or pesticides.
This is a huge benefit to anyone looking to avoid toxic chemicals or enhance their essential oil treatment.
Diffuser oils, tea tree oil and many other high quality essential oils products are embracing natural and organic oils.
Several essential oils can help make a room smell fresh. These include lemon, eucalyptus, and peppermint for a clean, refreshing scent. Lavender, ylang ylang and chamomile provide a calming, soothing aroma.
For a warm, inviting fragrance, consider cinnamon or vanilla. You can also create blends for a unique scent.
Related Articles:
{ stuck = document.querySelector('#products').getBoundingClientRect().top < window.innerHeight - 10 && document.querySelector('#footer').getBoundingClientRect().top > window.innerHeight }" >