13 January 2023 / Laura Garvin Gomez
Can You Put Essential Oils in a Humidifier?
Unlock the benefits of aromatherapy by adding essential oils to your humidifier for a soothing and rejuvenating experience in the comfort of your own home.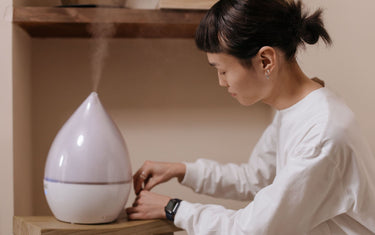 When late-autumn and winter arrive it's a good time to reach for the trusty humidifier to improve the air quality in your home.
Humidity levels are lower which means the air becomes drier leading to dry sinuses, skin and other annoying irritations. Turning on a humidifier can change all of that and make the indoor air much more comfortable to live in every day.
A common question we are asked is 'Can you put essential oils in a humidifier?" so we thought we'd explain more about essential oils, humidifiers and if they are compatible.
Should I use essential oils in a humidifier?
You should not put essential oils in a traditional humidifier as it could break the machine. This is because humidifiers emit a cool mist by blowing water through a wicking filter. Essential oils are very potent and if placed inside a humidifier could lead to the erosion of the plastic tank.
However, as an alternative, instead of using a traditional humidifier you could use an ultrasonic humidifier with essential oils as this will not harm the machine. It means you can enjoy all the health benefits in your home without any worries. An ultrasonic humidifier also works as an essential oil humidifier, which opens up a new world of health and scent possibilities.
Learn about whether you can use fragrance oils in a diffuser or humidifier.
How does an ultrasonic humidifier work?
An ultrasonic humidifier produces a warm or cool mist via a metal diaphragm that vibrates at a high frequency. This produces sound vibrations that are then able to emit the moisture or oil into the surrounding air.
You won't see any residue on nearby items as the molecules are no more than one micron in diameter and are absorbed almost immediately. Ultrasonic humidifiers are quieter than traditional humidifiers because there is no fan built into the technology and there is also no filter included in most models.
What essential oils can you use in an ultrasonic humidifier?
If you want to enjoy the scent of essential oils in humidifier types, you should try some of the below for starters. Or you could check out our blog on what we think are the 10 best essential oils for humidifier use.
Ease your mind and body with Lavender Essential Oil
Lemon Essential Oil brings a positive air to your home
Try Peppermint Essential Oil to improve the digestive system
Eucalyptus Essential Oil is great as a decongestant
Bring the smell of summer to your home with Orange Essential Oil
How to use a humidifier with essential oils
Once you've chosen your favourite oils, you're ready to add them to your humidifier. Here's how:
Always check with the manufacturer's instructions first to ensure your model is safe for using with essential oils.
Add a few drops of your chosen oils to the humidifier's water tank. We

recommend 5 to 8 drops for a 100ml tank.

Turn on your humidifier as normal. the scents should start to vaporise around the room.

For best results, use a cool mist and make sure you're cleaning your humidifier regularly.

Some humidifiers will come with a specialised essential oil tray - in this case, add your essential oils here instead.
While you must be careful about using essential oils in a traditional humidifier, it's good to know that there is a safe alternative available. Learn what the difference is between a diffuser vs humidifier.
Our selection of essential oils for a humidifier should give you a clearer idea of the many health benefits you could enjoy without needing to make any changes to your daily routine.
Start out with one or two oils in a humidifier, and then venture into exploring more of the wonderful world of essential oil aromatherapy.
{ if (visible && product == e.detail.data) return; ready = false; const articleTop = document.querySelector('[data-article]').getBoundingClientRect().top + window.scrollY; $nextTick(() => { product = e.detail.data; selected = product.variants[0].id; ready = true; setTimeout(() => { top = e.detail.target.getBoundingClientRect().top + window.scrollY - articleTop; show(); }, 10) }) }" @scroll.window="close()" >