25 October 2022 / Laura Garvin Gomez
The 10 Best Christmas Essential Oils
Festive cheer is never far away with essential oils to keep you merry and bright.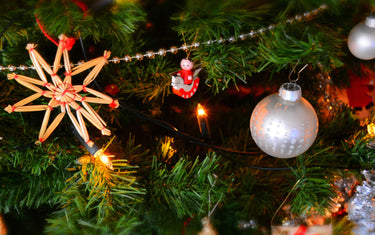 Everyone looks forward to the delicious array of food and drink on offer during the Christmas period.
And it's the memory of those food aromas that linger on long after the festivities have ended, giving us something to hold onto until late-December comes round again the following year.
You can replicate some of those aromas with the help of some essential oils, transforming your home into your own little Christmas paradise this year. We explain how with our list of the 10 best Christmas essential oils to use in your home.
What are the best essential oils for Christmas?
Our top ten essential oils for getting getting into the christmas spirit are:
Cinnamon
Frankincense
Nutmeg
Myrrh
Fir Needle
Sweet Orange
Clove Bud
Pine Needle
Lavender
Peppermint
1. Cinnamon
Cinnamon essential oil has a classic Christmas smell, bringing warmth and comfort to any home which makes it perfect for the winter season.
It's an age-old oil that has been used by healers, herbalist and therapists for centuries, and studies have shown that cinnamon oil can also offer a range of benefits such as:
Antioxidant qualities

Antifungal properties
Try a light spray of cinnamon bark oil on decorations (wreaths and pinecones, for example) to add a lighter fragrance to the air.
Sprinkle into festive candle projects or use a diffuser that will enable the smell to linger and help create a more relaxing mood for those cosy evenings tucked up inside away from the cold weather.
2. Frankincense
Another high entry on the list of Christmas essential oils is frankincense essential oil, which can be used to ease the mind and create a better all-round sense of wellbeing.
The oil is sourced from the Boswellia tree which is typically found in mountainous regions of African, Indian and the Middle East and may also be able to help with:
Asthma (suggested by

research)

Oral health (Based on

2016 study results

)
Frankincense oil can be inhaled or absorbed through the skin and when combined with other oils such as fir needle and cedarwood (4 drops of each) creates a wonderful aroma that will capture the imagination and set the right tone this Christmas.
3. Nutmeg
From eggnog and cake to cookies and mulled wine, there's a good chance that nutmeg will make an appearance in your diet during the festive season. Its aroma is earthy yet sweet, lined with a subtle hint of spiciness.
Nutmeg essential oil is often used for its flavour more than its health benefits, although there are some available, such as:
Antioxidants (nutmeg seeds are high in plant compounds

)

Antibacterial (it can help fight against

gum disease

)
Why not try a drop of nutmeg oil in a diffuser necklace to enjoy its aroma on the go or soak it into a warm bath at the end of a long day to soothe away your worries?
4. Myrrh
Traditional Chinese medicine has incorporated myrrh into its healing properties and the oil was also used heavily in ancient Egypt. It has a warm, earthy and spicy smell that many people use to relax and unwind.
Western science is also testing the potential uses of myrrh oil, with studies suggest it could help with:
Reducing airborne bacteria (to help

purify the air)

Supporting

skin health

(when mixed with Sandalwood

)
Myrrh essential oil can be used as a mood enhancer, which could be ideal during the more stressful periods of Christmas. Diffuse it to inhale the aroma or apply it to your skin using a carrier oil to make the most of your downtime.
5. Fir Needle
If you want to replicate the smell of a 'real' Christmas tree, then fir needle is one of the best festive essential oils to buy.
Fir needle essential oil has a fresh, wood aroma (just like a real fir tree) and it remains as popular as ever today for addressing a wide range of conditions, such as:
Fighting infections (due to its

antimicrobial and antioxidant agents)

Detoxification (Active compounds could trigger the removal of toxins

)
Fir needle oil has an uplifting smell that is closely associated with the festive holidays. Add a few drops to some of your Christmas décor or pine cones scattered around your home, or on some of the tree decorations, to really bring that smell of authenticity into your world this Christmas.
6. Orange
The smell of oranges and satsumas add a refreshing tone to the air, the citrusy aroma also being closely associated with a host of Christmas treats.
Sweet orange is one of the best Christmas essential oils thanks to its energising and bright nature, making it the perfect accompaniment for the holidays.
Many of the health benefits of orange oil are well known and they can also:
Support good

heart health(nutrients and plant compounds may help the heart

)

Help with anaemia prevention (

Vitamin C-rich foods

may help prevent the condition

)
The zesty aroma of orange essential oil is infectious, and it blends well with the likes of frankincense and ginger. Mix it in with some homemade potpourri along with some dried cinnamon sticks, pine cones and limes to make your home smell truly special.
7. Clove
Clove is one of the main ingredients in gingerbread baked goodies and is extremely versatile, bringing spicy and sweet flavour to all kinds of cakes and hot beverages.
Clove oil is also one of the most popular festive essential oils as many believe it can help to clear the senses and aid relaxation.
This may be because cloves are:
High in antioxidants (that can reduce

oxidative stress)

Able to kill bacteria (thanks to its

antimicrobial properties)
You can mix clove essential oil with other oils such as cinnamon, orange, fennel and ginger and there are a host of recipes and mixes for skin scrubs, pomander balls, diffuser blends and more you can enjoy over the holidays.
Remember to only use clove leaf essential oil diluted with a carrier oil on the skin, as clove bud could potentially cause irritations.
8. Pine Needle
If fir needle isn't the right aroma for you, then maybe try pine as an alternative if you are craving the smell of the beautiful evergreen tree.
As we all know, Christmas can be pretty stressful at times, so using pine needle essential oil could help to clear the mind a little.
Other health benefits associated with pine include:
Reducing inflammation (based on studies

on maritime pine bark

)

Improving heart health

(it could support a healthy cardiovascular system

)
There are no shortage of ways to incorporate pine needle oil in your Christmas routine. Add it to a diffuser to bring some Christmas cheer to your home or add it into some potpourri. You can even add it to some homemade candles to really enjoy its refreshing fragrance long into the night.
9. Lavender
For anyone who struggles to get to sleep at night, lavender has long been proven to help with relaxation.
Its fresh, floral smell is loved all year round, so while it is associated with the warmer months, it works just as well during Christmas too.
Lavender essential oil may also be able to help with:
Dealing with anxiety (large analysis

showed it could help with anxiety conditions

)

Hair loss (An animal study

found the oil stimulates hair growth

)
Lavender oil works great in a bath or diffuser, or you can just simply add it to your pillow. It's a light, refreshing smell that will give you that wonderful cosy feeling we all associate with Christmas.
10. Peppermint
Another refreshing fragrance to consider over the holidays is peppermint.
Everyone loves a cool tasting mint-flavoured mint over Christmas and it's a year-round favourite for teas and lots of other recipes.
Some studies have also shown that peppermint oil could:
Help calm nausea ( A 2021 study

found peppermint oil helped nausea in cancer patients

)

Offer

pain relief

(It could reduce headache pain and frequency

)
Peppermint essential oil is wonderful accompaniment for warm bubble baths, burned using a diffuser or applied to the skin so you can enjoy its enriching aroma for hours on end.
Whether you're planning a big or small Christmas this year, adding a few essential oils to your festivities is a great way to transform the ambience in your home.
This is just a small selection of the many oils that are available, so finding the right one to suit your tastes should be easy. And before you make any purchase, always be sure to read the ingredients and ensure it is appropriate for you and anyone else who may use it.
{ let idx = null; product.variants.forEach((v, i) => { if (v.featured_image && v.featured_image.id == $event.detail) { idx = i; } }); if (idx !== null) swiper.slideTo(idx, 0); }" x-init="() => { if (variants.length > 1) { const images = product.variants.map(v => { if (v.featured_image) { return `
`; } }) appendSlides(images); } else { if (product.featured_image) { appendSlides(`
`); } } }" >
{ if (visible && product == e.detail.data) return; ready = false; const articleTop = document.querySelector('[data-article]').getBoundingClientRect().top + window.scrollY; $nextTick(() => { product = e.detail.data; selected = product.variants[0].id; ready = true; setTimeout(() => { top = e.detail.target.getBoundingClientRect().top + window.scrollY - articleTop; show(); }, 10) }) }" @scroll.window="close()" >