10 min read / 6 October 2023 / yasmin sharp
10 Benefits and Uses of Clove Oil
Clove oil has great benefits for gut and oral health, and can fight against infection.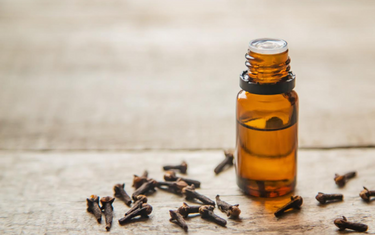 From working as a natural dental anaesthetic to improving gut health, clove oil uses go far beyond simple seasonal food and drink flavouring.
Cloves have been an integral part of traditional and folk medicines in Ayurveda treatments and Chinese medicine, providing a host of anti-parasitic, antiviral, antioxidant and antimicrobial properties.
Its warm, comforting scent is always a favourite around the festive period and is equally as popular within the aromatherapy community, who find the fragrance helps to create a calm, relaxing atmosphere.
The oil is stacked with natural properties that could prove beneficial for our mental and physical wellness, so in this article we look at the benefits of clove oil, how it works, how to use it and much more.
What is clove oil?
Clove oil, otherwise known by its Latin name, Eugenia Caryophyllata, is extracted via steam distillation from the buds and leaves of the clove tree.
The clove tree is native to Indonesia in Southeast Asia, and it has long been used in traditional Chinese medicine practises to address a wide range of low-level health concerns.
This is where its long-held association with oral health stems from, which is still true today, with clove oil also being used to combat infections, lower high blood pressure and improve certain digestive issues.
There are two types of clove oil:
Clove bud oil: This contains higher levels of eugenol, which gives it a stronger scent and more potency. This is why clove bud oil is not recommended for topical usage, as it can be very toxic and dangerous for skin.
Clove leaf oil: Clove leaf oil has a milder scent and medicinal effect, so as long as it is properly diluted with a carrier oil, it is considered safer to apply topically.
Both variants provide similar clove oil benefits, but there is a big difference in how and where they can be used.
How does clove oil work?
A major component of clove oil, eugenol, is often listed as an ingredient in mouthwashes, toothpastes and medications prescribed by dentists.
As we highlight below, eugenol works as a natural anaesthetic, and it also has mild antibacterial properties that can offer pain relief for a few hours (although it should only be used with direction from a qualified, professional dentist).
The natural anti-inflammatory properties can help to reduce irritation and swelling in the affected area.
In fact, a study published in the British Journal of Oral and Maxillofacial Surgery stated that using a eugenol-based paste was more effective at reducing infection, inflammation and pain than a placebo or a 0.2% chlorhexidine-based gel.
Benefits of clove essential oil
Some of the most prominent benefits of clove oil include:
1. Boosting the immune system
Clove essential oil extracted from the bud and leaf can prove very useful in combating infections and boosting the immune system.
Researchers discovered this to be the case in a study conducted in 2005 when they concluded clove oil was very effective against candida infections.
A study focussed on the same subject found in 2012 that the oil was also able to fight off staph infections.
A major component of clove oil, eugenol, has also been shown to boost the immune system, helping the body to combat cold and flu symptoms.
2. Easing toothache pain
Clove oil has been used in traditional Chinese medicine practices for thousands of years, with its ability to soothe toothaches and prevent dental erosion well documented.
Applying clove oil to a sore tooth numbs the surrounding nerves for up to 3 hours, offering short, but much welcome relief for the individual.
A study conducted in 2008 compared the numbing effects of clove oil to the most commonly used dental numbing agent, benzocaine, concluding that the oil was just as effective.
Clove bud oil should never be applied to the gums due to its high concentration levels. Before using clove oil to relieve a toothache you should first speak with a qualified medical professional.
3. Improving gut health
The topical application of clove bud oil to the abdomen could help to treat several gut health issues, including motion sickness, bloating, stomach pain, indigestion and flatulence.
A 2018 study found that clove was able to prevent the formation of ulcers in the digestive system by boosting gastric mucus production, which helped to protect the digestive tract lining.
And away from the laboratory, there is plenty of anecdotal evidence provided by people who say that clove bud oil has eased a wide range of issues caused by various gastric conditions.
4. Protecting the skin
When clove oil is applied topically, users can benefit from its anti-inflammatory, antifungal and antibacterial properties, which can help to prevent a variety of skin conditions and fungal infections.
A 2017 study found that clove oil can help to reduce chronic itching, with participants revealing they saw a significant drop in skin irritation and the sensation that causes them to scratch.
It should also be noted that although both varieties of clove oil contain antimicrobial properties, you should only ever use clove oil for topical application and after it has been diluted with a carrier oil.
There are also some important guidelines to be aware of regarding the use of clove oil if you are pregnant or going through the menopause.
5. Potential anti-cancer properties
A 2014 study looked at how effective clove oil could be against cancer cells in vitro (tested in a dish or test tube). Researchers discovered some positive results, finding that in certain quantities, clove oil could prove toxic to cancer cells.
Another in vitro study was published the same year, with researchers finding that the growth of several cancer cell lines was stopped by clove oil.
These included cells associated with colon, cervical and breast cancer. In addition, clove extract disrupted cell division and increased cell death in a colon cancer cell line.
6. Boosting heart health and lowering blood pressure
A 2015 study concluded that eugenol, the main component of clove oil, "may be therapeutically useful as an antihypertensive agent."
Although more research is required in this area, this demonstrates the potential for clove oil to help people with hypertension or high blood pressure.
An animal study conducted in 2012 also found that clove extract can moderate blood sugar levels in mice with diabetes.
In another animal and test tube study, researchers looked at how effective clove extract and nigericin could be in treating mice with diabetes and human muscle cells.
They were both found to increase cell blood sugar intake, whilst also boosting insulin secretion, which improved the cells that produce insulin.
7. Promoting liver health
Animal research has found the eugenol compound could prove beneficial in improving liver health.
One study saw a variety of fatty liver disease mixtures containing either eugenol or clove oil, fed to rats. Researchers found that liver function improved by both mixtures, helping to lower oxidative stress and liver inflammation.
Another animal study found that signs of liver scarring and liver cirrhosis could be reversed through use of eugenol.
There has only been limited research into the effectiveness of eugenol and clove on liver health in humans.
One small study found that glutathione-S-transferases (GSTs) levels, a body of enzymes that are often associated as a marker of liver diseases, were reduced after taking eugenol supplements for 1 week.
8. Strengthening bone health
It is estimated that more than 200 million people suffer with osteoporosis, with millions more also managing a low bone mass condition that can lead to the development of the more serious condition.
Some animal research has found that clove oil compounds can preserve bone mass, with a 2011 study finding that clove extracts high in eugenol improved several high markers of osteoporosis, whilst also boosting bone strength and density.
Another animal study found that a 12-week course of manganese supplements (which is a major component of cloves) increased both bone growth and mineral density.
Studies into the effects on human bone formation are currently very limited, so much more data is required before any real conclusions can be drawn.
9. Helping dry skin
An aforementioned study identified that clove oil can help to relieve chronic itching, which also makes it particularly useful in improving dry skin.
It explains why so many people include it as part of their daily skincare routine, diluting with a carrier oil before applying topically to the skin.
Many people find it helpful as a natural agent that can reduce the appearance of tired looking eyes, puffy skin and stretch marks.
10. Supporting mental health
Whilst there are many potential clove oil benefits that can aid the body, it can also play an important role in supporting good mental health.
Topical application is the most common use, although absorbing the fragrance through aromatherapy allows people to enjoy the warm, aromatic scent, helping them to relax and cope with moments of stress and anxiety.
The oil is a popular ingredient for many soap, potpourri and candle recipes and also works well when diluted and added to a warm bath or massaged into the skin to help the body relax.
How to use clove oil
Common uses of clove oil include:
As a skincare agent
To enjoy the benefits of clove essential oil on your skin, add a couple of drops to a carrier oil of choice (it works particularly well with jojoba oil) or to a skin cream or lotion and apply to the areas you need.
As an aromatherapeutic agent
Diffusing clove essential oil allows you to experience the warm, spicy scent in the comfort of your own home.
Add 5-7 drops of the oil to a diffuser and allow the fragrance to slowly fill the room.
Another option could be to inhale directly from the bottle or to add a few drops to a handkerchief so you can breathe in the various clove oil benefits on the go.
History of clove oil
Historians have documented that Chinese medicine has been using cloves since at least 22BC.
Stories from the period reveal how people wishing to speak with an emperor were often asked to chew on dried flower buds and clove spice to prevent exposing them to bad breath.
Inhabitants of the Spice Islands also revered clove, with a new tree planted upon the birth of a child, in the belief that it would link the life cycle of child to that of the tree.
Clove oil has a strong medicinal history which still appeals to many people today, who use it to either existing commercial medicines or as a natural chemical and drug-free alternative.
Clove oil FAQs
Can anyone use clove essential oil?
If you are taking selective serotonin reuptake inhibitors (SSRIs), monoamine oxidase inhibitors (MAOIs) or anticoagulants as medication, you should avoid using clove oil.
This also applies if you have peptic ulcers, had recently undergone major surgery or have a bleeding disorder.
Clove oil can cause skin irritation and allergies, even when correctly diluted, so first-time users should always complete a patch test.
Can I ingest clove oil?
There currently isn't enough nutritional information available to confidently state that it is safe to ingest clove essential oil.
This is because eugenol, a major component of clove, can be very toxic to the internal system due to its high concentration levels.
The only known safe method of eating clove is through use of the dry spice, which can be used to flavour food.
Is clove essential oil good for hair?
Clove essential oil may be able to assist in improving hair growth as it contains beta carotene, which can help cell growth, and vitamin K, which aids blood circulation.
However, these are not direct benefits of clove oil, as they have not yet been scientifically linked in human studies.
Although, one animal study did find that topical application increased hair growth in rabbits.
| | |
| --- | --- |
| Product Name | 100% Pure Clove Bud Essential Oil |
| Botanical Name | Eugenia Caryophyllata |
| Scent Type | Spices |
| Benefits & Uses | Antimicrobial, Oral Health, Aids Digestion |
| Suitable for Diffusers? | Yes, this clove bud essential oil is perfect for diffusers. |
| Suitable for Candles and Soaps? | Yes, this clove bud essential oil is perfect for candle and soap making. |
| Extraction Method | Steam Distillation |
| Bottle Type | Tamper proof and UV resistant |
{ let idx = null; product.variants.forEach((v, i) => { if (v.featured_image && v.featured_image.id == $event.detail) { idx = i; } }); if (idx !== null) swiper.slideTo(idx, 0); }" x-init="() => { if (variants.length > 1) { const images = product.variants.map(v => { if (v.featured_image) { return `
`; } }) appendSlides(images); } else { if (product.featured_image) { appendSlides(`
`); } } }" >