9 min read / 13 October 2023 / yasmin sharp
10 Benefits and Uses of Clary Sage Oil
The so-called 'women's oil' has soothing, relaxing benefits for everyone.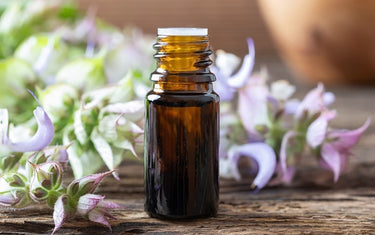 Philosophers in ancient Greece were the earliest recorded users of clary sage oil, with its users believing that its seeds could heal a variety of eye-related ailments.
The plant's antibacterial and anti-inflammatory properties have seen it used to treat everything from wound treatments to aiding hair growth.
Its sweet, floral smell also makes it a favourite with people who practise aromatherapy, helping them to manage stress and anxiety levels by offering a sense of calm and relaxation.
As research into clary sage oil has continued, it has also developed a close association with women's health, with various studies identifying its hormone-balancing properties and positive effects on menstrual symptoms.
But what other clary sage oil benefits can you enjoy through diffusion or topical application? Our guide examines the possibilities to see how it could play a role in maintaining good physical and mental health.
What is clary sage oil?
Clary sage oil, also known as Salvia sclarea, is a floral herb native to the northern Mediterranean, as well as parts of Central Asia and North Africa.
The essential oil is extracted from the bud and leaves of the plant via steam distillation and is pale yellow in colour with a sweet, refreshing scent.
Although comparisons with sage essential oil are sometimes drawn, clary sage oil has a softer, sweeter profile with slightly different health benefits that enable it to be used in aromatherapy practices for pain relief and relaxation.
How does clary sage oil work?
Clary sage oil contains a compound called linalyl acetate, which can help to regulate the skin's production of sebum, balancing oil levels so the skin is not too oily or flaky.
It is also rich in alpha-terpineol, the compound that gives the oil its sweet, woody scent. The compound contains antibacterial properties, which can prove effective when it comes to preventing infection and inflammation.
Flavonoids are the most dominant compound in clary sage essential oil, with these bioactive phytochemicals providing anti-inflammatory and antioxidant properties.
Fatty acids such as oleic acid, linolenic acid and linoleic acid can also be found in the oil, which work in combination to moisturise the skin and provide protection against free radicals.
Benefits of clary sage oil
The benefits of clary sage essential oil are appreciated by people around the world who may be able to use it to:
1. Induce labour and reduce pain
Clary sage oil benefits are becoming more apparent by the day, with researchers discovering more about its impact on women's health and the reproductive experience.
For example, the results of an 8-year study at Oxford Brookes University that assessed the effects of using clary sage oil on more than 8,000 women in labour provided some interesting insight.
Researchers found that it could effectively reduce stress levels and fear of giving birth, whilst also providing pain relief.
In another study, published in 2012, scientists learned that menstrual cramps experienced by high school girls could be eased when it was applied topically to the abdomen.
2. Reduce stress levels
Clary sage oil uses extend beyond providing simple pain relief, with the oil also regarded highly for its ability to tackle stress and feelings of anxiety.
In an animal study published in 2010, researchers learned that clary sage could have a strong anti-stressor effect on its subjects.
This helped to not only regulate the animal's emotions but also boost their moods.
The stress-relieving qualities of clary sage essential oil were highlighted again a few years later, when researchers found that it could also promote feelings of deep relaxation when inhaled.
3. Support better health
Studies have looked into the possibility of clary sage oil having a positive effect on cardiovascular health.
Its ability to open blood vessels can help to improve blood circulation, which also moves more oxygen around the body and encourages better organ function.
In the study we mentioned above, researchers learned that due to these circulatory effects, the inhalation of clary sage could decrease systolic blood pressure levels by a significant amount.
In addition, clary sage also has strong anti-inflammatory properties that can be good for cardiovascular health by reducing inflammation and preventing obstruction.
4. Balance hormones
Clary sage is closely linked with women's health, with researchers also producing results that suggest it can help to regulate hormones, prevent mood swings and calm the mind.
The natural phytoestrogens contained in the oil may be able to manage oestrogen levels, which can increase protection for the uterus.
Studies have also suggested that clary sage oil has the ability to improve thyroid hormone levels.
This can have a particularly positive effect on mood management, producing what researchers call an 'antidepressant effect'.
5. Provide healing properties
You may have heard of clary sage being referred to as "the Eye of Christ", a moniker that harks back to the Middle Ages when it was commonly used to clean wounds and fight diseases mostly associated with the eyes.
The oil's antiseptic and antibacterial properties make it ideal for treating a host of medical issues, in particular wounds and dermatological infections.
Significant anti-staphylococcal activity in clary sage was found in a 2015 study, which means it could offer protection against several strains of bacteria that can cause a staph infection.
Following more research and clinical trials, this could eventually lead to the oil being used to treat wounds caused by surgery, burns and diabetes.
6. Improve skin health
The anti-inflammatory qualities of clary sage essential oil are derived from the linalyl acetate compound, which has previously been shown to be beneficial for skin health.
This is why topical application with a clary sage roll on can help to reduce inflammation and regulate oil production on the skin.
The skin-soothing, moisturising qualities offered by clary sage may also be caused by the presence of this ester.
Many people use clary sage as a skin cleanser, with its antibacterial properties coming to the fore when it is diluted with a carrier oil and rubbed into the skin, making it feel and look cleaner and clearer.
7. Relieve insomnia
Anyone struggling with insomnia may find that clary sage essential oil can provide some relief.
Its ability to work like a natural sedative can help to produce a sense of calm and relaxation that usually goes hand-in-hand with a good night's sleep.
Hormonal changes and high stress levels are two main causes of insomnia.
The oil's ability to alleviate feelings of stress and anxiety offers a potential natural remedy without the use of drugs.
Scientists have also looked closely into the benefits of clary sage oil as a sleeping aid.
A 2017 study showed that applying a massage oil mixture that included clary sage, grapefruit extract, neroli oil, and lavender oil helped to improve the sleep quality of nurses working on alternating night shifts.
8. Aid digestion
Although evidence is currently not conclusive enough to establish a clear link, there are suggestions that clary sage oil could be used to boost the secretion of bile and gastric juices.
This could have a positive effect on the digestive process, helping to minimise bloating, cramping and abdominal discomfort.
Clary sage essential oil could also possess the power to prevent stomach disorders, which can improve the body's ability to absorb much-needed minerals and vitamins.
Although the evidence is purely anecdotal, some people have suggested that clary sage oil can be effective at relieving constipation, regulating bowel movements and healing ulcer symptoms.
9. Fight leukaemia
Research into clary sage oil's ability to help leukaemia patients is in its very early stages, although there have been some promising scientific outcomes to date.
For example, one study produced results that suggested the process of apoptosis enabled sclareol (a key chemical compound of clary sage oil) to kill leukaemia cell lines.
Apoptosis is the process of programmed cell death.
Research into this area of biology has continued to grow, as scientists have learned of its importance to the body, as when there is an insufficient amount of apoptosis, it could lead to uncontrolled cell proliferation, such as cancer.
10. Support hair growth
Lavender oil is widely considered to be one of the best essential oils when it comes to promoting hair growth.
This is largely due to the presence of the linalyl acetate compound, which can also be found in clary sage oil.
Researchers have found that this compound could support hair health, by improving its strength, increasing strand length, and generally making it more difficult to break.
You enjoy these clary sage oil benefits by adding a few drops to your favourite shampoo or conditioner, or by mixing with a single tablespoon of carrier oil and applying directly to your hair.
How to use clary sage oil
To learn more about the uses of clary sage oil, you could try:
As a massage oil
The benefits of clary sage oil include its ability to reduce inflammation and soothe pain, which makes it a very effective massage oil.
To see if it works for you, dilute 5 drops to 10ml of carrier oil (such as jojoba oil or coconut oil) and massage into the skin.
As a bath oil
Adding essential oils to warm bath water is a great way to relax the body and mind.
The soft, floral scent of clary sage oil can create your own private space in the bathroom after a long day.
Simply mix 6-8 drips with a carrier oil of choice and add to warm water bath.
History of clary sage oil
Clary sage oil has a long and storied history, with one of its earliest fans being Greek philosopher Theophrastus in 400 BCE, who praised its eye washing and culinary capabilities.
This was tested further by herbalist Nicholas Culpeper in the 17th century, who dipped the plant in batter before frying and using it to aid and prevent back pain.
Others in the herbalist community suggested that when mixed with alcohol, clary sage oil could work as a potent aphrodisiac.
Due to its sweet, refreshing notes, clary sage continues to be used in modern fragrances, contributing an aromatic complexity and lightness for countless brands.
Clary Sage Oil FAQs
How is clary sage essential oil made?
Like most essential oils, clary sage is made using an extraction process that involves the leaves and flowering tops of the plant.
Through steam distillation, the volatile compounds are separated, before they are sent through a condensation and collection process that finally produces the essential oil you see available for purchase.
Who should not use clary sage oil?
If you suffer from an oestrogen related health problem or are pregnant, then you should speak with your doctor before using clary sage oil.
Like other essential oils, if you are a first-time user, it is advisable to complete a patch test before applying large amounts of the oil to your skin.
Can you ingest sage clary essential oil?
It is possible to ingest clary sage essential oil – although you must ensure it is of food grade quality.
At Nikura, we do not sell food grade essential oils, which means all our oils are only intended for use topically or via common aromatherapeutic methods.
| | |
| --- | --- |
| Product Name | 100% Pure Clary Sage Essential Oil |
| Botanical Name | Salvia Sclarea |
| Scent Type | Floral |
| Benefits & Uses | Soothing, Calming, Anti-Inflammatory |
| Suitable for Diffusers? | Yes, this clary sage essential oil is perfect for diffusers. |
| Suitable for Candles and Soaps? | Yes, this clary sage essential oil is perfect for candle and soap making. |
| Extraction Method | Steam Distillation |
| Bottle Type | Tamper proof and UV resistant |
{ let idx = null; product.variants.forEach((v, i) => { if (v.featured_image && v.featured_image.id == $event.detail) { idx = i; } }); if (idx !== null) swiper.slideTo(idx, 0); }" x-init="() => { if (variants.length > 1) { const images = product.variants.map(v => { if (v.featured_image) { return `
`; } }) appendSlides(images); } else { if (product.featured_image) { appendSlides(`
`); } } }" >