10 min read / 3 October 2023 / yasmin sharp
10 Benefits and Uses of Lavender Oil
Some people consider lavender essential oil to be where aromatherapy truly began.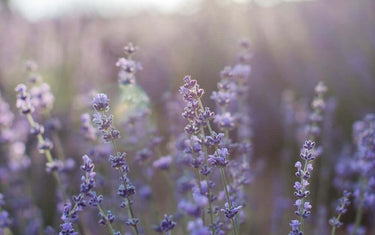 Although lavender essential oil has been used by people for thousands of years, research into its properties and potential health benefits continues to throw up new and interesting ideas.
Whether you simply love its beautiful floral fragrance or use it to find a sense of calm, lavender essential oil is widely considered to be the mother-plant of modern aromatherapy.
From perfumery and cosmetics to cleaning products and herbal remedies, there are not many parts of modern life that remain untouched by lavender.
To explain what makes this plant so special, we delve into the benefits of lavender essential oil, how it can be used and explain why it has been treasured by so many over the years.
What is lavender essential oil?
Lavender oil, which is also known by its Latin name, Lavandula angustifolia (which means "true lavender") is a popular plant that is native to the Mediterranean but is also widely grown across England, France and Bulgaria.
As is true of many essential oils, lavender oil is extracted from its planet via steam distillation.
This process uses steam to separate the oil from the plant, whilst maintaining nearly all its original components.
The lavender fragrance is used in a whole host of cosmetic, perfumery, medicinal and herbal remedies and is commonly used by people to help them relax and improve their sleep patterns.
How does lavender oil work?
Lavender essential oil can be absorbed into the body in three ways. One is through topical application to the skin, another is through inhalation and lastly, ingestion (only for food grade varieties)
Because lavender oil molecules are relatively small this makes it easy for absorption into the skin.
When inhaled, lavender oil is absorbed via the nostrils, entering the body and stimulating the nerve receptors when they come into contact with each other.
Once activity in the brain is triggered, users often feel less tense and more relaxed.
Benefits of lavender oil
Here are 10 of the most common benefits of lavender essential oil that could help to ease an array of ailments and conditions.
1. Improving your sleep pattern
The calming effects of lavender oil are well documented, which is why it has become the go-to natural oil for people not wishing to use pharmaceutical products to help them sleep at night.
There are plenty of studies that have confirmed its sleeping ability, with one Japanese research team in 2018 finding that a main component, linalool, plays a key role in calming the brain and body.
It is believed the scent stimulates the olfactory system, which triggers areas of the brain responsible for heart rate, mood and blood pressure, without any serious side effects.
Another study conducted in 2015 discovered that when lavender is inhaled it helps to improve sleep compared to several other essential oils that were also tested.
2. Helping to calm you down
In 2013, an evidence-based review found that the simple smelling of lavender helped participants to dispel high levels of restlessness and stress. This was compared to some other common medications and the lavender oil proved to be just as effective.
Another study conducted in 2017 found that lavender oil was able to effectively reduce agitation, nervousness, anxiety, disturbed sleep and depressive symptoms.
When lavender oil is used in aromatherapy massage, it has been found to improve the mental and physical state of young mothers, helping mother-child interactions.
3. Working as a mood enhancer
The sedative qualities of lavender essential oil are well known, as it helps to lower heart rates and ease stressful thoughts.
Although research continues into how lavender oil can help our mental health, some studies have produced promising results.
For example, a 2018 study looked at how aromatherapy could help high-risk women after childbirth.
Researchers found that the women involved in the study saw stress levels lowered and mood levels improved when inhaling the oil.
Some people find that the light floral scent of lavender oil can offer an escape from the immediate moment, bringing to mind more positive thoughts that can alleviate, heavier, sombre moods.
4. Treating burns and wounds
Before lavender oil became closely associated with calming and relaxing the senses, it used to be widely used for the treatment of wounds and burns.
This is because lavender acts as an anti-inflammatory, containing a constituent called beta-caryophyllene, which makes it ideal for treating sunburn, allergic reactions and burns.
When lavender oil is applied to wounds it can help to promote a collagen synthesis, allowing them to heal faster, as the collagen binds together connective tissue.
5. Antimicrobial properties for treating infections
The two main constituents of lavender oil are linalool and linalyl acetate, both of which are known for having strong antimicrobial properties.
Researchers found in a 2013 study that lavender oil can produce even stronger effects when it is mixed with cinnamon, tea tree oil or clove.
They found that a 1:1 ratio was enough to effectively combat Staph aureus and Candida albicans – two common causes of many bacterial and fungal infections that can lead to skin fungi and respiratory pneumonia.
6. Reducing pain levels
Lavender oil benefits people who wish to calm and improve their mood, and it has also been found to contain anticonvulsant properties.
This means that when applied to skin, it may be able to relax constricted muscles, which can be particularly useful for people who regularly suffer from migraines and headaches.
In a 2010 study involving nursing students, it was shown that lavender essential oil could help to ease menstrual cramps.
Heated lavender-scented pillows are also a common remedy used by women wishing to reduce menstrual pain.
7. Protection against chemicals, toxins and pollutants
Over time, free radicals can destroy cells that are largely responsible for the ageing process, starting a process that attacks cells across the whole body.
Lavender oil contains polyphenols, which can help to combat free radicals such as pollutants, toxins and chemicals, working as a natural antioxidant.
Some of the body's most powerful antioxidants, such as catalase and glutathione, are known to be triggered by the polyphenols found in pure lavender.
This is believed to give lavender oil neuroprotective qualities, which could play a part in the treatment of dementia or in repairing neurological functions after a stroke.
8. Encouraging hair growth
It is believed that using lavender oil on hair could encourage and possibly increase hair growth. This was partly put to the test in a 2016 animal study conducted on mice.
Researchers found that when a diluted lavender mixture was applied once a day for a 4-week period, mice hair grew faster and thicker.
A human study took place some years before in 1998, with researchers learning that applying lavender essential oil with rosemary oil produced positive effects in patients with alopecia areata.
9. Complementary cancer treatment
In 2012, a study published results that showed aromatherapy – lavender oil in particular – helped cancer patients to manage depression, chronic pain, nausea and stress.
Of course, lavender oil can only be recommended as a complementary treatment to ease some of the symptoms associated with cancer, and can never work as a replacement therapy for prescribed medications and treatments.
Lavender also contains a compound called Perillyl alcohol (POH) that was given to cancer patients as part of a clinical trial in Brazil. They received the treatment via inhalation over a long-term period which had some level of success.
10. Supporting diabetes treatment
A 15-day animal trial was conducted by researchers in 2014, who hoped to discover how effective lavender oil could be in naturally reversing diabetes.
They produced some very positive results, finding that using lavender essential oil as a treatment offered protection against weight gain, metabolic disorders, liver and kinder antioxidant depletion, dysfunction and lipoperoxidation (when cell membrane fat molecules are stolen by free radicals).
Although the results of this study are very promising, it is still very early days in terms of understanding the full effects of lavender oil on diabetes.
More research is needed in this area before any conclusive findings can be arrived at.
How to use lavender oil
Lavender oil uses can vary, giving you a variety of ways to enjoy the oil. Two of the most common are:
As a massage oil
To ease any aches and pains that have built up in your body, you can use the oil as a massage oil. Dilute 5 drops of to 10ml of carrier oil and then slowly massage into the target area.
Lavender oil benefits the body in several different ways, with skin massage helping to relax the muscles and lessen back and joint pain.
As a bath ointment
Lavender works extremely well as a bath oil, filling the room with a pleasant floral scent and allowing its health properties to soak into your skin.
To enjoy lavender oil benefits in a bath, mix 6-8 drops with a carrier oil and add to warm water. This will allow you to experience aromatherapeutic benefits of the oil, which can help both mind and body.
Using Lavender Oil During Pregnancy
Lavender essential oil is often considered for use during pregnancy to alleviate various symptoms, but it's important to use it safely.
Experts recommend avoiding all essential oils, including lavender, during the first trimester due to potential risks like uterine contractions. However, in the second and third trimesters, lavender oil can be safely used.
This oil can be particularly helpful in providing relief from several common pregnancy-related issues.
These include nausea, a frequent concern for many pregnant women, as well as swollen ankles and stretch marks, which are common as the body changes.
Lavender oil is also known for its soothing properties, which can help alleviate general discomfort associated with pregnancy.
Inhaling the oil or using a diffuser is safe, and most experts agree that topical application is also safe during the later stages of pregnancy, provided it is correctly diluted.
Always consult with a doctor before using essential oils during pregnancy to ensure it's appropriate for your circumstances.
History of lavender oil
Historical records reveal that lavender oil was highly regarded by both the Phoenicians and Egyptians. They used it to treat a whole host of ailments, with Cleopatra being one of the plant's biggest fans.
The herb was dried and smoked in pipes to enhance the flavour of other herbs and was also steam distilled into oil, with people wearing it as an elegant scent. Some would also scatter lavender over stone floors to disinfect and deodorise against insects.
One of the main uses of lavender oil during the Roman era was adding it to bathwater as a scent. This makes even more sense when you learn that lavender comes from the Latin root 'Lavare', which means 'to wash'.
Lavender oil FAQs
Can lavender essential oil help hair loss?
Some studies have suggested that lavender essential oil could prove useful in combating hair loss.
Researchers found that after only 10 minutes of inhaling the oil, blood flow increased and blood pressure levels were lowered.
Good blood circulation in the scalp plays an important role in hair growth, potentially leading to thicker, healthier hair.
Do I have to dilute lavender oil?
You should always dilute lavender oil before applying it to your skin.
In pure form, lavender oil is highly concentrated and could cause strong skin irritation or an allergic reaction without being diluted with a carrier oil.
Not only will diluting lavender oil enhance your safety but it will also maximise its aromatic and soothing benefits.
Can anyone use lavender oil?
Children under two years old should not use lavender essential oil.
The same applies to people who are known to be allergic to lavender or other essential oils.
Lavender oil is generally safe for most people to use, but if you have sensitive skin, or are a first-time user, it is always a good idea to complete a patch test beforehand.
| | |
| --- | --- |
| Product Name | 100% Pure Lavender (French) Essential Oil |
| Botanical Name | Lavandula Angustifolia |
| Scent Type | Floral |
| Benefits & Uses | Calming, Sleeping Aid, Hair Care |
| Suitable for Diffusers? | Yes, this lavender (french) essential oil is perfect for diffusers. |
| Suitable for Candles and Soaps? | Yes, this lavender (french) essential oil is perfect for candle and soap making. |
| Extraction Method | Steam Distillation |
| Bottle Type | Tamper proof and UV resistant |
{ let idx = null; product.variants.forEach((v, i) => { if (v.featured_image && v.featured_image.id == $event.detail) { idx = i; } }); if (idx !== null) swiper.slideTo(idx, 0); }" x-init="() => { if (variants.length > 1) { const images = product.variants.map(v => { if (v.featured_image) { return `
`; } }) appendSlides(images); } else { if (product.featured_image) { appendSlides(`
`); } } }" >