4 min read / 11 September 2023 / Laura Garvin Gomez
The Benefits of Lavender Oil for Baths
Explore the soothing benefits of lavender oil baths.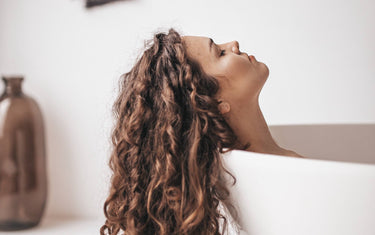 There are few things better than soaking in a warm, relaxing bath at the end of a long day.
But what if you could make the experience even more enjoyable? Using lavender oil for bath time can help you turn the bathroom into your own private spa, so you can pamper and treat yourself to the luxuries you deserve.
In this article, we look at the benefits of lavender oil for baths, how to find the perfect blend and what other essential oils you could add to enhance the experience.
Can I use lavender essential oil in a bath?
Using lavender essential oil in a bath isn't just okay; it is something you should definitely try at least once, with the floral fragrance perfectly complementing the warm water so you can relax and unwind without a care in the world.
Lavender oil is well known for its ability to help ease feelings of stress and anxiety. Many people use it to help them enjoy a better night's sleep, which makes it the perfect fit for a comforting bath after a long day. The warm water and natural essence emitted by the oil combine to create a relaxing atmosphere you won't be in a hurry to leave once you step into your bath.
Lavender oil bath benefits
Using lavender oil in a bath can offer some of the following benefits:
1. It can give you better looking skin
The antimicrobial and antibacterial properties contained in lavender oil is great news for your skin. Taking a long soak in a lavender-infused bath can help to refresh your skin, relieving chapped lips, and it could also improve blood circulation. So, once you step out, towel off and moisturise, your skin should look and feel great.
2. Lavender oil is a great stress reliever
We all have days when our stress and anxiety levels are higher than normal, and it's important to find ways to calm and control those feelings. A lavender-infused bath offers a place of tranquillity and peace so you can centre yourself and reinvigorate your mood. Lavender oil can also help to relieve muscle tension that builds up as a result of stress, offering support for your mind and body.
3. Enjoy a little 'me time'
Everyone needs and deserves some time and space to themselves where they can indulge in life's little luxuries. Lavender essential oil gives you the opportunity to escape and unwind away from everyone and everything, creating a peaceful sanctuary as your bathroom is turned into a luxurious spa.
4. Sleep tight at night
The floral fragrance of lavender oil could be just the thing you need to get a good night's rest. Research has shown that it can be very effective at treating a variety of neurological disorders, suggesting that it works as a natural sedative for the brain. Soaking in warm water will help to lower your core temperature, which acts as a circadian sleep signal, helping to keep your body in-sync with its 24-hour internal clock.
5. It could lower blood pressure and improve heart health
According to a study published in 2016, passive heat therapy – which includes soaking in a bath for 20-30 minutes - could lower blood flow to and from your heart and also lower your blood pressure. Lowering your blood pressure reduces the likelihood of a more serious heart condition, and improving your blood flow can help to relieve the pain and pressure of a headache.
6. Treat pain and inflammation
Research suggests that lavender oil can be very effective as a natural anti-inflammatory. Similar results have been produced across several other studies – from relieving injection pains and easing neck pains to easing PMS and menstrual cramps. Another study found that lavender was able to reduce inflammation by up to 40%, so it could offer some natural short-term relief for your body.
How to use lavender oil in a bath
Using lavender oil in a bath couldn't be easier. Follow the steps below to make a luxurious bath in the comfort of your own bathroom:
Fill the bath as normal to a temperature you are comfortable with.
Dilute 5 drops of lavender essential oil with your preferred carrier oil.
Add the oil mixture to the bath water and blend.
Step into the bath and enjoy for as long as you need.
Whether you add lavender oil or any other type of essential oil to your bath, you should ensure it is always diluted with a carrier oil to protect your skin.
If you have sensitive skin or are a first-time user, it is a good idea to complete a patch test to check that you are not allergic to lavender oil.
Can I mix lavender oil with other essential oils?
Lavender oil is incredibly versatile, and it can easily be blended with a wide range of essential oils. Mix lavender with lemongrass to further enhance the relaxing atmosphere in the bathroom, adding a fresh top lining to the deeper floral scent.
Bergamot and sweet orange oil are two other citrusy fragrances that combine very well with lavender. Another option could be rosemary essential oil, which can aid in reducing tension and stress, or why not try blending in frankincense oil to promote feelings of calm and relaxation.
Whether you want to relax your mind or body, adding lavender essential oil to your bath is the way to go. It can help to improve sleep quality, ease body pain and inflammation, reduce stress and anxiety levels and add a touch of luxury to your private time. Lavender oil blends incredibly well with a variety of essential oils, and as long as you complete a patch test and follow the correct dilution instructions, you can unwind in real style and comfort.
{ let idx = null; product.variants.forEach((v, i) => { if (v.featured_image && v.featured_image.id == $event.detail) { idx = i; } }); if (idx !== null) swiper.slideTo(idx, 0); }" x-init="() => { if (variants.length > 1) { const images = product.variants.map(v => { if (v.featured_image) { return `
`; } }) appendSlides(images); } else { if (product.featured_image) { appendSlides(`
`); } } }" >