11 min read / 24 November 2023 / yasmin sharp
10 Benefits and Uses of Orange Oil
Whether sweet or bitter, orange essential oil has tons of benefits for the body and mind.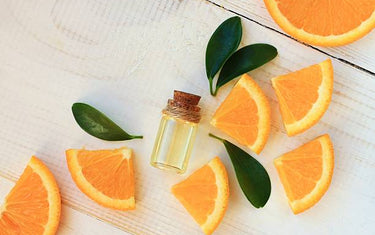 Traditionally, oranges were presented to others as a symbol of good fortune – a practice that continues to this day in some cultures.
China was the first country to officially discover how orange oil benefits could be extracted and used to treat certain ailments, although ancient myths and legends also alluded to the mystique of this vibrant fruit.
Its power as a medicinal extract sees the oil used to improve skin health, combat bacteria and reduce inflammation, with research into its natural properties unearthing new and exciting discoveries.
In our list of 10 benefits and uses of orange oil, we examine its antibacterial, antimicrobial, anti-inflammatory benefits, offer suggestions on how it can be used and much more.
What is orange oil?
Orange essential oil comes in many different forms, as various iterations of the oil are derived from separate parts of the orange tree, native to China, and its similar species.
For example, you will find that sweet orange, mandarin oil, orange blossom oil (also called neroli) and petitgrain (extracted from the leaves of the bitter orange tree) are just some of the types made available to buy.
However, sweet orange oil (Citrus Sinensis) and bitter orange oil (Citrus Aurantium). are generally considered to be the most common form of orange essential oils.
These oils are dark yellow in colour and are cold pressed from the peel of the orange fruit, producing a similar sweet, citrusy scent.
How does orange oil work?
It is believed that orange oil contains a natural ability to boost immunity and reduce the symptoms of several ailments, including stress, acne and other health concerns.
When used topically, orange essential oil can help to improve the appearance, health and texture of skin, by promoting smoothness, radiance and clarity.
This can reduce the signs of ageing and ease the symptoms of certain skin conditions.
One of the main benefits of orange oil in aromatherapy is the cheerful, uplifting scent that can work as both a mood booster and as a relaxant.
Its natural properties may also prove useful in eliminating airborne bacteria and strengthening the immune system.
What are the benefits of orange oil?
The benefits of orange essential oil mean it could be used to:
1. Combat germs and bacteria
The active ingredient of orange oil is limonene, which is commonly used in cleaning products. Scientific research into its antibacterial properties have also produced promising results.
For example, a study published in 2012 [1] found that E. coli contamination in foods could be prevented by using orange oil.
An earlier study [2] also concluded that the oil was able to inhibit the spread of salmonella.
It is said that orange essential oils are effective at repelling ants, a common pest that is attracted to food wastage.
By mixing orange oil with distilled water in a glass spray bottle, you can try this method at home, spritzing the solution on shelves, surfaces and in other areas where ants might be attracted to.
2. Reduce inflammation and blood pressure
Research has found that orange oil may be able to reduce systolic and diastolic blood pressure.
A 2014 study [3] concluded that compared to fresh air, when the oil was inhaled it offered protection against the damage caused by a spike in blood pressure.
And, according to a study published in 2017, [4] sweet orange essential oil may be able to reduce the pain levels of patients with fractured limbs.
This is because the anti-inflammatory properties of the oil work to turn off inflammatory reactions that are responsible for causing swelling in muscular tissue.
As a result, this helps to prevent an inflammatory reaction around injured joints and muscles, whilst soothing associated pain.
3. Lower anxiety levels
Orange essential oil is a popular choice in aromatherapy due to its anxiolytic properties, which can help to naturally reduce anxiety levels.
Researchers looking into this found that participants of a 2014 study [5] experienced better relaxation and comfort when exposed to the oil.
A separate study was also released in the same year, [6]  concluding that pregnant women who were experiencing stress and worry about labour also felt much calmer due to the powerful effects of orange oil.
Adding a few drops of orange essential oil to a diffuser is an easy way to enjoy its aromatherapeutic benefits, whilst adding to warm bather water or burning an orange-infused candle also works just as well.
4. Improve skin health
Whilst there are many different types of orange oil, most are considered bad for the skin due to their phototoxicity, which means you should only ever use sweet orange essential oil.
And even though you should only apply sweet orange oil to your skin in the evening to reduce the risk of skin damage, it still has a lot of benefits to offer.
Its antimicrobial properties can help to cleanse the skin, whilst also reducing the signs of ageing by increasing elasticity thanks to its ability to boost collagen production.
Orange essential oil could help to reduce the appearance of acne due to its anti-inflammatory properties, which researchers discovered in a 2012 study [7] .
5. Inhibit cancer and oxidative stress
The health benefits of orange oil may even see it used as a cancer treatment in years to come.
This idea is based on a 2012 study [8] that found oil rich in limonene was able to inhibit the growth of colon cancer cells in culture, whilst also eliminating them.
A few years later, researchers discovered [9] that the growth of lung and prostate cancer cell lines in culture could be inhibited through the use of orange essential oil.
It was also noted that cell death in the lung cancer cell line was increased, whilst the oil offered some antioxidant activity.
However, whilst these initial findings are promising, it is important to note that both studies were done in a test tube and not in the human body, so further research is needed.
6. Enhance exercise performance
Athletes – whether professional or amateur – are always looking at ways to improve and better performance levels.
Some scientific research has been published that suggests orange essential oil could play a role in improving lung function.
In 2016, [10] researchers looked at the effects of neroli essential oil when inhaled by student athletes.
They found that those who inhaled the oil were able to produce faster running times along with improved lung performance.
Only 20 participants took part in the study, so additional research is needed to support this potential health benefit.
7. Promote weight loss
There are some suggestions that orange essential oil may be able to promote weight loss, although research to date has only been conducted on animal subjects.
A 2019 study [11] on rats assessed the possibility of using orange essential oil for weight loss, finding that after capsules of the oil were consumed, obese rats demonstrated a reduction in weight gain along with lower levels of cholesterol.
Orange oil has also been linked with lowering cortisol levels [12].
Elevated cortisol levels can cause food cravings, especially for salty, fatty and sweet foods, so inhaling the oil may be able to help with weight management.
8. Boost immunity levels
Orange oil is rich in vitamin C, which can not only be very beneficial for skin but also the immune system.
When your body receives vitamin C it helps to move white blood cells to the site of infection, helping to enhance oxidant generation and microbial elimination.
Although research has determined [13] that taking vitamin C when you already have cold symptoms will not have any effect, it is believed that it can slightly reduce the amount of time you are ill.
9. Encourage better sleep
Perhaps one of the lesser-known uses of orange oil is to encourage better sleep.
Many people diffuse the oil to help them relax and unwind, which could also be beneficial for those who struggle to close off their thoughts at night.
Researchers have found some evidence of this, with a 2015 review of essential oils [14] finding that sweet orange in particular was able to help people combat insomnia.
You can try this at home by diffusing the oil shortly before you go to bed at night to create a calming atmosphere that relaxes the mind, helping you to drift off without too much interruption.
10. Enhance oral health
Orange oil benefits also mean it could possess the ability to fight bacterial growth, helping to protect teeth and gums from infections.
Some people mix the oil with water and salt to make their own mouthwash, which may be able to offer some relief from a sore throat.
Another option is to try coconut oil pulling by combining pure coconut oil with a dew drops of orange essential oil.
Simply swish around your mouth and spit the mixture out when finished, and this can help to prevent cavities and bad breath.
How do you use orange oil?
Orange oil uses a variety of natural properties to support better health. Some of the best ways to use orange oil are:
As an aromatherapy oil
Many orange oil benefits can be enjoyed through the practice of aromatherapy – which enables you to naturally inhale its properties.
One method is to simply inhale the scent directly from a bottle of orange essential oil.
Alternatively, you can add 5-7 drops of the oil to a diffuser or oil burner to experience its bright, mood-boosting scent.
As a soap or candle ingredient
Orange essential oil is a hugely popular ingredient for homemade soaps and candles.
You can find a host of fun candle and soap recipes in our Make At Home blog section, which will give you a few hints and tips on where and how to get started.
What is the history of orange oil?
Traditional Chinese medicine practitioners were the first to realise the health benefits of orange oil, with records dating as far back as 2200 BC.
The Portuguese brought it to Europe at the start of the 16th century, before spreading across the Mediterranean, where people began to discover these benefits from the fruit's refreshing taste.
Oranges have also featured in ancient myths, including the story of Titan Atlas and Hercules, where the fruit was labelled a "golden apple".
As one of the oldest cultivated fruits in the world, the demand for oranges and its oils remain as strong as ever, as they are a delight to smell, taste and utilise for a variety of health reasons.
Orange oil FAQs
What is the difference between sweet orange oil and bitter orange oil?
The main difference between sweet orange oil and bitter orange oil is that the latter is not recommended for use on skin as it is considered more phototoxic.
Whilst they are extracted from different species of the fruit, in terms of uses and health benefits there are a lot of similarities, such as boosting weight loss and athletic performance.
Can I use orange essential oil on my pets?
In general, it is better to not use any essential oils on cats, dogs or any other pets.
Some people believe that it is safe to use orange essential oil in moderation, but there is always the risk that it could be harmful to your pet's health.
Is it safe to consume orange essential oil?
Ideally, you should avoid consuming orange essential oil.
This is due to the high concentration levels of the oil which could cause health complications if consumed in large amounts.
Using the oil as part of a mouthwash should be fine, although you should avoid swallowing the mixture after use.
---
References
[1] Annalisa Lucera et al. (2012) Food applications of natural antimicrobial compounds https://www.ncbi.nlm.nih.gov/pmc/articles/PMC3441195/
[2] C.A. O'Bryan et al. (2008) Orange Essential Oils Antimicrobial Activities against Salmonella spp. https://ift.onlinelibrary.wiley.com/doi/abs/10.1111/j.1750-3841.2008.00790.x
[3] B.-J. Park et al. (2014) Physiological effects of orange essential oil inhalation in humans https://www.jstor.org/stable/24586839
[4] Davood Hekmatpou et al. (2017) The Effect of Aromatherapy with the Essential Oil of Orange on Pain and Vital Signs of Patients with Fractured Limbs Admitted to the Emergency Ward: A Randomized Clinical Trial https://www.ncbi.nlm.nih.gov/pmc/articles/PMC5661347/
[5] Miho Igarashi et al. Effects of olfactory stimulation with rose and orange oil on prefrontal cortex activity https://pubmed.ncbi.nlm.nih.gov/25453523/
[6] Masoumeh Namazi et al. (2014) Aromatherapy With Citrus Aurantium Oil and Anxiety During the First Stage of Labor https://www.ncbi.nlm.nih.gov/pmc/articles/PMC4102991/
[7] Germán Matiz et al. (2012) Effectiveness of antimicrobial formulations for acne based on orange (Citrus sinensis) and sweet basil (Ocimum basilicum L) essential oils https://pubmed.ncbi.nlm.nih.gov/23235794/
[8] Kotamballi N Chidambara Murthy et al. (2012) D-limonene rich volatile oil from blood oranges inhibits angiogenesis, metastasis and cell death in human colon cancer cells https://pubmed.ncbi.nlm.nih.gov/22935404/
[9] Chao Yang et al. (2017) Antioxidant and Anticancer Activities of Essential Oil from Gannan Navel Orange Peel https://www.ncbi.nlm.nih.gov/pmc/articles/PMC6152265/
[10] Nidal Amin Jaradat et al. (2016) The effect of inhalation of Citrus sinensis flowers and Mentha spicata leave essential oils on lung function and exercise performance: a quasi-experimental uncontrolled before-and-after study https://www.ncbi.nlm.nih.gov/pmc/articles/PMC5034497/
[11] Dahu Li et al. (2019) Weight loss effect of sweet orange essential oil microcapsules on obese SD rats induced by high-fat diet https://pubmed.ncbi.nlm.nih.gov/30741117/
[12] Mehdi Jafarzadeh et al. (2013) Effect of aromatherapy with orange essential oil on salivary cortisol and pulse rate in children during dental treatment: A randomized controlled clinical trial https://www.ncbi.nlm.nih.gov/pmc/articles/PMC3732892/
[13] (2006 - ) Common colds: Does vitamin C keep you healthy? https://www.ncbi.nlm.nih.gov/books/NBK279544/
[14] Babar Ali et al. (2015) Essential oils used in aromatherapy: A systemic review https://www.sciencedirect.com/science/article/pii/S2221169115001033
{ let idx = null; product.variants.forEach((v, i) => { if (v.featured_image && v.featured_image.id == $event.detail) { idx = i; } }); if (idx !== null) swiper.slideTo(idx, 0); }" x-init="() => { if (variants.length > 1) { const images = product.variants.map(v => { if (v.featured_image) { return `
`; } }) appendSlides(images); } else { if (product.featured_image) { appendSlides(`
`); } } }" >