15 January 2023 / Laura Garvin Gomez
10 Best Essential Oils for Humidifier Use
Discover the top 10 essential oils that can be used in a humidifier to improve your air quality, boost your mood and help you sleep better at night.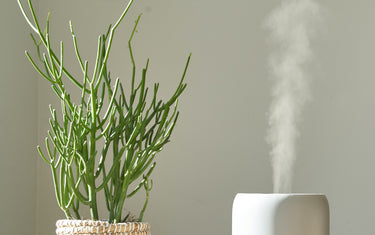 Humidifiers can quickly become your best friend during the winter months, helping to maintain humidity levels around your home.
Previously, we went into more detail about using essential oils in a humidifier and we are going to complete our guide by looking at the our favourite essential oils for use in a humidifier.
What's the best humidifier for essential oils?
The best humidifier to use for essential oils is an ultrasonic humidifier. This is because if the oil is added to an evaporative humidifier, it could be trapped by the wicking filter, causing it to break down and possibly fail.
A safe alternative is an ultrasonic humidifier, which does not contain a filter and instead uses high-frequency vibrations to emit the oil mist. This will give you more assurance that you can enjoy the health and aromatic benefits of essential oils without worrying that the humidifier could break down.
When adding essential oils to a humidifier, take care not to use too much, as the oils are strong and could prove overwhelming. If you suffer from any allergic reactions, ensure that the essential oil you choose is appropriate for you. You can always carry out a small patch test to make sure it is safe and doesn't cause your skin to flare up.
Embellish your home with lavender oil
People use lavender essential oil for all types of physical and psychological reasons. Not only is it one of the most relaxing essential oils around but its antibacterial properties work well on wounds and may also offer some pain relief. Some people use lavender oil in homemade cleaners and if you struggle to get to sleep at night, this could be just the thing that helps you relax before you hit the hay.

Add tea tree oil to cleanse your airways
Our tea tree essential oil is great for cleansing the skin and airways and will always prove to be a useful little tool to keep tucked away in the medicine cabinet. For centuries people have used tea tree oil to fight infections and relieve congestion and it could be just the thing you need when trying to stave off a common cold.

Refresh your home with some lively peppermint notes
Whether it's tackling cold symptoms or helping you to unwind and relax, peppermint essential oil always finds a way to be of use. In the sports world, athletes use it to improve breath flow and relax sore muscles, helping them to find that all-important edge when in competition. Peppermint oil can also be useful when it comes to repelling spiders, as it is believed they cannot bear to be near its scent.
Eucalyptus is great for tackling colds
If you are bunged down with a cold or generally experience issues with your breathing eucalyptus essential oil is known for its ability as a natural decongestant and to aid respiration. It is also highly antibacterial and can help to prevent infections, so if you have avoided picking up a cold so far, this could help to boost your defences a little bit more. And if you regularly experience tension headaches, try eucalyptus for some easing relief.

Enjoy the refreshing aroma of lemongrass
There are few aromas as pleasing and relaxing as lemongrass, delivering a gentle sense of wellbeing that is good for the mind and body. From cleansing the skin and scalp to supporting a healthier gut and boosting the condition of your skin, lemongrass essential oil is a great all-rounder. And when used with an ultrasonic humidifier it is the kind of aroma that will give a lift to everyone at home.

Marjoram creates a soft ambience for the home
Marjoram essential oil is not to be confused with Spanish marjoram, as it offers a range of different health benefits while also being softer. The sweet herbal scent is regularly used by women who experience irregular periods as it can promote regular menstruation. Some say it can help to boost heart health and ease stomach troubles, while others use marjoram to reduce pain that has been inflicted by injury.

Feel the warmth of patchouli
Patchouli is a plant that hails from Indonesia, with its oil extract relied on by many to cleanse the body and soothe the mind. It gained popularity in the Western world during the hippie movement in the 60s and has remained a staple in aromatherapy treatments ever since. Add a few drops of patchouli essential oil to your ultrasonic humidifier to create a calming atmosphere and if you are heading to a tropical country, it could also work as an insect repellent.
Bergamot could help even out unbalanced moods
Popular with folks in Southeast Asia and rural Italy, bergamot essential oil is known for its ability to boost energy levels and lift low moods. For anyone experiencing emotional imbalance, the fresh, lemony scent of bergamot can provide some stability to achieve a sense of calm and contentment. Over the counter medicines may not provide all the help you need to deal with mental health concerns and this natural remedy could offer another solution.
Use geranium to boost the condition of your skin
You'll often find geranium essential oil listed in popular skincare products due to its ability to create a more even skin tone. Geranium oils absorption properties are very high, and it could be another useful way to reduce the signs of ageing. In terms of the scent, it has a soft and flowery aroma, which can add a whole new layer to your relaxation time in the evenings and on weekends.
Relax with the luxurious aromas of Ylang Ylang
If you are fan of Dior J'adore and Chanel No. 5 perfumes, then you'll instantly recognise the notes of ylang ylang essential oil which is a key ingredient in both. The rich, sweet fragrance is a real delight and is perfect for de-stressing and boosting your overall health. For example, ylang ylang has stores of antifungal and antibacterial properties and is believed to boost immune response, while it could also help to reduce the signs of ageing.
For an easy way to enjoy the many physical and mental health benefits of essential oils, investing in an ultrasonic humidifier could be the answer. You can pick up a good quality model for under £50 online and with a small handful of essential oils for a beginner set you will be well under way. Whether you test one of our suggestions above or try something else is completely up to you, but we're sure that once you start you'll be converted for life!
{ if (visible && product == e.detail.data) return; ready = false; const articleTop = document.querySelector('[data-article]').getBoundingClientRect().top + window.scrollY; $nextTick(() => { product = e.detail.data; selected = product.variants[0].id; ready = true; setTimeout(() => { top = e.detail.target.getBoundingClientRect().top + window.scrollY - articleTop; show(); }, 10) }) }" @scroll.window="close()" >