15 October 2021 / Laura Garvin Gomez
The best essential oils for hair growth and hair health
Nourish your hair with the restorative powers of essential oils.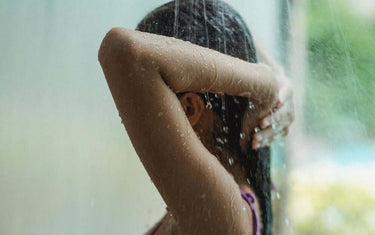 Here are some of our favourite, cleansing, scalp-protecting, and growth-promoting essential oils for beautiful, healthy hair.
Essential oils are natural products, usually steam distilled or cold-pressed, that are famous for their aromatic scents as well as their long list of benefits for the body and mind.
While they're known to help with everything from sleep issues to acne, one of the most common topical uses for essential oils is in the cleaning, strengthening and regrowing of hair.
Essential oils have been used in rinses and hair masks for centuries across a range of civilisations, and almost every oil in existence has been tested for its effects on hair at some point.
Whilst people's experiences with these natural products may vary, these are some of the oils that have been found to have the most beneficial effects on hair, from reducing oil and treating dandruff to regrowing hair altogether.
Explore the best essential oils for healthy hair growth and thickness below.
Can I use lavender oil for hair growth and hair loss?
Lavender oil is a very common ingredient in haircare products, not just because of its calming floral scent.
It's been a well-known fact for centuries that lavender oil has strong antimicrobial properties, and this ability to inhibit the growth of harmful organisms helps it to keep hair and the scalp clean and healthy.
A study in 2011 supported this when it found that lavender oil can help to prevent head lice. Recent animal research has even suggested that lavender oil can help to promote the growth of new hair after hair loss.
To give your hair a floral boost, try mixing a few drops of lavender essential oil with 3 tablespoons of carrier oil - such as olive oil or jojoba oil - and applying it along the scalp. Leave in for at least ten minutes.
If you're new to using essential oils, always remember to patch test them on your skin before use.
Learn more about the benefits of lavender essential oil.
Can rosemary oil promote hair growth?
Mediterranean cultures have used rosemary for hair rinses to promote hair growth for centuries, and science is beginning to catch up to the reasons why. Lots of research has been done in the last decade investigating the fascinating hair-regrowing abilities of rosemary essential oil.
After a study made the astounding discovery that rosemary oil was able to aid hair regrowth in alopecia patients, further studies investigated the circulation-improving effects of the oil, with the suggestion that rosemary is able to increase blood flow to the scalp significantly. This can help stimulate hair follicles and, in turn, produce faster hair growth over time.
A trial in 2015 even found that rosemary oil was just as effective at regrowing hair as minoxidil. Minoxidil is a common hair regrowth agent used to treat thinning hair and male pattern baldness.
There are many ways to use rosemary oil to increase hair growth, including combining it with useful carrier oils like coconut oil, which have their own benefits for hair density as well as skin and scalp health.
You can also refer to our dilution guide for a more in-depth view on how to mix your rosemary oil for promoting hair growth. Or alternatively use our pre made and ready to use mix of rosemary oil for hair.
Learn more about the benefits of rosemary essential oil.
Can cedarwood essential oil help support hair growth?
Cedarwood oil has been found to work effectively with lavender and rosemary to support hair growth and fight bacteria on the scalp.
A very gentle oil, cedarwood is a good choice for sensitive skin, and shares rosemary's ability to promote blood circulation in the scalp, stimulating hair follicles through increased nutrients and flow.
Try mixing a few drops of your chosen essential oil with a basic shampoo.
Does peppermint essential oil help hair growth?
Like rosemary, peppermint oil has also been tested against minoxidil and was actually found to be even more effective than the common treatment.
There is some suggestion that this is due to the effectiveness of its component menthol on blood vessels – it is thought that menthol is able to widen blood vessels, thereby increasing blood flow to the scalp.
Peppermint essential oil also contains antimicrobial and anti-septic properties that can help to cleanse itchy and irritated scalps. This is further assisted by the oil's anti-inflammatory properties.
As a healthy scalp equals healthy hair, there is much evidence to suggest that peppermint is a widely beneficial for hair growth and thickness.
Learn more about the benefits of peppermint essential oil.
Does thyme oil work for hair growth?
The strength of thyme essential oil lies in its ability to prevent and rectify hair loss.
A study in 1998 testing a range of essential oils found that thyme was useful in treating cases of alopecia areata through stimulating the hair follicles and encouraging regrowth.
Thyme is said to share similar effects to cedarwood, and thus work best when combined with other essential oils like rosemary or peppermint.
Learn more about the benefits of thyme essential oil.
Can citronella essential oil regulate sebum?
Sebum, a natural, waxy oil, can cause hair to appear lank and greasy if it is left to build up on the scalp.
Citronella oil is a popular natural shampoo as it targets and regulates the production of sebum, reducing greasiness and leaving hair looking clean and shiny.
Learn more about the benefits of citronella essential oil.
Can bay leaf essential oil stimulate hair growth?
Bay leaf essential oil has a long-standing association with beard health and can be just as beneficial to the hair on the scalp.
Not only does it have strong antibacterial and antifungal properties, helping to keep the scalp clean and healthy, but it is also known to boost circulation to the scalp, stimulating hair growth.
Learn more about the benefits of bay leaf essential oil.
Does cade essential oil help with dandruff?
A less well-known essential oil, cade oil is nonetheless powerful. It is most commonly found in dandruff shampoos, and many people use cade essential oil as a home remedy for flaky scalps.
The oil has helpful antimicrobial properties which allow it to prevent infection, and it has been found to inhibit sensations of itching.
Learn more about the benefits of cade essential oil.
Does tea tree essential oil help to regrow hair?
Another common dandruff remedy, tea tree is known for its very strong antimicrobial properties, making it a great way to keep hair clean and the scalp free from harmful organisms.
A 2013 study found that tea tree oil also works very well alongside minoxidil and is able to improve its effectiveness in regrowing hair.
Learn more about the benefits of tea tree essential oil.
Risks and potential complications
Like many natural protects, essential oils can be extremely potent. It is therefore of the greatest importance to always dilute your essential oils with a carrier oil before applying them to your hair.
Failing to dilute your oils may lead to skin irritations as well as allergic reactions, depending on your particular sensitivities.
It is also a good idea to patch test your oils before applying them, and to refrain from using essential oils for hair on small children or more vulnerable people.
Often, essential oils work best blended with other beneficial oils. It may take some experimenting to figure out exactly which blend is best for your hair, but our Hair Health Pure Essential Oil Blend is a great place to start.
if you're interested in making your own hair-boosting blends at home, you can check out our blending guide for more information.
{ let idx = null; product.variants.forEach((v, i) => { if (v.featured_image && v.featured_image.id == $event.detail) { idx = i; } }); if (idx !== null) swiper.slideTo(idx, 0); }" x-init="() => { if (variants.length > 1) { const images = product.variants.map(v => { if (v.featured_image) { return `
`; } }) appendSlides(images); } else { if (product.featured_image) { appendSlides(`
`); } } }" >
{ if (visible && product == e.detail.data) return; ready = false; const articleTop = document.querySelector('[data-article]').getBoundingClientRect().top + window.scrollY; $nextTick(() => { product = e.detail.data; selected = product.variants[0].id; ready = true; setTimeout(() => { top = e.detail.target.getBoundingClientRect().top + window.scrollY - articleTop; show(); }, 10) }) }" @scroll.window="close()" >