5 min read / 28 January 2022 / Laura Garvin Gomez
Benefits and Uses of Cade Oil
Potent cade oil is a useful anti-inflammatory and has powerful cleaning abilities.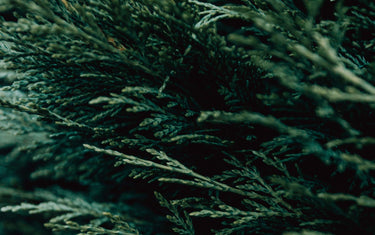 Extracted from the wood of the juniper shrub, cade essential oil has ancient associations with protection against illness, negative forces, and evil.
These days, cade is mostly used as a primary ingredient in products for skin and scalp care, and it is full of antiseptic properties that can lend themselves to several topical applications.
That being said, cade is also a very naturally potent essential oil, and whilst it can be very beneficial for skin and scalp health, it should only be applied and low doses and should always be properly diluted.
What is Cade Essential Oil?
Sometimes known as Juniper Tar or Prickly Juniper, cade essential oil is a slightly niche member of the aromatherapy circle, though that does not mean that its properties go amiss.
The wood of the juniper shrub, native to the Mediterranean and the Middle East, is steam distilled and turned into a sweet, dark brown coloured oil reminiscent of a smoky forest, that can be used as an effective base note in perfumery as well as in homemade blends.
Its richness provides a strong, earthy aroma that can be powerful even in the smallest of quantities, so be sure not to use too much if you do decide to add oil of cade to your collection.
What are the benefits of Cade Essential Oil?
As cade is a slightly quieter member of the wellness industry, there's a good chance that there are still many untouched benefits left to be explored by scientist and researchers.
As it stands, however, some of the best cade essential oil benefits include:
Soothing redness and inflammation
Antimicrobial properties
Treating dandruff
Being an effective base note
Does cade essential oil help soothe redness and inflammation?
Cade oil has been closely observed for having an anti-inflammatory effect on the skin and tissues - and can even help to soothe swollen muscles when used in massage with an enriching carrier oil.
Small amounts of diluted cade oil can also be used to treat skin conditions such as eczema and psoriasis by calming symptoms of itching or irritability as well as reducing redness and swelling.
May people have found that combining a few drops of cade oil with a facial cream or a moisturising carrier oil and applying topically can help to improve symptoms of a number of skin conditions.
Is cade oil antimicrobial?
Another reason why cade essential oil is such a great choice for skincare is because of its strong antimicrobial and antiseptic effects.
These useful effects allow the oil to successfully combat harmful microorganisms and bacteria on the skin that can lead to complications if left untreated.
Applied to the skin, cade oil can fight these bad bacteria and leave skin clearer and more hygienic. Diluted cade oil can also be useful for use in home cleaners, helping to eliminate bacteria on surfaces around the home as well.
Can cade essential oil help to treat dandruff?
Cade's effect on dandruff is perhaps the most well-known of its benefits.
Oil of cade is a common ingredient in many drugstore dandruff shampoos, and several sources have reported that a small amount of cade oil mixed in with a carrier oil can improve symptoms over time.
Cade oil can also be dropped into regular shampoo or conditioner as an alternative to dandruff versions.
These effects are due in part to cade oil's antimicrobial activities, as well as its ability to soothe skin and inhibit itching as a result of its anti-inflammatory properties. An alternative to cade oil is rosemary, which has great benefits for hair growth and hair health and is mixed alongside carrier oils in our rosemary oil for hair.
Using cade oil as a base note in perfumery
Cade is used widely in perfumery as a smoky, intriguing base note, able to support a range of other scents including floral, citrus, and fresh aromas.
For this reason, cade oil works very well in home blends and is a great choice for hobbyists or small business owners.
Cade oil can be used as a base note in soap, candles, potpourri, and other perfumed home crafts, and can help to set a smoky, woody, or luxurious tone.

How to use Cade Essential Oil
Aromatherapy
Whether you choose to diffuse cade essential oil on its own or with another complimentary scent, its earthy and woody aromas are certainly appropriate for creating a rich, mysterious environment in your home.
While inhaling it may not have as many benefits as topical application, it is still well worth exploring the different scent combinations that cade oil can offer.
Skincare
In general, cade oil is applied to the skin for its ability to calm symptoms of eczema, psoriasis, and other related conditions – so it's certainly a worthy choice if you find yourself suffering from any of these issues.
Add a few drops of cade oil to a carrier oil and implement into your routine. Remember to only use cade sparingly, as it can be extremely potent. It is also important to patch test the oil before using it on the skin.
Haircare
Cade oil may not be known for its hair growth abilities, but its positive impact on scalp health can certainly help facilitate a sound environment for longer, fuller hair. Its anti-inflammatory properties are also great for sufferers of dandruff.
Drop into your shampoo or conditioner bottle or create a hair mask using a carrier oil for the best results.
Candle and soap making
With cade essential oil being such a great base note, it's only good sense to try it out in your next scent project.
We always recommend following a tested recipe or a helpful guide if you're a beginner.
History of Cade Essential Oil
Sacred to the ancient Mesopotamian goddess Inanna, the oil is prevalent in ancient mythology, and was burned in ancient Sumeria and Babylonia as a sacrifice to the gods.
Cade was also used in the Middle Ages as an incense to ward off cholera and the plague.
Powerful, smoky, and treacle-scented, cade is an unusual oil that is not particularly known or acknowledged in the world of aromatherapy.
Not only does it have many benefits, however – it's also an incredibly potent oil both in scent and application, of which a little bit goes a long way.
| | |
| --- | --- |
| Product Name | 100% Pure Cade Essential Oil |
| Botanical Name | Juniperus Oxycedrus |
| Scent Type | Earthy |
| Benefits & Uses | Anti-Inflammatory, Prevents Dandruff, Cleansing |
| Suitable for Diffusers? | Yes, this cade essential oil is perfect for diffusers. |
| Suitable for Candles and Soaps? | Yes, this cade essential oil is perfect for candle and soap making. |
| Extraction Method | Steam Distillation |
| Bottle Type | Tamper proof and UV resistant |
{ let idx = null; product.variants.forEach((v, i) => { if (v.featured_image && v.featured_image.id == $event.detail) { idx = i; } }); if (idx !== null) swiper.slideTo(idx, 0); }" x-init="() => { if (variants.length > 1) { const images = product.variants.map(v => { if (v.featured_image) { return `
`; } }) appendSlides(images); } else { if (product.featured_image) { appendSlides(`
`); } } }" >