23 November 2022 / Laura Garvin Gomez
Best Fragrance Oils for Wax Melts
Look no further than this list of fragrance favourites to scent your wax creations.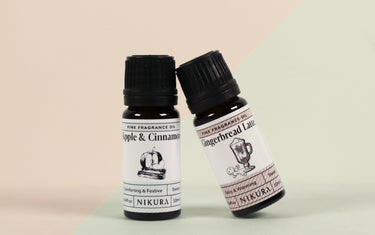 There are many ways you can add a distinctive, calming aroma to your home.
One of the easiest ways to achieve this is to use a wax melt. Not only are they simple to make, but you have an almost endless choice of fragrance oils to choose from, so you can enjoy a new aroma whenever you want.
Wax melts are growing in popularity because of the sense of wellbeing they promote, creating a calming atmosphere that makes it easier to relax and manage tension levels.
We've put together a list of the best fragrance oils for wax melts so you can get started right away.
What is a wax melt?
Wax melts are essentially like candles without the wick. They can be moulded into a variety of shapes, and are endlessly customisable.
Each melt will have its own fragrance, so you can melt the wax using a tea light or oil burner in small chunks to release the scent into the room.
When the wax is removed from the heat source it returns to a solid state to seal the fragrance inside until the next time.
Wax melts generally take quite a long time to melt completely (although this is determined by the size of the wax), so you can enjoy your fragrance of choice without burning a hole in your pocket.
Can I use essential oils instead of fragrance oils?
If you prefer a purely natural aroma in your home, essential oils are an ideal alternative that can also benefit your mind and body.
You can find our list of the top 10 best essential oils here to help you pick the right scents for your homemade wax melts.
What do you need to make wax melts?
Wax melts are simple and easy to make, and you won't need to spend much money to start enjoying your favourite scent.
You can enjoy them at home yourself or make them for friends and family, they also make for the ideal low-cost gift for Christmas and birthdays. To make a wax melt you'll need:
Candle wax

Candle dye

Wax moulds (you can find these easily with a Google search)

Saucepan

Heatproof glass bowl

Heat source to melt the wax

Measuring jug

Thermometer

Weighing scales
You'll already have most of these items to hand, so you'll likely only need to get some candle wax, moulds and scented oils.
Take a look at our guide to making wax melts which will also teach you how much fragrance oil for wax melts is needed.
What are the most popular wax melt scents?
Wax melts work just as great with fragrances as they do with essential oils and come in wide varieties to match any mood, occasion, and scent preference.
While it's important to remember that scent is subjective, here are some of the most popular scents people tend to choose.
Pumpkin Spice Fragrance Oil
Pumpkins may be synonymous with Halloween, but that doesn't mean you should only enjoy their unique fragrance for one month a year.

Once you add a few drops of pumpkin spice fragrance oil

to a wax melt, the smells of autumn immediately start to drift into your senses, with a mixture of cinnamon, nutmeg, clove and sweet pumpkin giving you that warming sense of reassurance.

If you like the sound of this scent, but want a more natural alternative, our Pumpkin Spice Essential Oil Blend can also work well to achieve a similar effect.
Jasmine Fragrance Oil
Jasmine fragrance oil

is a favourite for wax melts because of the sense of calm and serenity it releases into the air.

Many people also use it for homemade soaps, with the floral scent adding a light freshness to the skin.

It's a long-lasting scent that pairs perfectly with slow burning wax, so whether you need help relaxing before bed or just want a new scent to enjoy, this makes for a great choice.
Fresh Linen (Floral) Fragrance Oil
The smell of fresh laundry when it comes out of the washing machine - or after it has been hung out to dry - is one of the most comforting scents around.

There is something about the light, floral fragrance that can take your mind to thoughts of spring and the summer ahead, making you feel that little bit happier.

Fresh Linen (Floral) fragrance oil

works perfectly with wax melts and the wonderful combination of jasmine, tulip and lavender make this fragrance ideal for bedrooms and living rooms.
Ocean Breeze Fragrance Oil
If you spend enough time gazing far off into the deep blue sea, it can offer a connection to nature and help bring calm and serenity to your thoughts.

There is also a distinct aroma that drifts in with the wind, which is something you can bring into your home with an Ocean Breeze fragrance oil.

Add a few drops of this wonderful oil to your wax melt and you'll be instantly transported to the peaceful confines of the coastline, imagining the waves lapping at your feet as you relax and unwind in the comfort of your home.
Apple & Cinnamon Fine Fragrance Oil
For a winter warming fragrance that can place you next to a warming log fire, there are few better than an Apple & Cinnamon Fine Fragrance Oil.

The fruity sweetness and warming spices evoke memories of a homemade apple pie being baked in the oven or catching the gorgeous scents emanating from inside a local bakery as you pass by.

Once the wax starts to melt and the scent drifts through the air, those swarming seasonal thoughts will never be too far away.
Fine fragrances made for Long-Lasting Scent
Sometimes you can enjoy a longer-lasting fragrance with oils that have been specially formulated for scent projects like wax melts.
Fine fragrance oils, for example, are high quality scents that can set the imagination alight, transporting you to a place of serenity and calm without you ever having to leave your home.
The fragrance range covers everything from banana split and baked cinnamon bun to dandelion & burdock and nordic wood, so you're never short of options.
Are fragrance oils also good for candles?
If you're wanting to take on something a little more challenging than a wax melt, these fragrances also work brilliantly in candles as well as soaps.
Check out our guides for candle making and soap making to learn more about how to master these techniques at home.
Depending on your tastes, it may take a little time to find the right wax melt fragrance for you. But the good thing is, along the way you'll discover a whole new world of fragrances that can transform the way you relax and unwind.
Even if you have a good idea of the type of essential oils or fragrances you'd like to use, it's never a bad idea to experiment a little and broaden your horizons.
Feel free to try some of our suggestions above or take time to find your own route into the wonderful world of scented oils.
Shop our fragrance oil range here.
{ if (visible && product == e.detail.data) return; ready = false; const articleTop = document.querySelector('[data-article]').getBoundingClientRect().top + window.scrollY; $nextTick(() => { product = e.detail.data; selected = product.variants[0].id; ready = true; setTimeout(() => { top = e.detail.target.getBoundingClientRect().top + window.scrollY - articleTop; show(); }, 10) }) }" @scroll.window="close()" >