25 May 2022 / Laura Garvin Gomez
How to make wax melts with essential oils
These cheerful melts are an easy way to scent your space.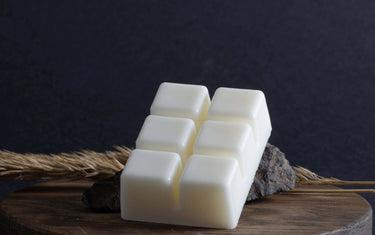 Wax melts make for a simple, effective alternative to candles.
Melts are easy to master, and this recipe allows you to make them in whatever size, shape, and colour you prefer. Most importantly, you can customise your wax melts with whichever essential oil, fragrance oil, or blend you want.
Wax melts also make for great homemade gifts, particularly if you know someone who is not a massive fan of candles or has a spare oil burner lying around with no use.
Cheaper and simpler to make than candles, wax melts might just become your new favourite way to diffuse essential oils in your space.
What do I need to make wax melts?
The best thing about wax melts is that they require very little pre-planning, assembly, or complicated science in comparison to other popular scent projects.
You will need:
300g soy wax flakes
40g oils
A glass jug
Silicone moulds in your preferred shape
And that's it! If you've never worked with soy wax before, or you aren't sure how to make wax melts with soy wax, have no fear – we'll break down the steps on how to use it later.
You can also use wax dye in the colour of your choice if you'd like to customise your wax melts even further, but this isn't essential – your melts will smell just as nice either way.
This is a fully customisable recipe, so if you're wondering how to make wax melts smell stronger or more subtle, you can change the quantity of oil to mould the scent of your wax melts more to your preference.
You can use 40g of just one oil, or you can split that 40g between several. You can also decide whether you would rather use essential oils or fragrance oils to scent your wax melts.
What's the difference between essential oils and fragrance oils?
While you can use either in your wax melts, both essential oils and fragrance oils carry their own advantages that may sway you more towards one than the other.
Essential oils are a great choice if you're looking to create aromatherapy wax melts with health and wellness benefits as well as all-natural scents.
Essential oils can also be blended together at home or found in a pre-made blend like pumpkin spice essential oil blend, to help you create more unique scent combinations.
Alternatively, you can use fragrance oils to scent your wax melts with more creative aromas that you can't necessarily find through natural means – like Baked Cinnamon Bun or Frosted Wonderland.
Fragrance oils are also specifically created for use in these types of scent projects, so can be a lot easier to work with if you're new to making wax melts.
How to make wax melts:
Place your wax into a heatproof glass jug.
Melt the wax by placing the jug in the microwave for thirty seconds. Take out the wax and stir, then place it back in the microwave for a further thirty seconds. Repeat this process until the wax is fully melted.
Take care not to overheat the wax. Overheating can result in little white spots on your wax, which can make your wax melts look less professional. These won't, however, affect the quality or scent of the wax melts overall.
If you want to add a wax dye to your melts, then you should do that here. Otherwise, you're ready to add the oils. When the wax has cooled slightly but is still not solidifying, add your chosen essential oil, fragrance oil or blend and stir well.
Pour the wax into your chosen moulds and leave them in a cool place until the shapes have hardened. It's usually better to leave them overnight. Be careful not to place the moulds in the fridge, as the wax will crack if it gets too cold.
Once the wax has hardened, remove it from the moulds. Your melts are now ready to use.
How do I use my wax melts?
In order to use your wax melts, you will need a melt warmer or oil burner. These are generally easy to find and can be used to diffuse essential oils and fragrance oils too.
Place 1-3 melts in the tray of your melt warmer, depending on your preferred length and duration of scent, and light below. You can choose melts of the same scent or mix and match them to get your ideal blend.
Be careful never to touch the hot wax that is produced during the process, and always keep your burner high up and away from children and pets.
You can also place melts in drawers, cupboards and even shoes to keep them smelling fresh.
Making wax melts is a fun and simple way to introduce yourself to the world of scent crafting without having to worry about spending too much money, time or energy on trial and error.
Wax melts can be customised to your heart's content too, so feel free to experiment by trying out different wax dyes and moulds, or even adding extra elements like glitter to really make your melts stand out.
However you choose to make them, wax melts are sure to become a new staple in your day-to-day life.
Shop our essential oil range here.
Shop our fragrance oil range here.
{ if (visible && product == e.detail.data) return; ready = false; const articleTop = document.querySelector('[data-article]').getBoundingClientRect().top + window.scrollY; $nextTick(() => { product = e.detail.data; selected = product.variants[0].id; ready = true; setTimeout(() => { top = e.detail.target.getBoundingClientRect().top + window.scrollY - articleTop; show(); }, 10) }) }" @scroll.window="close()" >