4 min read / 2 December 2022 / Laura Garvin Gomez
The Best Fragrance Oils for Candles
Looking for the perfect fragrance to use in your candles? You've come to the right place.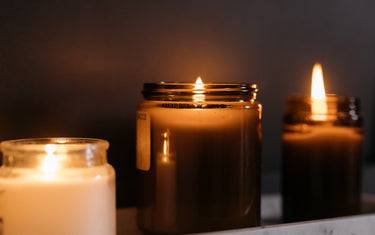 Candle making is a hobby that anyone can start at home, letting you express your creative side as you craft the right ambience for you to relax in.
With the simple addition of a few drops of fragrance oil, you can add a whole new dimension to your candles, bringing a refreshing and unique scent into your home.
Fine fragrances are specially formulated for use in candles and soap making, and we've compiled a short list of some of the best fragrance oils for candles to give you a place to start.
Are fragrance oils the same as essential oils?
This is an important question to ask and one that can help save you a lot of time and money as you learn how to make candles.
Essential oils contain natural ingredients that can offer health benefits for your physical and mental well-being, while fragrance oils are specially formulated to heighten the senses and work particularly well in homemade candles and soaps.
Of course, you can also use essential oils in candles (which you can read more about in our guide to making candles with essential oils), so it all depends on what you are using the candles for.
It often comes down to the flashpoint of the essential oil, which is the temperature point at which they start to evaporate.
Some can have very low flashpoints, while fragrance oils tend to have the opposite due to their special blend of ingredients.
Learn more about the differences between fragrance oils and essential oils and why that matters when making candles.
How do you make candles?
Candle-making is a lot more straightforward than you probably imagine, and it's something that you can do without the need for any special skills or experience.
It can also be a great extra gift for friends and family for Christmas and birthdays, as you can personalise them, unlike the generic products that are sold online or in shops.
Look at our guide on candle-making tips for beginners to learn how to get started. It offers advice about all the different types of shapes, wax, scents and wicks that can be used and much more.
Then when you're ready to go, you can use our list below to help you find the right fragrance.
What are the best fragrance oils for candles?
The best fragrance oils for candles are a personal choice and come down to your own preferences and tastes. But to give you an idea of the types of oils on offer, we've put together a few suggestions for you.
Enjoy the homely warmth of Apple & Cinnamon Fine Fragrance Oil
There is something about the scent combination of apple & cinnamon that makes you feel like you're snuggled up at home – no matter where you may be.
The scent of the Apple & Cinnamon Fine Fragrance Oil recalls memories of smelling a freshly baked pie being cooked in the oven or the waft that enlivens your senses as you walk into a bakery.
It's the perfect oil for homemade candles and will allow you to relax whilst enjoying one of the most comforting smells around.
Read our blog about how to make an apple and cinnamon scented candle for autumn to see how it all comes together.
Clementine & Cinnamon Fine Fragrance Oil offer a sense of tradition
Our Clementine & Cinnamon Fine Fragrance Oil is a combination of two of the most popular and enduring aromas around.
It's an aromatic blend of citrus and rich Christmas spices, with the luminous top notes adding a relaxing sense of calm.
There are few better ways to set the mood in the run-up to Christmas and right through the holidays, with the crisp aroma adding a whole new layer of life to the ambience.
Embellish your home with the earthy tones of Amber Fragrance Oil
The scent of Amber Fragrance Oil lets your mind drift far away into a calmer, serene space where you can relax and unwind.
This is a truly memorable scent that works wonderfully when used in a candle, spreading its warmth and welcoming notes near and far.
As with all our fragrance oils, this oil has been specially formulated for use in candles and soap and works just as well in diffusers and burners.
Fine Fragrances made for Long-Lasting Scent for all types of occasions
Of course, you want your preferred fragrance to permeate your home for as long as possible, so it makes sense to look for oils that will last for as long as possible.
Not only do Fine Fragrances made for Long-Lasting Scent offer that thanks to their special blend of ingredients, but they can also be used for soap making and diffusers so that you can get even more use out of them.
Whether it's for Christmas or any other time of the year, these fragrance oils can help you set the right mood.
Once you start to delve a little deeper into the world of fragrance oils, you'll find a never-ending array of recipes to try out.
After a while, you'll probably want to start creating your own, and with so many to choose from there is always something new to create.
And remember, candles and fragrance oils aren't just for Christmas, as you can enjoy them all year round and there's always a new scent waiting to be explored.
Shop our complete fragrance oil range.
{ if (visible && product == e.detail.data) return; ready = false; const articleTop = document.querySelector('[data-article]').getBoundingClientRect().top + window.scrollY; $nextTick(() => { product = e.detail.data; selected = product.variants[0].id; ready = true; setTimeout(() => { top = e.detail.target.getBoundingClientRect().top + window.scrollY - articleTop; show(); }, 10) }) }" @scroll.window="close()" >