16 September 2022 / Laura Garvin Gomez
How to Make an Apple & Cinnamon Scented Candle for Autumn
Welcome in the cosy season with this warming apple and cinnamon scented candle.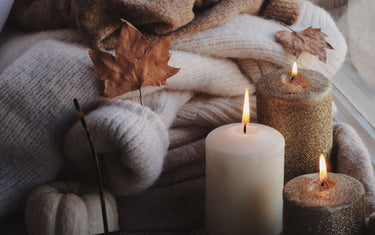 As the weather turns colder and the leaves turn orange, snuggle up with these sweet and comforting DIY candles.
One of the greatest parts of autumn - in our humble opinion - is the sweet scent of cinnamon-sprinkled treats lining every coffee shop and bakery.
With warm scarves and fluffy jumpers gradually replacing flowy skirts and sunglasses, now is the perfect opportunity to create a warm, fruity and lightly spiced apple candle to help sink into the festive season.
Place on your bedside table during a self-care evening, turn into an autumnal centrepiece or gift to a close friend.
Ingredients:
This is a very rough guide, as the oil quantity should vary dependent on the size of candle that you plan to make and the amount that smells best to you.
We would recommend adding between 30-35 drops of fragrance oil in total (or around 10% of your chosen mass), so if you decide to adjust the amount of oil then make sure that you account for this change in your other measurements.
This recipe uses our Apple & Cinnamon Fine Fragrance Oil which has been created specifically for use in candles and other DIY crafts - however our premium version will work for this recipe also.
You an also substitute essential oils such as Cinnamon or Clove Bud if you prefer to add natural aromatherapy benefits to your candles.
If you do choose to switch to essential oils, you can substitute the essential oils of your choice without having to adjust the quantities.
We do, however, recommend being aware of the oil's flash points, as some essential oils tend to vaporise much faster when heated.
You can learn more about flash points and why they matter here.
You will also need:
Method:
Add a glue dot to the underside of the metal circle at the end of your candle wick, then press that circle to the bottom of your candle container. Hold for a few seconds to make sure that it is stuck down neatly.
Measure out the amount of wax you will need by filling your candle container as high as you would like it, and then repeating the process. The wax will halve in volume when melted, so you will need enough wax flakes to fill your container twice.
Place a pan of simmering water over the stove. Pour your soy wax into a glass bowl, and then place it in the pan. Let the wax melt before removing it from the stove.
Set aside the wax to cool for a minute or so, but ensure that in this time it remains in a liquid state.
Add your Apple & Cinnamon Fragrance Oil (or chosen substitute oils) and mix it into the wax.
Carefully pour the wax mixture into your chosen container. Ensure that the wick stands straight and remains upright as you do this.
Let the candles set for 24 hours, ensuring the wick stands straight for the entire time.
Snip the wick to the length you want, and light to enjoy!
Shop our fragrance oil range here.