14 October 2022 / Laura Garvin Gomez
Candle Making Tips for Beginners
Tackle your new favourite hobby head-on with the help of these frequently asked questions.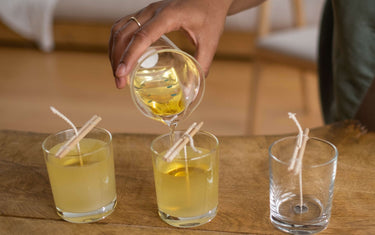 Starting a new hobby can be a daunting prospect at first.
From learning the violin to sewing up vintage jackets, each hobby has its own set of rules and regulations - and candle making is no exception.
While some of these rules may seem confusing and have you feeling like you just want to throw the towel in, there's no need to worry!
We've created a list of some of the top frequently asked questions, plus some helpful candle making tips to guide you along the way.
In need of start-to-finish advice on candle making for beginners? Check out our beginner's guide to making candles here.
How do I know which candle shape is best?
If you're just getting started, one of the easiest candle shapes to go for is the container candle.
Just like the name suggests, this type of candle allows you to simply pour your wax into a heat-proof container - like a glass or metal jar - and simply let the material mould your candle for you.
Whichever container you choose, it is important to let it sit at room temperature for at least 30 minutes to achieve the best results.
How hot or cold your container is may determine the speed at which your candles set, so it's important to get this step right - if they set too quickly, you may be met with sinking, holes and a poor finish in your end product.
It's also important to ensure your candles are on an even surface before pouring the hot wax into them.
Which scent is best for candles?
Once you've chosen which container you're going to use, you're now met with the most important part of the candle making process - the scent!
The best thing about candles is that they come in a wide variety of aromas, and there really is no one scent that trumps the others in terms of being the best.
Scents are subjective, so feel free to get creative and combine all your favourites together to find something you love.
Essential oils vs fragrance oils
There can be a lot of debate surrounding whether essential oils or fragrance oils are better for your candles.
The short answer is - it depends on what you're using your candles for.
The great thing about essential oils is that they carry a number of natural benefits alongside their beautiful scents.
Adding essential oils like lavender into your candles can encourage relaxation as well as facilitate a calming environment for sleep, while oils like citronella can help to keep bugs away in the summertime.
While essential oils are a great choice for candles, it's important to be wary of how they hold up under heated conditions.
Certain essential oils can have very low flash points, meaning they can evaporate easily during the candle making process and lose their scent altogether.
You can find out more about flash points and why they're important here.
Fragrance oils, on the other hand, are usually made specifically for candles, meaning their durability and strength can make them easier and more reliable for beginners.
Fragrance oils also come in a variety of imaginative scents such as pumpkin spice and candy cane - which can save you time if you don't want to experiment with different base aromas to get the outcome you want.
What kind of wax is best for candles?
There are two main types of wax that are used in modern candle making: soy wax and paraffin wax.
While both have their own set of advantages, soy wax is generally preferred among candle makers for a number of reasons.
Unlike paraffin wax, soy wax is made entirely out of natural compounds, and therefore has a less harmful effect on the environment than its traditional alternative.
Equally, soy wax burns for a much longer period that paraffin wax due to its lower melting point - meaning your candle won't run out as quickly and the scent can be enjoyed for longer.
What size wick do I need for my candle?
When making candles for the first time, one of the most important candle making techniques to consider is the size of your wick.
This can very depending on the wax, candle size and scent.
If the wick is too long, the flame can end up producing soot and smoke, as well as making the candle too hot.
Too short or thin, and the wick won't become hot enough to melt through the candle.
Important things to consider
Ultimately, the results of candle making are a thing of pure science - so patience is a massive virtue! Don't get frustrated if things don't work out first time.
Once you do find a recipe that works, however, but sure to write down a step-by-step list for yourself of the measurements, temperatures, fragrances and container sizes you used.
This will make it a lot easier to replicate your formula next time round, ensuring you get perfect candles every time.
If you find yourself struggling to remember the recipes you used before you note them down, try writing out each of your test runs too, and then scrap the ones that didn't work out later.
Candle making is a fantastic way to practice mindfulness and enhance your creativity, plus present you with a great opportunity to make homemade gifts for your friends and family.
However you choose to make your candles, keeping these candle making tips for beginners in the back of your mind will make your experience all the more smooth.
Shop our essential oils
here
.
Shop our fragrance oils
here
.
{ if (visible && product == e.detail.data) return; ready = false; const articleTop = document.querySelector('[data-article]').getBoundingClientRect().top + window.scrollY; $nextTick(() => { product = e.detail.data; selected = product.variants[0].id; ready = true; setTimeout(() => { top = e.detail.target.getBoundingClientRect().top + window.scrollY - articleTop; show(); }, 10) }) }" @scroll.window="close()" >