4 min read / 5 December 2022 / Laura Garvin Gomez
Can I Put Fragrance Oil on My Skin?
Find out about the safety of fragrance oils and whether or not they're appropriate for use on skin.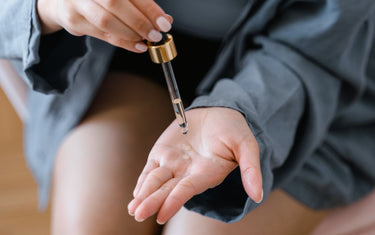 It's likely we've all come across a fragrance oil and wondered what to do with it at first.
Commonly associated with soap and candle making, fragrance oils can appear as a little bit of a question mark between natural essential oils and commercial perfumes.
Their scents can be drastically varied, from light and familiar jasmine scents to rich and sugary candy floss, and can be utilised for a number of projects both for use in the home and across small businesses.
This is where the questions of whether or not fragrance oils should be used on the skin comes into play.
Many see the appeal of scenting their cosmetics with something comforting and unique, but figuring out the safety of using fragrance oils for skin can be a daunting prospect, especially if you're just starting out.
We'll be documenting everything you need to know about fragrance oils, how to use them, and their overall safety for the skin.
Are fragrance oils the same as essential oils?
No, unlike essential oils, fragrance oils are not natural products, and are instead created by a perfumer to mimic or replicate a particular scent.
While they can contain natural ingredients, they won't have as many (if any) of the same mental or physical benefits as essential oils - so if you're looking for a scent to send you to sleep, they may not be the best choice.
What fragrance oils do excel in, is the ability to create strong, long-lasting scents that will shine through in candles and soaps, as well as other similar products.
They provide a distinct and specific type of scent that you won't be able to acquire naturally and can even be considered more practical to work with than essential oils.
In short, they're a perfect fit if you want a no-fuss approach to scenting your home.
Learn more about the difference between essential oils vs fragrance oils.
Can I put fragrance oil on my skin?
Like essential oils, fragrance oils are generally perfectly safe for use on the skin if they're properly diluted.
This means that your chosen fragrances either need to be combined with a carrier oil or sufficiently integrated into the other ingredients of your product.
For example, if you're looking to apply fragrance oils to the skin as an alternative to commercial perfume, you must dilute it with a carrier oil like coconut or jojoba oil before use.
However, make sure to be careful if you have sensitive skin and always make sure to perform a patch test before general usage.
How do I perform a patch test?
To perform a patch test when thinking about using fragrance oils on the skin, start with a low dilution of about 1% and work your way up gradually - but try not to go above 5% if you can.
If you experience any sort of reaction to the oil or its constituents, you should terminate use immediately and seek medical advice if required.
For those creating scented skin products like creams or body scrubs, it is important to always refer to the IFRA certificate of your chosen fragrance oil to find out how much you should include.
What are some other uses for fragrance oils?
While fragrance oils can be great for use on the skin - either as an ingredient in cosmetics or on their own with a carrier oil - there are a number of other applications that fragrance oils lend themselves brilliantly to.
Candles and soaps are the obvious choices, with fine fragrances, in particular, producing a powerful scent throw that can last beyond the average perfume oil.
Other popular options are creams and lotions, as well as wax melts, slime, room sprays, and bath salts.
If you don't feel like crafting, fragrance oils are also suitable for any type of household diffuser and can provide a more consistent, long-lasting scent in your home.
Whether or not you do decide to use fragrance oils on the skin, it is important to note that safety should always be a top priority for yourself and others.
Extra caution should be taken if you're prone to allergies or have sensitive skin, and be prepared to change up the type of oil you're using if a patch test is unsuccessful.
Overall, fragrance oils are a great way to naturally scent yourself, your spaces, and your crafts - so feel free to get creative and find the scents that you feel best suit your personality and lifestyle.
{ if (visible && product == e.detail.data) return; ready = false; const articleTop = document.querySelector('[data-article]').getBoundingClientRect().top + window.scrollY; $nextTick(() => { product = e.detail.data; selected = product.variants[0].id; ready = true; setTimeout(() => { top = e.detail.target.getBoundingClientRect().top + window.scrollY - articleTop; show(); }, 10) }) }" @scroll.window="close()" >