6 min read / 8 December 2022 / Laura Garvin Gomez
How to make Aromatherapy Massage Oil Using Essential Oils - The Complete Guide
Venture into the world of wellness with these top tips on creating the best at-home massage.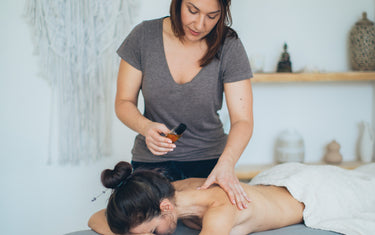 Everyone loves receiving a relaxing and restorative massage.
Whether you're experiencing stubborn aches that require some attention, or are simply looking for your next self-care staple, natural massage oils are a welcome tool for comfort and wellness.
Made using a combination of essential oils and carrier oils, these massage remedies can be applied on yourself, a client, or a loved one, and can offer up a number of different uses dependant on their intended purpose.
Before we venture into how to make these oils for massage, we're first going to have a look at what each of the components are, what benefits they offer, and how they can be used to create a peaceful atmosphere throughout your practice.
What are carrier oils?
Carrier oils are the first ingredient you will need to consider when making your homemade massage oil, as they make up the majority base of your final product.
Derived from the seeds, kernels, nuts, and fruits of various plants, carrier oils are naturally gentle and have been widely used for topical application due to their absorbability and lightweight formulas.
Their common purpose is to "carry" essential oils into the skin for safe use, as essential oils are too potent and concentrated to be applied on their own.
It is because of this that carrier oils make such valuable massage remedies, as they can combine their own moisturising benefits with those of the essential oils to encourage faster recovery, greater relaxation, and a more pleasant aroma.
Carrier oils themselves tend to be odourless, and while some may have a slight colour to them, they are generally neutral enough to be used on the body without risk of staining or streaking.
What is the best massage oil?
All aromatherapy carrier oils contain some sort of impactful characteristic for the body, but these oils in particular are preferred for use as a massage base.
What is the best carrier oil for massage?
Lightweight, moisturising, and naturally high in antioxidants, jojoba oil is considered the best oil for body massage due to its countless benefits for skin health and appearance.
It can balance the production of sebum in the skin, as well as reduce scarring, signs of ageing, sunburn and even acne over time.
Jojoba's waxy consistency also makes it a great oil carrier for essential oils, as it can easily retain their properties and successfully absorb them into the skin.
What is the best carrier oil for reactive skin?
A natural byproduct of the wine industry, grapeseed oil is deeply hydrating and is rich in vitamins A, B, D, and E among a number of essential fatty acids.
These properties make grapeseed a highly absorbable oil, particularly for oily skin types, with numerous benefits including the prevention of dryness and discolouration, as well as protection against irritants like sunlight and pollution.
Grapeseed oil is also hypo-allergenic, so is a sound choice for performing a massage on someone who is prone to allergies.
What is the best anti-inflammatory carrier oil?
Sweet almond oil has been used for centuries as a massage base, known to help treat skin ailments like sun damage, stretch marks, and scarring.
Its powerful anti-inflammatory effects make it a great option for those suffering from swollen or irritated muscles, while its high levels of vitamins E and A make it rich and nourishing with a manageable, lightweight feel.
If you're looking to use your carrier oils for other applications too, our best carrier oil for essential oils guide can help choose the appropriate combination for you.
What are the best essential oils for massage?
While carrier oils are an important element of your overall massage experience, essential oils are what ultimately impacts the direction your practice will go in.
Learning how to use aromatherapy oils in different ways can help you refine your massage according to the grievances of your receiver, or indeed your own.
With that in mind, here are some of the best essential oils for various forms of massage.
Lavender Oil
Lavender essential oil is a classic relaxation staple, used throughout the world in massage practices for its ability to soothe the mind as well as repair the body.
If you or your client is suffering from anxiety or stress, using an aromatherapy massage oil with lavender can help tone down these emotions and loosen up the muscles in preparation.
Lavender is also known for its pain-relieving properties, particularly against headaches and migraines. Performing a short massage on the temples with lavender oil can help clear these symptoms and provide a sense of peace.
Frankincense Oil
Many people have started using frankincense essential oil as a natural remedy for muscle and joint pain, particularly in the legs and ankles.
This is largely due to the oil's strong anti-inflammatory properties, which can soothe swelling in these areas and help promote faster healing.
Frankincense has also been associated with improvements in mood, as research has discovered that inhalation of the oil can trigger TRPV3 channels in the brain and encourage feelings of warmth, comfort, and positivity.
Peppermint Oil
Like many essential oils, peppermint oil is an antispasmodic. Antispasmodic oils can naturally help relax tense and painful muscles that are causing discomfort as a result of frequent spasms.
Using peppermint oil for a massage can not only help clear these symptoms, but also provide a refreshing and cooling sensation on the skin to help uplift and emotionally balance the client.
You can also try creating a peppermint oil spray to spritz around the room before commencing the practice as a way to purify the atmosphere and encourage a boost in focus.
Rose Geranium Oil
Not to be confused with rose oil, rose geranium oil is an extremely gentle remedy with a beautifully floral aroma that can both soothe and lift your emotions.
Its light but pleasant formula is extremely impactful for the skin, helping to improve its appearance and overall elasticity as well as prevent dryness.
Rose geranium also has prominent anti-inflammatory properties that can help reduce redness, swelling, and pain.
Clary Sage Oil
Known as "the women's oil", clary sage essential oil is an incredible antidote for those suffering from menstrual cramps or discomfort around childbirth.
This is due to the oil's antispasmodic properties which can relax and loosen the muscles in the surrounding areas.
Clary sage is also a great stress reliever, and can directly impact your olfactory system to create a sense of peace and calm.
It's important to note that clary sage is not advised for use on pregnant women before their due date, as it has been known to induce labour.
How to make homemade massage oil
What you need:
50ml amber glass bottle
6-8 drops of essential oil
Carrier oil
Method:
First put 6-8 drops of your chosen essential oil into the empty amber glass bottle. (If you're feeling spoilt for choice, Lavender essential oil is a wonderful and calming beginner oil)
Top up with your chosen carrier oil (a popular choice for a massage oil is sweet almond oil or grapeseed oil)
Shake well!
Massage away.
Where can I buy aromatherapy massage oil?
If you're a massage therapist looking for new oils to use on your clients, our range of carrier oils and essential oil bulk supplies can provide just the right tools you'll need to keep your customers happy.
You can also check out our essential oil wholesale page to sign-up for exclusive trade pricing, as well as one-to-one consultancy with one of our dedicated customer representatives.
Ultimately, the process of creating your aromatherapy massage oil should be fun, relaxing, and even a bit experimental - so feel free to get creative with as many oil combinations as you'd like!
As long as the choices you make are right for your needs and your receiver's needs, your chances of a successful massage are incredibly high.
Shop our essential oil range
here
.
Shop our carrier oil range
here
.