5 min read / 18 October 2021 / Laura Garvin Gomez
The best essential oils to have in your home for autumn
Discover what your favourite autumnal scents can do for the health of you and your family.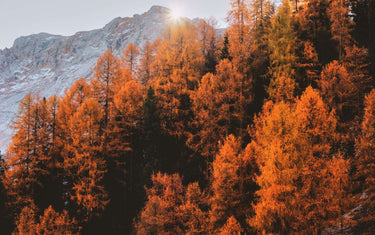 These fall scents will help you set a cosy mood this autumn season, and protect your health in the process.
What do you think of when we say autumn? For us at Nikura, autumn is all about smoky woods, warm spices, and health-boosting herbs.
As schools reopen and seasonal illnesses start to climb, take this opportunity at the turn of the season to replenish your oil collection and make sure you have everything you need to keep your household happy and healthy throughout the autumn months.
Here's a list of some of the best essential oils for autumn, and how you can benefit from them.
Cinnamon oil
The sweet, spicy scent of cinnamon unfailingly calls to mind pumpkin spice lattes and fall baking - making it truly the epitome of autumn essential oils. However, there's other reasons why you should associate this warming scent with autumn.
A 2015 review discussed the many ways in which cinnamon's antimicrobial properties can promote health and protect the body, and it's a long list.
These antimicrobial properties make cinnamon oil ideal for guarding your household against seasonal illnesses.
Clove bud oil
Another warm, seasonal spice, the heartening scent of clove bud has been shown to be great for the immune system, and the oil has been found to protect against the candida fungus and staph infections.
As the weather begins to get colder, diffusing clove bud in your home can offer a welcome boost to your body's natural defences.
Learn more about the benefits of clove bud essential oil.
Black pepper oil
This famous spice has a warming effect that is not only helpful for fending off cold weather, but also helps to soothe the muscle aches and joint pain that often accompany the cooler months, as demonstrated in a 2014 study.
Not just that, but black pepper is known for its stress-relieving effects, and can help to create a cosy, content feeling in the home.
Learn more about the benefits of black pepper essential oil.
Cedarwood oil
The smoky, earthy scent of cedarwood blends beautifully with other autumn oils, and also helps to ease cough symptoms.
The antispasmodic properties of the oil allow it to inhibit cough symptoms and soothe chest muscles.
Cedarwood is also great at supporting skin health as the weather gets colder, with antiseptic properties that have been shown to protect skin from damage.
Essential oils with warming, decongesting properties are perfect choices for autumn.
Patchouli oil
Musky and earthy, patchouli is a beautifully calming base note that also has strong protective qualities.
A study in 2017 found patchouli oil to have strong antibacterial abilities, which allows it to attack unwanted bacteria and keep households clean and healthy.
Peppermint oil
The refreshing scent of peppermint oil is a popular choice for this time of year as it acts as a very effective spider repellent.
It is thought that the monoterpenoids in the oil act as fumigants, deterring spiders throughout spider season and keeping homes bug-free.
Learn more about the benefits of peppermint essential oil.
Benzoin oil
Warm, rich and honey-like, benzoin is an indulgent oil that makes for a valuable addition to your autumn oils collection.
It is often used to improve circulation and stimulate the heartbeat, which has a natural warming effect on the body. It also has expectorant properties, so will help to clear blocked airways as we enter cold and flu season.
Clary sage oil
The classic floral, herbaceous scent of clary sage not only helps circulation and blood flow, combatting the cold, but also helps to fight infections, as shown in a 2015 study.
This makes clary sage a powerful agent against cold-weather illnesses, especially during back to school season.

How to Make Autumn Essential Oil Blends
If you're wanting to hit several of these autumnal benefits at once - combined with the cosy vibes they bring - a homemade blend is the perfect option for optimising your wellness in the colder seasons.
Don't know where to get started? Don't worry! Our essential oil blending guide can help you with all the steps you need to know before creating your own at-home blends.
Blend One:
Sweet, spicy and earthy, this blend truly embodies everything that autumn has to offer.
Its brightening effects, warming properties and calming aromas can help prepare you for the day ahead, as well as set the perfect mood for cosy evenings in.
Blend Two:
If you like cool morning walks in an autumnal forest, this blend hits all the right notes.
Incredibly refreshing with grounding, earthy notes, it's the perfect remedy for the incoming cold and flu season, and can save you a trip outside if the rain simply won't let up.
Blend Three:
Spice, spice, and more spice! If what you love most about the autumn season is the warming ingredients added to every beverage, baked goods and one-pot dinner, look no further than this powerful blend.
Undoubtedly punchy, it can help soothe you from within, protect your body, and sweeten your day.
If you're not quite ready to create your own bespoke remedies, why not check out our Chai Spice, Pumpkin Spice, or Smokey essential oil blends?
Made in-house by our experts, these perfectly balanced essential oil blends provide comforting aromas and restorative benefits to see you through the season.
As we move into autumn and the weather changes, spend some time discovering your favourite fall oils and blends.
The drop in temperature may make the outside world a little harder to face, but the right essential oils for autumn will help you to stay healthy, cheerful and present.
{ if (visible && product == e.detail.data) return; ready = false; const articleTop = document.querySelector('[data-article]').getBoundingClientRect().top + window.scrollY; $nextTick(() => { product = e.detail.data; selected = product.variants[0].id; ready = true; setTimeout(() => { top = e.detail.target.getBoundingClientRect().top + window.scrollY - articleTop; show(); }, 10) }) }" @scroll.window="close()" >