8 min read / 17 October 2023 / yasmin sharp
10 Benefits and Uses of Patchouli Oil
The sweet, musky scent of patchouli can deter pests and balance mood for a clearer outlook.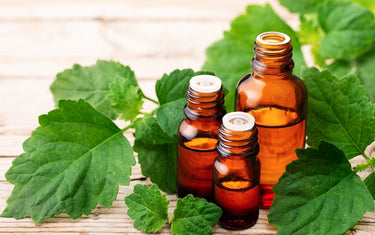 Although uses of patchouli oil are well known in Ayurveda medicine and other traditional healing practises, it wasn't until the mid-60s that it finally became a prominent part of Western culture.
The musky, earthy undertones of the oil were closely associated with Hippie culture, as it allowed people to openly express love and inclusiveness during an era that was willing to embrace new ideas.
Patchouli oil is often used to scent incense sticks, but its many health properties can be put to use for a variety of applications, whether it's relaxing the mind, increasing libido or stimulating the skin.
If you are not aware of the benefits of patchouli essential oil, our guide explains its most prominent features and qualities, so you decide if this is the oil for you.
What is patchouli oil?
Patchouli oil is extracted via steam distillation from the young leaves, dried leaves and shoots of the patchouli plant.
Native to countries like Indonesia, Sri Lanka, New Guinea and the Philippines, the plant is also cultivated for commercial use in South America, Madagascar, Asia and the Caribbean.
Once extracted into oil form, it has a light amber to orange colour and is a common ingredient used by perfumiers.
The natural dusky undertone of the oil is what makes it such a popular choice for so many brands, which tends to linger on the skin of the wearer.
Patchouli oil is also widely used in cosmetics, deodorants, soaps and detergents for similar reasons.
How does patchouli oil work?
The benefits of patchouli oil are derived from a variety of constituents, such as alpha bulnesene, beta patchoulene, alpha patchoulene, alpha guaiene, pogostol and seychellene.
This enables the oil to work as an astringent, diuretic, fungicide, antidepressant, antiseptic and anti-inflammatory agent.
Application of the oil varies, depending on the type of ailment or treatment the user wishes to experience.
For example, the anti-inflammatory and astringent qualities of the oil are expressed through topical application, whilst diffusing patchouli oil can help to lift moods and tackle anxiety.
Benefits of patchouli oil
The benefits of patchouli oil are typically used to:
1. Balance hormones
Patchouli essential oil can provide a natural method of tackling low moods and even depression, according to a rat study published in 2022.
Researchers compared how the oil performed against common antidepressant drugs and found that immobility was decreased and brain dopamine levels increased.
The release of dopamine is important when it comes to tackling depression, as these are referred to as 'happy hormones' that are able to lift low moods.
It has also been used for centuries as a natural aphrodisiac, in the belief that it can boost libido and sex drive and perhaps even cure erectile dysfunction.
2. Work as a cleaning agent
Studies into patchouli oil have also learned that it can offer strong antimicrobial properties.
This is based on a study published in 2013 where researchers found that bacterial and fungal activity could be addressed with the oil, offering good levels of protection against infection.
For people who prefer to use natural cleaning products this could offer a solution.
You can easily make a homemade spray using distilled water, vinegar, baking soda and a few drops of patchouli oil in a glass spray bottle to clean up harmful microorganisms.
3. Stimulate the skin
The astringent qualities of patchouli oil are well known, allowing the oil to keep the skin looking tight and youthful.
Topical application can also help with the regeneration of new skin cells, which can leave the skin looking fresher and brighter.
Patchouli oils antibacterial properties possess the ability to clean pores – which keeps skin clear – whilst its antifungal qualities have been known to reduce the symptoms of athlete's foot.
An older study from 1996 looked at the antifungal properties of patchouli oil.
Researchers found that it could reduce irritation and redness, which are symptoms commonly associated with a variety of skin conditions.
4. Repel bugs and insects
According to a study published in 2003, the application of patchouli oil showed it to be a highly effective termite repellent.
This could mean that the oil is able to stop pests from feeding in unwanted areas in the garden.
There is also plenty of anecdotal evidence to back up this finding.
For years people have used patchouli oil to repel moths, ants, fleas and mosquitoes, along with a variety of other insects.
You can put this to the test at home by making your own bug spray or by diffusing the oil to keep away any unwanted visitors.
5. Tackle inflammation
As researchers continue to learn more about patchouli oil benefits, its anti-inflammatory components have already produced some promising results.
For example, in a 2011 study, it was discovered that macrophage immune cells – which due to the chemicals they release, are commonly associated with inflammation – could have their levels lowered through pre-treatment with patchouli oil.
Inflammation is reduced during this process, which could mean the oil is utilised for the treatment of anti-inflammatory conditions in the future.
6. Offer pain relief
Another mice study wanted to learn more about the pain-relieving effects of using patchouli essential oil.
Researchers found that when an extract of the plant was given orally to the mice, they showed a reduced response to pain in a variety of tests.
They also noted that this pain-relieving benefit could have an association with the anti-inflammatory properties of the plant, although more research is needed to unearth a direct link.
7. Encourage weight loss
When it comes to weight loss, patchouli is usually one of the most referenced essential oils that is believed to have an effect.
No human studies have been carried out to investigate this further, although a 2006 study did look at its weight loss effect on rats.
It involved the rats inhaling patchouli oil, with researchers examining the effect it had on things like body weight and food consumption.
However, this benefit remains an anecdotal belief for now, as the results did not demonstrate any significant difference in body weight or in the amount of food eaten between rats that inhaled the oil and those that did not.
8. Minimise scars
The quick-healing properties of patchouli oil can prove beneficial when it comes to minimising the look of scars and marks created by wounds, acne, boils or measles.
This works in combination with the oil's skin repairing abilities, which helps to regenerate skin cells to support faster healing to restore the area to its former condition.
To try this at home, mix a few drops of patchouli with a carrier oil of choice and rub into your hands to slightly warm it.
Then apply on the scarred area of skin every day to reduce the appearance of scars and marks.
9. Combat body odour
Patchouli essential oil is used as an ingredient in several deodorant brands, with its musky, spicy aroma providing the perfect cover for strong body odours.
And because the oil also contains antifungal and antibacterial properties, it can also offer protection to stop the odour by killing germs and fighting fungus.
You can see if patchouli oil benefits your skin by making your own homemade deodorant.
Mix 1-2 drops with a carrier oil of choice and either add it to your favourite body lotion or directly into your armpits (you should only need 1-2 drops as the scent of the oil is very strong).
10. Increase urination frequency
Frequent urination is important for your body as it enables bodily organs to release unwanted toxins, whilst relieving pressure on your kidneys.
It can also help to naturally lower blood pressure and cholesterol levels.
It is believed that patchouli oil can help to increase the frequency of urination, so you can remove excess salt, water and uric acid, which also benefits your gallbladder.
How to use patchouli oil
Patchouli oil uses range from skin and haircare to aromatherapy and home cleaning. So, you could try it:
As an aromatherapy remedy
The aroma of patchouli is not for everyone and can be something of an acquired taste.
However, the benefits of patchouli oil can offer you some mental relief.
Add a few drops to an oil burner or diffuser and once the aroma begins to fill the room, its woody, earthy scent can help to clear and ease the mind of negative thoughts.
As a massage lotion
Patchouli oil benefits the body as much as the mind, with its skincare qualities highly regarded amongst essential oil enthusiasts.
It possesses both astringent and anti-inflammatory properties that can improve the condition of the skin and support muscle relaxation.
To see if it can work for you, mix a few drops with a carrier oil of choice, and apply to problem spots on the skin.
History of patchouli oil
The name "patchouli" is derived from the Tamil word "patchai" which simply means "green".
One of the earliest recorded uses of patchouli is when it was applied to Eastern fabrics as a scent to mask odours and repel moths.
This allowed people to verify the authenticity of the garments, as when these fabrics began to be traded globally, if the scent was detected it offered assurances about their origins.
It is also believed that because he was so fond of the scent, 10 gallons of patchouli oil were buried with Tutankhamun in his tomb.
Over the years, the oil has developed a close association with causes that champion values of peace and love, which also helped it to make it a prominent oil in aromatherapy circles.
Patchouli Oil FAQs
Can anyone use patchouli oil?
Anyone taking blood-thinning medication or who have bleeding disorders or have recently undergone major surgery should avoid using patchouli oil, as it can affect blood clotting.
If you are a first-time user, it is advisable to complete a patch test to see if the oil is compatible and will not cause irritation or an allergic reaction.
Can you ingest patchouli oil?
You can only ingest food grade patchouli oil and should avoid ingesting the oil in any other form.
Always check the packaging or ask the seller to confirm if the oil is food grade.
The safest way to use patchouli essential oil is through topical application or diffusion.
Is patchouli oil good for colds and flus?
Patchouli oil can be very effective at combating symptoms created by colds and flus.
When the oil is inhaled, it can naturally trigger the immune system, helping to reduce fevers by eliminating infectious bacteria.
This may be able to lower the body temperature and provide some relief from other associated symptoms.
| | |
| --- | --- |
| Product Name | 100% Pure Patchouli (Indonesian) Essential Oil |
| Botanical Name | Pogostemon Cablin |
| Scent Type | Earthy |
| Benefits & Uses | Calming, Insect Repellent, Balancing |
| Suitable for Diffusers? | Yes, this patchouli (indonesian) essential oil is perfect for diffusers. |
| Suitable for Candles and Soaps? | Yes, this patchouli (indonesian) essential oil is perfect for candle and soap making. |
| Extraction Method | Steam Distillation |
| Bottle Type | Tamper proof and UV resistant |
{ let idx = null; product.variants.forEach((v, i) => { if (v.featured_image && v.featured_image.id == $event.detail) { idx = i; } }); if (idx !== null) swiper.slideTo(idx, 0); }" x-init="() => { if (variants.length > 1) { const images = product.variants.map(v => { if (v.featured_image) { return `
`; } }) appendSlides(images); } else { if (product.featured_image) { appendSlides(`
`); } } }" >