5 min read / 7 October 2022 / Laura Garvin Gomez
The Best Essential Oil Diffuser Blends for Autumn
Cosy up with these fun recipes and ready-made remedies.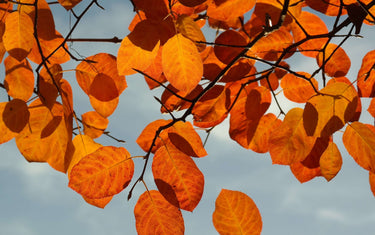 Scents steal the show during the autumn season - whether its the form of a candle, some festive baking, or a warm and spicy drink.
It's undeniable that wonderful smells are everywhere, so how could we possibly resist the urge to include them in our homes and workspaces?
Those of us who have already developed an extensive aromatherapy collection over the years will know that there is no ingredient more key to a festive-smelling home than some warming essential oils.
Ranging from spicy and earthy to fruity and fresh, there's an endless number of scent combinations that can be created, enjoyed, and saved for seasons to come.
The main benefit of essential oils over other shop-bought scents is the range of natural properties that come along with them.
These properties can not only leave your home smelling nice, but allow your mind and body to feel cleared and replenished also.
So, with that in mind, we've created a list of our top autumnal essential oil blends to make, diffuse, and reuse around your home.

Directions
Please note that this is only a rough guide on how to make essential oil blends.
You can find out more information about how to blend by notes, purposes and scents by following our Essential Oils Blending Guide.
Select a blend from below and add the suggested number of drops to your diffuser one at a time - we've only featured 10 drops per blend so, if you don't like a scent, you haven't wasted too many of your oils making it.
Once you've confirmed you enjoy the blend, feel free to add more to your diffuser, or adjust any quantities as needed.
Be sure to always refer to your diffuser's instructions while doing this, so you don't accidentally add more drops than it supports.
Alternatively, you can add your blend to an amber glass bottle and save for future use.
Precautions
Avoid diffusing your blend for longer than 1 hour at a time - too much diffusion could cause an increased sensitivity to the oil, not to mention a wastage of product!
Do not apply undiluted to the skin, always use a carrier oil like Sweet Almond Carrier Oil or Jojoba Golden Carrier Oil if you prefer topical application.
Essential Oil Blend 1
3 drops of Ginger (Chinese)
2 drops of Cassia
2 drops of Cinnamon (Bark)
Akin to the scent of warm autumnal baking, this blend features the ideal combination of sharp and mellow spices, bringing in a comforting sweetness that will make your home feel warm and safe.
This blend is also highly beneficial for combatting some of the more unpleasant symptoms that the colder weather can bring.
Ginger oil can help remedy the common cold using its expectorant properties, which can help it flush out harmful bacteria and help protect against infections.
Cinnamon and cassia, on the other hand, both contain properties that can help naturally warm the body, due to their abilities to boost circulation, improve heart health and replenish the immune system.
Find out more about ginger, cassia and cinnamon.

Essential Oil Blend 2
6 drops of Orange (Sweet)
3 drops of Clove Bud
1 drop of Nutmeg
Marrying together the festive pairing of orange and clove with just a hint of woody nutmeg, this blend is great for diffusing in that crucial space between Halloween and Christmas.
Naturally calming and brightening, the scent of sweet orange is known for reducing anxieties, helping to maintain a clean home and lowering blood pressure. This makes it an ideal scent for relaxing and getting into the cosier seasons.
Clove bud is known for fighting against illnesses and infections due to its antibacterial and antioxidant properties, while the warming scent of nutmeg can help stimulate blood flow.
Find out more about orange, clove and nutmeg.

Essential Oil Blend 3
5 drops of Cedarwood (Himalayan)
3 drops of Amyris
2 drops of Patchouli (Indonesian)
If you're favourite part of autumn is the earthy scent leftover from a chilly walk in the woods, this blend is for you.
Extracted from three different types of trees, these essential oils can help ground your mind and body, protect against coughs and colds, and even repel insects native to the colder, darker weather - like moths.
Find out more about cedarwood, amyris and patchouli.

Other Essential Oil Blends
Are none of these recipes really standing out to you? Don't feel prepared enough to start creating your own blends at home? No need to worry!
We've developed our very own range of autumn essential oil blends with the help of our in-house experts to see you through.
Chai Spice Essential Oil Blend
Featuring Cinnamon (Bark), Clove Bud, Ginger (Chinese), Nutmeg and Star Anise, this little blend of spicy goodness works overtime to ensure the best of your health and wellbeing.
Each oil helps to attack harmful bacteria and warm your body from within, all while smelling like the perfect autumnal refreshment.
Shop our chai spice blend here.

Pumpkin Spice Essential Oil Blend
It simply wouldn't be autumn without the scent of this cult favourite coffee shop drink.
A sweet combination of Cinnamon (Bark), Clove Bud and Nutmeg creates the ideal spicy mix for cuddling in your favourite blanket and watching the world go by.
Shop our pumpkin spice blend here.

Smokey Essential Oil Blend
Who could forget one of the most crucial markers of the autumn season - Bonfire Night!
Bringing together all the smoky goodness of a night of fireworks, sweet stalls and fairground rides, this blend combines Cade, Cedarwood (Himalayan), Cypress and Nutmeg - four oils known for facilitating calm and reassurance.
Shop our smokey blend here.

Whether you choose to formulate your own bespoke blends this autumn, or select from our own growing range, be sure to make this autumn the best it can be with these warm, inviting, and protective essential oils.
{ if (visible && product == e.detail.data) return; ready = false; const articleTop = document.querySelector('[data-article]').getBoundingClientRect().top + window.scrollY; $nextTick(() => { product = e.detail.data; selected = product.variants[0].id; ready = true; setTimeout(() => { top = e.detail.target.getBoundingClientRect().top + window.scrollY - articleTop; show(); }, 10) }) }" @scroll.window="close()" >