3 min read / 22 April 2022 / Caitlin Devlin
The best essential oils to wake up with
If you struggle to get out of bed, these scents can help.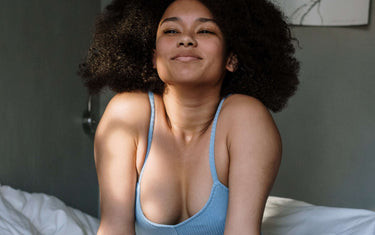 Getting out of bed can sometimes feel like an impossible task, but
essential oils can help you to start your day on the right foot.
There are many factors that can contribute to our reluctance to wake up – we might have slept badly the night before, we might be stressed about what the day holds, or we might feel groggy and unfocused.
These are all problems that we can work through, however, and diffusing certain oils in the morning can be a particularly effective way of giving us the boost we need to face the day.
Here are some of our favourite essential oils to get you enthusiastically rolling out of bed.
Inhaling basil oil when you wake up can help you to start your day on the
right track. This spicy, herbal scent can banish sluggishness and stimulate the senses, helping you to move forward with a greater sense of presence.
Learn more about the benefits of basil essential oil.
The sweet citrus scent of grapefruit oil is a great early morning scent. Grapefruit is thought to stimulate the endocrine glands that affect our hormones, brightening our mood.
It is often used to alleviate 'brain fog' by supporting the action of neurotransmitters and can therefore boost energy and alertness.
Learn more about the benefits of grapefruit essential oil.
Lemon has been found to increase heart rate and facilitate greater alertness and focus. It combats feelings of exhaustion and boosts positivity, helping us to get out of bed on the right side every morning.
Learn more about the benefits of lemon essential oil.
Ravensara is a positive, uplifting herb, closely associated with happiness and stress relief and known to boost energy. Inhaling ravensara oil can help us to assume a positive mindset as we face the day.
Noted for its stimulating effects, rosemary is able to increase heart rate and breathing, naturally waking our bodies up. It is known for the refreshing feeling that it leaves us with and is also said to inspire a desire to be active.
Diffuse these scents in your room for the perfect energy boost to start your day.
Spearmint shares the stimulating, enlivening properties of its cousin peppermint, but boasts a more sugary scent that is sweeter to wake up to. It is able to improve breath flow and increase energy and alertness.
Learn more about the benefits of mint essential oils.
Sweet orange oil is known for its ability to decrease anxiety and blood pressure, reducing the stress that can come with an early morning alarm. This citrus scent is also said to improve concentration and energise the mind, preparing us for a busy day.
Wintergreen can open up airways and improve respiration, putting us in a more wakeful state. The festive oil is also said to invigorate the mind, fight fatigue, and increase concentration – all properties that can help us to put our best foot forward.
Learn more about the benefits of wintergreen essential oil.
The best essential oils for your morning routine may be different to other people's, and it's important to figure out which scents are pleasing to you – your morning won't be improved by a scent you don't like!