2 min read / 13 January 2022 / Caitlin Devlin
Benefits and Uses of Wintergreen Oil
Wintergreen's vibrant, minty scent isn't the only thing worth noting about this helpful oil.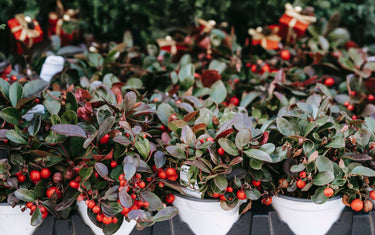 With its unique minty scent and its powerful qualities, wintergreen is an intriguing essential oil.
Extracted from the odourless, tasteless leaves of an evergreen plant, the oil performs a sort of magic trick in the distillation process – a compound called gaultherin is hydrolysed and takes on the oil's signature strong scent, despite the plant itself being scentless.
Wintergreen was a common ingredient in circulation-boosting, muscle-soothing balms throughout history, and is now used for its energising, anti-inflammatory properties, as well as being a natural colourant and flavouring.
Wintergreen essential oil soothes sore muscles.
Known for its ability to relieve pain and muscle tension, wintergreen has powerful anti-inflammatory properties.
A study in 2014 found that wintergreen essential oil was able to reduce inflammation and pain in damaged tissue, and the oil is therefore considered a useful therapeutic treatment for sports injuries.
It is thought that these effects are due to the presence of the compound methyl salicylate, of which the oil contains about 85-99%. Methyl salicylate has been observed to have significant anti-inflammatory effects.
It's an antioxidant.
Wintergreen oil is a powerful barrier to oxidative damage. A study in 2014 found that wintergreen oil showed significant antioxidant activity against toxins in the body.
These strong antioxidant abilities allow it to protect us from the oxidising effects of free radicals, reducing cell damage and lowering the risk of some serious diseases.
It can relieve cold symptoms.
Wintergreen also has the ability to relieve cold and flu symptoms and allow easier breathing.
The leaves of the wintergreen plant contain an aspirin-like chemical that it is known to help reduce pain and congestion.
Inhaling wintergreen can therefore help to reduce discomfort during cold and flu season and open airways in similar fashion to vapour rub, allowing for easier breathing.
Diffusing wintergreen oil can allow for a quicker, gentler recovery from congesting illnesses.
It can boost energy.
Wintergreen oil doesn't just open up airways, but it can also improve respiration altogether and boost exercise performance by helping us to breathe our best.
Inhaling wintergreen oil is also said to increase concentration and wakefulness, giving the brain a boost. Diffusing wintergreen oil is a great way to fight fatigue and keep energy levels up.
Bold wintergreen is worth adding to your collection for more than just its brilliant colour and strong, pleasing scent. Its soothing, energising and health-promoting abilities make it a top pick for athletes and a great choice for anyone simply looking to reinvigorate themselves.
Shop our wintergreen essential oil here.