16 November 2022 / Laura Garvin Gomez
Best Aromatherapy Gifts for Essential Oil Lovers
Give the gift of relaxation to the one's you love this Christmas.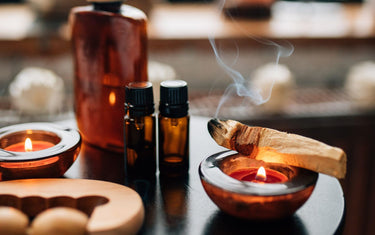 The gift of aromatherapy is one that can be endlessly shared.
There isn't anyone who doesn't appreciate the gentle feeling of relaxation now and again, and essential oils make it all the more possible to quieten your mind and sink into some deserved self care.
As the holiday season fast approaches, some of us may be wondering about the best approach for bringing peace to the ones we love.
For those seasoned aromatherapists among us, this time may be just another opportunity to add to a growing collection of essential oils and wellness treats. But for those just starting out, it can be hard to understand aromatherapy without the right tools to execute the perfect gift.
If you're looking to show some scented love this winter, our handy guide is here to bring you only the finest of aromatherapy gifts - both for wrapping right away and for trying your hand at making at home.
What are the best essential oils to give as gifts?
Before diving deep into some of the more intricate aromatherapy gifts on this list, let's jump back to the basics of what makes this relaxing practice so great.
Essential oils are the basis of all that wellness can give, and carry with them not only a pleasant, peaceful scent, but also a number of impactful health benefits that can see you safely through the year.
Some of the most popular essential oils to give as gifts include:
Lavender
Eucalyptus
Tea Tree
Peppermint
Lemon
While these on their own are great for filling stockings and giving away for Secret Santa, its likely most of us are looking for something a little more substantial as an aromatherapy gift.
In light of that, here are some of our favourite essential oil gift sets to try instead.
What are some good essential oil gift sets & bundles?
As the name suggests, our aromatherapy gift sets are specially created and curated for the benefit of the receiver.
From seasonal collections and aromatherapy gifts for her to beginner's kits and bundles, there is an almost endless combination of sets to share with to your friends and family this Christmas and beyond.
Starter Essential Oil Gift Set (5 x 10ml)
Featuring five of the most popular essential oils in the game, our starter gift set is perfect for those who are still new to the world of aromatherapy.
Eucalyptus, lavender, lemon, peppermint, and tea tree are revered for their diversity and their impactful benefits, so gifting these with a diffuser or oil burner will be just the ticket to unlocking wellness in the lives of your receivers.
Luxury Essential Oil Gift Set (8 x 10ml)
Looking to go the extra mile for your loved ones to feel relaxed? Look no further than this restorative set of essential oils in a luxury box packaged perfectly for an affluent reveal of self-care.
Earthy, floral, citrus and herbal scents come together to cover all of the aromatherapy bases - so your gift receiver will feel perfectly balanced with their selection.
Blends Best Sellers Gift Set (5 x 10ml)
Essential oils alone are not the only way to experience the benefits of aromatherapy. Combining oils together to make bespoke blends is another great method for calming the mind and facilitating wellness.
In our blends best sellers gift set, we've done just that, providing a collection of five varied blends made in-house by our experts.
These can help provide your giftee with a number of therapeutic experiences - from easing anxiety to uplifting their mood and improving their sleep.
Chakra Essential Oil Blends Gift Set (7 x 10ml)
If your seeking a gift for someone more in tune with their spirituality, our chakra gift set brings together all the tools they need.
Designed to align your chakras and balance your emotional centre, this gift set is made up of seven essential oil blends - one for each chakra - formulated to specifically target each spiritual area.
Hair Care Bundles
Aromatherapy isn't all about what you can smell. In fact, a big portion of it plays into the cosmetic industry too.
If your giftee has been seeking a new hair routine to swear by, our hair care bundles can help create an all-natural solution.
Combining our rosemary essential oil with jojoba or argan carrier oils, these two bundles are supercharged full of benefits for luscious locks. Or alternatively just use our rosemary oil for hair.
How do you make DIY aromatherapy gifts?
Does your gift receiver already have all the essential oils you could possibly think of? Are you looking for more than just oils to treat those close to you? Try your hand at making your own aromatherapy gift this year with these popular suggestions.
Room sprays
Room sprays are probably the easiest gift to make up if your inexperienced with aromatherapy, and can be a great choice for receivers who may not have a diffuser or oil burner to hand for their essential oils.
Mix some oils in a glass spray bottle with a bit of witch hazel and water, and allow your loved ones' spaces to transform.
Room sprays can even be made to accommodate certain purposes. Try making a one with a bit of lavender oil and encourage your giftee to spray on their pillow before bed.
Candles
Whenever you think of aromatherapy gifting, its likely one of these three scented creations comes to mind. Each have varying levels of complexity, so don't worry if you've never tried making your own gifts before.
Candles are an excellent choice for creating peace, ambiance and aromatherapy all at once.
A mix of essential oils can be combined with some soy wax and customised to the liking of your receiver - using different scents, colours, and even additional botanicals like rose petals.
Check out our beginners guide to making candles with essential oils to find out more.
Soaps & wax melts
Soaps and wax melts can also be customised in a similar way to candles, and work great in gift hampers as a set.
If you're new to DIY aromatherapy, wax melts may be a better place to start as they are relatively simple to wrap your head around. You can find our guide to making them here.
If your giftee doesn't have an oil burner to use wax melts with, soaps may be the better way to go, as they require no further gifting to actually be utilised. Check out our soap making guide here.
Bath salts
Loose bath salts are easy to make and can add extra novelty to your aromatherapy gifts.
Scent them using your receiver's favourite oils (or offer them a mix), and place in a lovely glass container for a unique but highly useful present.
You can find our complete guide for making bath salts with essential oils here.
Reed diffusers
Is your giftee someone relatively fuss free, who doesn't like gifts with too much assembly? Making them a reed diffuser using essential oils could be just the way to go.
Reed diffusers are easy to make up, very passive, and yet extremely useful for scenting your home and relaxing your mind.
Combine your chosen essential oils with a carrier oil base like fractionated coconut oil or sweet almond and allow your receiver to enjoy.
Aromatherapy gifts are the ultimate key to peace, relaxation, and wellness, and however you choose to present them to your giftee, they're sure to be well received time and again.
Shop our essential oils
here
.
Shop our essential oil gift sets
here
.
{ if (visible && product == e.detail.data) return; ready = false; const articleTop = document.querySelector('[data-article]').getBoundingClientRect().top + window.scrollY; $nextTick(() => { product = e.detail.data; selected = product.variants[0].id; ready = true; setTimeout(() => { top = e.detail.target.getBoundingClientRect().top + window.scrollY - articleTop; show(); }, 10) }) }" @scroll.window="close()" >