2 min read / 13 April 2022 / Caitlin Devlin
A beginner's guide to making bath salts with essential oils
This easy recipe creates restorative bath salts in all of your favourite scents.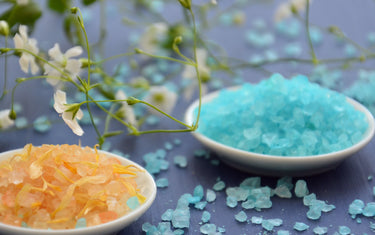 Bath salts are a great way to nourish your skin and relax your body.
You can find them sold in any number of high street stores, but it's really not that complicated to make your own loose bath salts at home, and doing so is much more cost effective.
The other great thing about learning to make your own bath salts is that you can give them whatever scent you like by using your favourite essential oils.
This recipe is fully customisable, allowing you to switch it up with different ingredients time and time again.
Ingredients:
Most bath salt recipes use three main components:
100g of salt
5g/a teaspoon of carrier oil or a moisturising agent

5-10 drops of essential oil
Recipes will often include other elements, such as different kinds of salt, various moisturising agents, or other ingredients such as bicarbonate of soda.
Here's an example of a basic recipe for lavender bath salts:
You can easily customise this recipe by choosing the carrier oil and essential oil that best suits you.
You can even change the salt type – whilst Epsom salt is most commonly used in bath salts, you can also use other varieties such as Dead Sea salt, Pacific Sea salt, or pink Himalayan rock salt.
You can also adjust the quantity of essential oil so that the scent is as strong as you would like it to be.
You will also need:
A baking tray

Baking parchment

A sealable glass jar
Method:
Add the Epsom salt and the bicarbonate of soda to a mixing bowl and mix

well.

Add the almond oil and essential oil and mix well. At this point your

mixture should be damp but not to the point that the salt starts to

dissolve.

Spread the salt mixture out evenly over a baking tray lined with baking

parchment and play somewhere cool and dry.

Leave the salts to dry for 12 hours before removing them from the tray

and storing them in a glass jar with an airtight lid. Storing them this way

ensures that they keep their scent for longer.

When you are ready to use the salts, run your bath as full as you would

like it before switching off the water and adding a sprinkle of salts. Enjoy!
Shop our essential oil range here.