24 October 2022 / Laura Garvin Gomez
The Best Christmas Essential Oil Blends
These homemade blends are just what you need to adorn your home with festive cheer.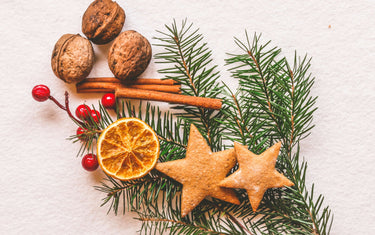 'Tis the season for festive scents - and we wouldn't have it any other way.
From Christmas trees to candy canes, the sheer variety of comforting and cheerful aromas is enough to make you feel merry all year long.
To add to the festive spirit, there's nothing better to engage in during the Christmas period than a warm and inviting recipe - and these rules don't just extend to food!
This season, why not have a go at making your own Christmas essential oil blend recipes using some of your favourite scents?
Not only will they leave your home smelling joyful, they'll also pack a punch for your health and wellbeing as the colder weather emerges.
If you don't feel like getting creative all on your own, we've made a list of some of our go-to Christmas scented oils for diffusers, and the blends we think they'll work best in.

Directions
Please note that this is only a rough guide on how to make essential oil blends.
You can find out more information about how to blend by notes, purposes and scents by following our Essential Oils Blending Guide.
Select a blend from below and add the suggested number of drops to your diffuser one at a time - we've only featured 5 drops per blend so, if you don't like a scent, you haven't wasted too many of your oils making it.
Once you've confirmed you enjoy the blend, feel free to add more to your diffuser, or adjust any quantities as needed.
Be sure to always refer to your diffuser's instructions while doing this, so you don't accidentally add more drops than it supports.
Alternatively, you can add your blend to an amber glass bottle and save for future use.
Precautions
Avoid diffusing your blend for longer than 1 hour at a time - too much diffusion could cause an increased sensitivity to the oil, not to mention a wastage of product!
Do not apply undiluted to the skin. Always use a carrier oil like sweet almond or jojobaif you prefer topical application.
Essential Oil Blend 1
3 drops of Spearmint Essential Oil
2 drops of Peppermint (Piperita) Essential Oil
1 drop of Wintergreen Essential Oil
It simply wouldn't be Christmas without a festive treat or two.
Akin to the scent of candy canes, this minty blend captures all the spirit of these stripy deities with a handful of impactful benefits too.
Spearmint and peppermint have both been proven to help clear your sinuses and energise your body, making them great choices for refreshing your airways and preventing seasonal illness.
Wintergreen oil also carries these refreshing properties, and can be an effective remedy for promoting concentration as Christmas day draws nearer.
Find out more about mint oils and wintergreen.

Essential Oil Blend 2
3 drops of Fir Needle Essential Oil
2 drops of Cypress Essential Oil
1 drop of Cedarwood (Himalayan) Essential Oil
This blend perfectly captures the fresh and earthy aromas of your Christmas tree - without the piney mess!
Fir needle and cypress - two natural oils of the forest - are both balmy and refreshing scents with the ability to ease coughs, prevent infections and leave spaces feeling clean and fragrant.
Cedarwood's earthy notes are also great for relieving coughs, as well as providing a sound environment for sleep ahead of the anxious arrival of Santa.
Find out more about fir needle, cypress and cedarwood.

Essential Oil Blend 3
3 drops of Lavender (French) Essential Oil
2 drops of Frankincense Serrata (Indian) Essential Oil
1 drop of Bergamot Essential Oil
If tradition is what you love, this Christmas blend is the ideal choice for creating cheer while still utilising some year-round aromatherapy staples.
The classic scent of lavender is great for creating peaceful and silent night on those cosy Christmas evenings, while bergamot can activate your energised side for family gatherings and table top games.
Frankincense ties this blend together with a little bit of Christmas tradition - giving a nod to the nativity while also lifting your spirits in anticipation.
Find out more about lavender, frankincense and bergamot.

Other Essential Oil Blends
Are none of these recipes really standing out to you? Don't feel prepared enough to start creating your own blends at home? No need to worry!
We've developed our very own range of Christmas essential oil blends with the help of our in-house experts to see you through.
Christingle Essential Oil Blend
A classic combination of cinnamon, clove bud and sweet orange comes together to create a perfectly peaceful air of festive comfort.
While the warming spices help to protect your health with their bacteria-fighting properties and immune-boosting abilities, the subtle kick of citrus will keep you feeling merry and bright all season long.
Shop our Christingle blend here.

Christmas Fizz Essential Oil Blend
Pop open a sparkling bottle of bubbly with this vibrant concoction of juniper berry, lavender, and lemon verbena.
The gin-soaked notes of juniper berry connect perfectly with the joyful aromas of citrus to create an uplifting cocktail that will keep your energy levels high during the Christmas celebrations - with lavender helping to maintain relaxation throughout.
Shop our Christmas Fizz blend here.

Gingerbread Essential Oil Blend
Who doesn't love the sweet and spicy scents of Christmas baking?
Joining together the likes of cinnamon, clove bud, ginger and nutmeg, this warm and comforting combination will not only fill your home with nostalgic sugary notes, but also protect your body from seasonal illnesses.
Shop our Gingerbread blend here.

Mulled Cider Essential Oil Blend
Bergamot, cinnamon, grapefruit, sweet orange and star anise come together to create this soothing fusion of sweet fruits and spices.
Notes of citrus help to boost the mind and keep feelings of positivity high, while the spices encourage inspiration and comfort.
Shop our Mulled Cider blend here.

We Three Kings Essential Oil Blend
The magical moments of this truly beautiful Christmas story are bottled and met with notes of cinnamon, ginger, and frankincense.
These ancient remedies not only leave your home with an air of festive mystery, but with a sense of great protection too.
Shop our We Three Kings blend here.

However you choose to use each Christmas scent oil for diffusers on this list, every moment is sure to be just as magical as the next to come.
{ if (visible && product == e.detail.data) return; ready = false; const articleTop = document.querySelector('[data-article]').getBoundingClientRect().top + window.scrollY; $nextTick(() => { product = e.detail.data; selected = product.variants[0].id; ready = true; setTimeout(() => { top = e.detail.target.getBoundingClientRect().top + window.scrollY - articleTop; show(); }, 10) }) }" @scroll.window="close()" >