28 March 2023 / Laura Garvin Gomez
How to Use Cedarwood Essential Oil for Sleep
This woody, earthy essential oil is a highly effective substitute for some other popular sleep remedies. Here's how to incorporate it into your sleep schedule.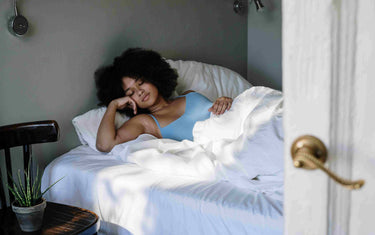 Aromatherapy has successfully helped us with sleep issues for centuries.
Since the time of the ancient Egyptians, Romans, and Greeks, essential oils have been integral to helping us balance our moods, calm our bodies, and relax our minds.
Among these natural sleep remedies, lavender oil is generally considered the most popular, but this floral oil is not the only aroma that can help you drift into sleep.
Cedarwood essential oil is a fantastic alternative for those who aren't a fan of lavender, or for those who simply prefer to use something a little different every time they unwind for the night.
We're breaking down all the benefits of cedarwood for sleep and how to use it.
What is cedarwood essential oil?
Warm, gentle, and earthy, cedarwood essential oil is derived from the bark, needles, leaves, and berries of the cedar tree.
Depending on the type of cedarwood oil, as well as which components of the cedar tree are used, it can be extracted via steam distillation, cold pressing, and lesser-performed carbon dioxide distillation.
Cedarwood oil can be found in many household products such as shampoos, colognes, insect repellent sprays, and deodorants.
Which cedarwood essential oil is best for sleep?
There are four types of cedarwood essential oil that can be found on the market:
Himalayan cedarwood (Cedrus deodara)
Virginian cedarwood (Juniperus virginiana)
Atlas cedarwood (Cedrus atlantica)
Texas cedarwood (Juniperus mexicana)
The primary difference between these cedarwood types is their scent, but their benefits remain the same across all four variations.
That being said, many tend to prefer the sweeter notes of Himalayan cedarwood to help lull them into sleep.
What are the benefits of cedarwood essential oil for sleep?
Cedarwood oil is said to contain strong sedative properties - a very important benefit for the effects of sleep.
Sedatives can help improve sleep quality as well as reduce restlessness by triggering the release of serotonin in the brain. This is then converted into melatonin, which allows the body to drift into sound and peaceful sleep.
The sedative properties of cedarwood come from one of its natural components known as cedrol.
A study in 2003 found that the inhalation of cedrol could successfully impact restless motor activity in rodents, leading to suggestions that it could do the same for humans.
A similar study conducted in 2018 also confirmed cedrol's effects against anxiety, which is a common cause of wakefulness and unease before bed. Inhaling cedarwood prior to rest can therefore help calm the mind, reduce stress, and facilitate better sleep patterns.
How to use cedarwood essential oil for sleep
Now that we know what cedarwood oil can do for our minds, it's time to figure out how to best incorporate it into our nightly routines. We've listed some popular choices below.
1. Diffusion
Using an electric diffuser or oil burner is an easy, well-known option for getting the scents of an essential oil to circulate around your home.
Adding a few drops of cedarwood oil to your diffuser before bed can help fill your room with its sweet and earthy oscent, making it easier to sleep soundly throughout the night.
Depending on your preferences, you can add the oil to your diffuser around an hour before going to sleep, or keep it running during your night's rest.
If you do choose the second option, make sure your diffuser model is able to switch itself off after a certain timeframe to avoid overuse.
2. Topical application
If you don't have a diffuser to hand, or if you prefer the aromas to feel a little bit closer to you as you drift off, topical application may be the best alternative.
Combine a few drops of cedarwood oil with a carrier oil base - like fractionated coconut oil or grapeseed oil - and apply to your pulse points such as your temples, wrists, and jawline.
These areas will help release the scent across your body and keep you feeling safe and secure throughout the night. If you've never used essential oils on your body before, be sure to patch test them before use.
3. Pillow spray
Pillow sprays are useful, long-lasting, and take only a few minutes to make with the right ingredients.
To make a pillow spray, you will need:
1 oz witch hazel (can be substituted for vodka or rubbing alcohol, too)
1 oz distilled water
20-30 drops of cedarwood essential oil (or any other oils you wish to use)
An amber glass spray bottle
Add all your ingredients to your spray bottle, starting with your distilled water and witch hazel, and shake well. This mixture can also be spritzed onto pyjamas or on the body if patch tested.
4. Blends
The great thing about cedarwood oil is that it's a highly impactful base note, meaning it blends seamlessly with other oils without losing its earthy, robust scent.
Combining lavender and cedarwood for sleep, for instance, can be a good option if you like both scents and want to double up on those impactful sleep benefits.
You can also experiment with adding other essential oils for sleep, like ylang ylang or juniper berry. If you've never blended essential oils before, our blending guide can help set you on the right track.
How much to use cedarwood essential oil for sleep
Despite cedarwood oil being a more gentle essential oil than most, it's still important to ensure you're using the right amount for every use.
For diffusion: Add 5-8 drops of cedarwood oil to your 100ml diffuser. If you're working with a larger model, our diffuser guide can help figure out the right amount for you.
For topical application: Try to stick to a 3% dilution rate or below when using essential oils on the skin or hair. This equates to around 3 drops of essential oil per teaspoon of carrier oil. If you're still feeling stuck, have a look through our dilution guide.
These amounts also apply if you're blending essential oils together, so try not to surpass them in order to avoid unnecessary irritation or reactions.
Cedarwood oil is climbing higher and higher in terms of its popularity for sleep, both thanks to its impactful benefits and its different yet pleasing aroma.
When adding cedarwood oil to your nightly routine, remember to always follow the correct measurements for use, and be sure to patch test any mixtures before applying them.
{ let idx = null; product.variants.forEach((v, i) => { if (v.featured_image && v.featured_image.id == $event.detail) { idx = i; } }); if (idx !== null) swiper.slideTo(idx, 0); }" x-init="() => { if (variants.length > 1) { const images = product.variants.map(v => { if (v.featured_image) { return `
`; } }) appendSlides(images); } else { if (product.featured_image) { appendSlides(`
`); } } }" >