28 October 2022 / Laura Garvin Gomez
How to Make Christmas Candles With Essential Oils
Give your home an extra dose of festive warmth with these customisable homemade candles.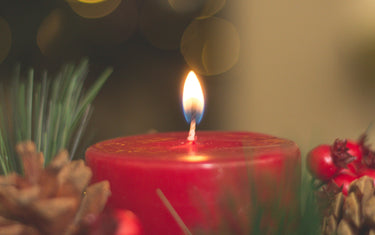 Is there anything cosier than the comforting light of a Christmas candle?
Each year we decorate our homes with what seems like a thousand festive things, but nothing truly compares to how special a candle can be for you and your loved ones to really bring the festive spirit home.
This Christmas, why not share the feeling by making your very own DIY Christmas candles? Using a few of your favourite essential oils, you can create beautiful scent combinations and make easy and unique gifts for your friends and family.
It's also a great way to experience the many natural benefits of essential oils that can help keep you safe through the holiday season.
What essential oils should I use when making candles?
When learning how to make Christmas candles - or any candle, for that matter - the first step you're likely to think about is, of course, the scent.
The best part about making your own candles at home is, unlike with shop-bought versions, you can create personalised fragrances for you and your loved ones based on their favourite aromas, candle sizes and even colours.
Some of the most popular Christmas essential oils include:
Cinnamon
Clove Bud
Frankincense
Fir Needle
Sweet Orange
You can find a complete list of our favourite essential oils for Christmas here. Or why not try a premade blend like pumpkin spice essential oil blend.
There's also no need to stick to just one scent alone. Essential oils are extremely versatile, and can be blended together in countless different ways to create something new and exciting every time.
For instance, you can try combining spearmint, peppermint and wintergreen to make a candy cane inspired candle, or adding a splash of lavender to a traditional frankincense-scented candle for an extra layer of peaceful relaxation.
Want to make your own blends but not sure how to get started? Browse through our list of Christmas essential oil blend recipes, or check out our own bespoke blend collection here.
Can I use fragrance oils instead of essential oils in a candle?
If you're struggling with how to make Christmas scented candles using essential oils, you can always give fragrance oils a try too.
Though they may not carry the same natural benefits, fragrance oils are a great choice if you're looking for more unique scents that you can't get anywhere else - like gingerbread latte or frosted wonderland.
Fragrance oils can be easier to work with for beginners, as they can withstand higher temperatures than most essential oils and so are less likely to accidentally vaporise during the candle making process.
How To Make a Christmas Candle
You will need:
160g soy wax flakes (or beeswax, if you prefer)
Essential oils or fragrance oils of your choice
Candle wicks
Glue dots
A heat proof container
A heat proof glass bowl
Thermometer
Pencils/chopsticks
In general, we recommend adding around 30-35 drops of oil (or about 10% of your chosen candle mass) into your wax at any given time - though this is only a very rough guide.
If you decide to place your candle wax into a bigger or smaller container, then it's worth adjusting this measurement to suit the size change. Scent preferences can also play a big factor in your end result - so be sure not to over-do it first time round!
Though it's not necessarily a requirement, having a thermometer to hand is a great way of checking to see if your wax is at a safe temperature before adding in your essential oils.
Since essential oils are natural products, they can have varying flash points, meaning some oils will vaporise a lot quicker than others when heated. You can learn more about flash points and why they're important here.
If you like, you can also choose to add natural candle dyes to your wax mixture for a more colourful, festive feel - or even jazz things up with some glitter!
What method should I use to make a candle?
There are several ways to make a candle depending on the wax and oils you've chosen, but this is a good go-to recipe to use if you're only just starting off:
Take one of your glue dots and place firmly into the metal circle attached to your candle wick. Then, proceed to stick the circle into the centre of your candle container. Hold for a few seconds to ensure it has been stuck down securely.
Measure out your wax by filling your container as high as you would like the candle to go, and then repeat the process again. The wax will shrink by half after heating, so it's important to do this process twice to avoid a small candle.

Pour your final wax measurement into a glass bowl.

Fill a pan with water and place it on the stove until it reaches a simmer. Place your glass bowl over pan to create a bain-marie.
Let the wax melt, and then remove it from the stove. Set aside to cool for a minute or two, but ensure that it remains in a liquid state.
Add your chosen oils, and mix in with the wax.
Carefully pour the wax mixture into your container. Be sure to keep the wick straight and upright as you do this. If you prefer, you can use your pencils or chopsticks here to help keep it straight.
Let the candles sit for 24 hours, making sure the wick is upright the entire time.
Snip the wick to your desired length, and light to enjoy!
Can I decorate my candles?
Once your candles are set and ready to go, you can start getting really creative with making them as unique and Christmassy as possible.
Feel free to add decorative ribbons, stars, or even springs of holly or pine to the outside of your container for a little extra Christmas magic.
What if my candles don't look the way I want them to?
If your candles didn't quite turn out how you were expecting the first time around - don't worry! It can take a couple of tries to figure out the best formula for you, especially if you're a beginner to candle making.
Try noting down your method and measurements each time you make one, so you know what works and what might need some tweaking in future.
Still feeling unsure? Check out some of our candle making tips for beginners to help reassure you before giving it a go yourself.
Making your own candles can be a fun and exciting hobby, particularly around the Christmas period where the atmosphere is perfect for starting something new and giving love to those around you.
Whether you choose to opt for traditional scents or fun and funky combinations, the perfect candle for you is never far away.
Shop our essential oils here.
Shop our fragrance oils here.
{ let idx = null; product.variants.forEach((v, i) => { if (v.featured_image && v.featured_image.id == $event.detail) { idx = i; } }); if (idx !== null) swiper.slideTo(idx, 0); }" x-init="() => { if (variants.length > 1) { const images = product.variants.map(v => { if (v.featured_image) { return `
`; } }) appendSlides(images); } else { if (product.featured_image) { appendSlides(`
`); } } }" >
{ if (visible && product == e.detail.data) return; ready = false; const articleTop = document.querySelector('[data-article]').getBoundingClientRect().top + window.scrollY; $nextTick(() => { product = e.detail.data; selected = product.variants[0].id; ready = true; setTimeout(() => { top = e.detail.target.getBoundingClientRect().top + window.scrollY - articleTop; show(); }, 10) }) }" @scroll.window="close()" >