7 April 2023 / Laura Garvin Gomez
How to Make Shower Steamers
Similar to bath bombs, shower steamers can add an extra layer of indulgence to your bathing routine. Here's how to make them.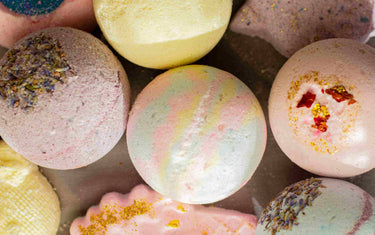 Ever wanted to create a spa-like bathing experience at home, but don't have a bath to re-create it in?
Shower steamers are the perfect backdrop for a boost of aromatherapy, and can start or end your day with just the right scents to set the mood.
This shower steamer recipe is easy to follow, simple to make, and endlessly customisable with a range of different essential oils, dyes, and decorations.
They also make great gifts for your loved ones or favours for special occasions. We're running though all you'll need to make them below.
What are shower steamers?
A shower steamer is essentially like a bath bomb, but for the shower.
So, if you're not keen on taking baths, or if you simply don't have one in your home, they can be a great option for creating the same type of ambiance.
In fact, shower steamers are actually easier to make than bath bombs as there's no need for your body to "soak" in them. Therefore, certain ingredients like almond oil or Epsom salts aren't needed as part of the recipe.
Shower steamers work by fizzing and breaking apart under a stream of water, while simultaneously releasing the aromas of your essential oils. This adds a nice, calming scent to your surroundings.
Are shower steamers the same as bath bombs?
Despite their obvious similarities, it's important to note than bath bombs and shower steamers are NOT interchangeable products. Here are some key differences to keep in mind before using them.
Bath bombs - Bath bombs are bath products that are meant to come into contact with your skin and body. The tend to contain moisturising carrier oils that can soothe and nourish the skin, as well as essential oils that are heavily diluted for safety.
Shower steamers - Shower steamer are not skincare products and should only be used for aromatherapy applications. As they're designed for releasing the scent of essential oils, they are highly concentrated and should not come in direct contact with the skin.
If you do use a shower steamer as a bath bomb, there's a high risk of irritation as the essential oils will be far too potent for safe use.
To avoid this, stick to only using them in the shower or follow a trusted bath bomb recipe to utilise these instead.
What is an aromatherapy shower and how does it help?
An aromatherapy shower is just like a regular shower, but with the power of essential oils behind it.
As the aromas of your essential oils are inhaled, the molecules within them activate your olfactory system, which in turn triggers a series of emotions in the brain. These emotions can vary depending on the essential oils you use.
If you're feeling stressed, sleepless, unmotivated, or anxious, an aromatherapy shower may be just what you need to lift your spirits and offer you a bit of mental self-care.
You can also achieve a similar effect with a homemade shower spray or by hanging fresh botanicals (like eucalyptus or lavender) in your shower. If you have an oil burner to hand, diffusing your oils while you shower is also a good option.
What essential oils should I use for my shower steamers?
The best thing about shower steamers is that you can make them with any type of essential oil you please.
Whether you're seeking a blend of oils to wake you up, or a classic scent to help you sleep, any scent can be added to your steamers for the ultimate wellness experience.
If you're still feeling stuck on where to start, we've listed some our favourites below.
Lavender Essential Oil
Lavender oil is one of the most popular essential oils out there - and for good reason.
This oil is a famous sleep aid, and can be used just before bed to help calm your mind from rushing feelings of stress or anxiety.
It's also filled with polyphenols - natural compounds that can act as antioxidants to help protect you from dangers like toxins, pollutants, or chemicals.
Learn more about benefits of lavender essential oil.
Sweet Dreams Essential Oil Blend
If you struggle with sleep, but are looking for something more powerful than lavender alone, our Sweet Dreams Blend may be just the key for a night of pure relaxation.
Combining cedarwood, lavender, lemon verbena, and ylang ylang, this oil can target an array of sleep issues while still smelling amazing.
Add to your shower steamer and use just before bed for the best results.
Sweet Orange Essential Oil
Sweet orange oil is sweet, citrusy, and perfect for starting the day right.
If you love to take your showers in the morning, making steamers with this familiar aroma can help minimise any feelings of anxiety, uplift your emotions, and reduce blood pressure levels.
Other citrus oils like lemon or bergamot are also great choices for achieving this brightening effect.
Learn more about the benefits of orange essential oil.
Peppermint Essential Oil
Not a fan of citrus scents? Punchy peppermint oil can achieve the same uplifting effect with a refreshing, energising quality instead.
Peppermint is considered the oil of choice amongst athletes due to its mood-boosting effects, and its powerful aromas can help clear your airways if you're suffering from symptoms of cold or flu.
Similar oils like spearmint or garden mint can also encapsulate this sweet, mind-clearing effect.
Learn more about the benefits of peppermint essential oil.
Rosemary Essential Oil
Rosemary oil's most famous application may be for hair growth, but its herbaceous scent goes a long way for our minds, too.
One 2017 study assessing the effects of rosemary oil on memory found that its aromas could successfully boost cognitive function as well as improve alertness.
Making a shower steamer with rosemary oil and using it just before an exam or job interview may, therefore, improve your chances of doing well.
How to make shower steamers
Ingredients:
If you've ever made a bath bomb, the process for shower steamers is basically the same, but with a fewer ingredients.
To make a shower steamer, you will need:
100g baking soda
50g citric acid
50g corn starch
40 drops of your chosen essential oils
Natural food colouring or mica powder (optional)
Half sphere silicone mould
If you so desire, you can also add other ingredients like dried lavender, glitter, or rose petals to really let your creations come to life.
Why are these ingredients important?
These ingredients are all must-haves if you want to create the perfect shower steamer.
We've gone into a little more detail about what each ingredient does, and how its inclusion affects the overall function of your steamer.
Baking soda and citric acid - These two components make up the bulk of your DIY shower steamers. They can be moulded into any shape when combined, and are needed create that all-important fizzy reaction that you'll want for your bombs.
Corn starch - Corn starch helps to hold the rest of the dry ingredients in your shower steamer together. It also helps to evenly distribute your essential oils and slow down the reaction time of the fizzing. Other ingredients like witch hazel or sorbitan oleate function as good alternatives to corn starch.
Essential oils - This one is possibly the most self-explanatory. Essential oils give scent to your shower steamers, as well as those crucial aromatherapy benefits. Make sure you're using pure and natural essential oils with strong aromas.
Natural food colouring/mica powder - These ingredients are here to simply make your steamers look pretty, colourful, and bright. A little goes a long way with these dyes though, so try not to go overboard!
Method:
Now that you've selected all your ingredients, it's time to start making some shower steamers! Here's a step-by-step of what you need to do:
Combine all your dry ingredients in a large mixing bowl. Make sure to sift out any clumps if necessary.
Add your essential oils and gently whisk to combine the ingredients together. You can also use gloves if you prefer to work with your hands.
If the mixture is too dry, try spritzing it with water, alcohol, or witch hazel until it develops a texture that's similar to damp sand. The easiest way to do this is with a spray bottle.
If the mixture starts to fizz, you've added too much moisture - so be wary!
Add any optional colourants like mica powder into the mix here. Only a small amount will do.
Pack the mixture very tightly into your silicone mould and leave to dry for 48 hours. If you're adding any extras like dried flowers, sprinkle these in here.
Once they've hardened fully, push them out of their moulds and enjoy!
How do I store my shower steamers?
It's very important to store your shower steamers correctly in the time before you decide to use them.
Firstly, make sure they're kept in a cool, dry place where they can't come into contact with any moisture. Contact with moisture can cause your shower steamers to fizz before they're ready, which won't be much fun when it's time to actually use them!
Secondly, you should always store your shower steamers in an airtight container to help maintain their scent.
It's likely your steamers will lose some of their scent during the drying process anyway, but keeping them safe in this way is the best decision to avoid any additional aromas escaping.
If you want to freshen up your shower steamers before using them or gifting them, try adding a drop or two of essential oils to the base.
How do I use shower steamers?
The time has finally come, and your shower steamers are officially ready to use. But, how exactly do you use them?
Thankfully, shower steamers are fairly simple to figure out, so there's no need to worry too much about getting the process wrong! In case you need it though, here's a quick guide on how we like to use our shower steamers:
Make sure you get your shower going first. Dropping your steamer in too early could lead to all the aromas escaping before the steam really has a chance to build up - and then you won't get the full effect.
Once you're in the shower, drop the steamer near your feet so it isn't directly in the flow of water. Leaving your steamer too close can make it fizz too fast, so it's best to keep it a good distance away.
Finally, close your eyes and enjoy all the relaxing aromas that your shower steamer has to offer.
Shower steamers are a fun and creative way to gift the scents of aromatherapy to loved ones, family, or to yourself as a unique treat.
As long as you follow the recipe closely, and remember to only use your creations in the shower (not the bath!), your dream spa-like experience is only moments away.