6 min read / 23 December 2021 / Laura Garvin Gomez
Benefits and Uses of Vetiver Oil
This exotic oil can improve focus, and is especially useful in warmer weather.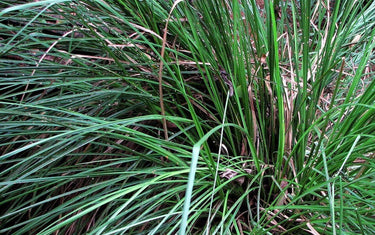 Considered a sacred herb, vetiver has been used in traditional medicine for thousands of years.
A natural body cooler, Indian vetiver is extremely popular in hot climates and has even been woven into curtains to cool and freshen hot air blowing in.
These days, the herb is most prominently used as an insect repellent and is also utilised in holistic medicine to protect the body's health, boost focus, and even set a romantic mood.
What is Vetiver Essential Oil?
Extracted via steam distillation from the root of the vetiver plant – a perennial grass native to tropical regions of Asia – vetiver essential oil contains an earthy yet spicy aroma that is considered extremely valuable in the world of aromatherapy.
Also known as khus oil, Vetiver is amber to brown in colour with a slightly more viscous consistency than its related herbal counterparts like citronella and lemongrass - though it is not generally considered difficult to extract.
The value of vetiver lies in its extensive use in perfumery, particularly in men's cologne, where it is considered a strong yet distinctive base note.
What are the benefits of Vetiver Essential Oil?
Sometimes referred to as the "oil of tranquillity", vetiver has numerous mind-balancing properties that have granted it years of extensive research, and new benefits are continuing to be unlocked all the time.
Some of the most prominent benefits of vetiver essential oil include:
Boosting focus
Balancing hormones
Repelling termites and other pests
Improving our immune system
Encouraging regular breathing during sleep
Can vetiver essential oil boost focus?
Refreshing vetiver has been found to have a positive effect on concentration and focus, which has made it a popular choice for meditation and spiritual grounding for decades.
In the last 20 years, it has since been discovered that vetiver's brain-boosting abilities also lend themselves particularly well to young people with ADHD.
Researchers have assessed the effects of vetiver essential oil inhalation – along with other essential oils – on children with ADHD and have claimed that vetiver oil was able to improve academic performance by up to 100%.
Furthermore, a study in 2016 showed the vetiver was able to decrease mental fatigue and, when inhaled, demonstrated a direct increase in attention levels and alertness.
It is thought that vetiver's relaxing and calming properties help to reduce impatience, distractedness, and fidgety behaviour, allowing the mind to be still and focus on the task at hand.
An animal study in 2015 also linked the inhalation of vetiver to stress relief, noting that the subjects appeared more relaxed after exposure to the oil. This may further improve productivity levels and encourage focus over time.
Does vetiver oil balance hormones?
It's suggested that vetiver is able to balance both oestrogen and testosterone, positively impacting mental and physical health in a number of ways.
Stress is known to displace testosterone levels, but vetiver's calming, restful properties can help keep this hormone in balance as well as clear the mind.
This balancing effect can help reduce sexual dysfunction – particularly in men - as well as allow the oil to act as a natural aphrodisiac.
Vetiver also has the ability to balance oestrogen levels, which can help manage PMS symptoms that occur as part of the menstrual cycle.
This means that cramps, mood swings and bloating can all be reduced by the inhalation or topical application of vetiver oil.
Is vetiver essential oil good for repelling termites?
Vetiver is regarded as a useful pest repellent, particularly when it comes to termite and tick infestations.
A study in 2001 found that vetiver acted as a strong repellent to termites and was also able to significantly reduce tunnelling activity, while a 2015 study noted the high toxicity of the oil towards ticks that could possibly cause Lyme disease.
Vetiver can protect from other pests as well; with many sources claiming the oil may also be repellent to mosquito larvae.
Pests of this kind are associated with a wide range of harmful diseases, so vetiver's repellent properties can be incredibly beneficial for our health and protection.
Can vetiver oil protect the body?
Not only does vetiver guard against pests, but it also protects us from threats too small to see.
Vetiver oil contains strong antioxidant properties which can fight the effects of toxins and free radicals in the body as well as guard against cell damage.
A study in 2015 found that these antioxidant effects meant that vetiver was even able to lessen the toxic effects of cisplatin, a chemotherapy drug, and prevent harm caused to cells and DNA.
Vetiver could also be beneficial for reducing signs of ageing on the skin, as antioxidants lend themselves well to promoting a healthier and more youthful appearance.
How to use Vetiver Essential Oil
Aromatherapy
Prized for perfumery and renowned for its calming energies, the earthy yet spicy notes of vetiver lend themselves well to any household that desires an air of luxury.
Diffusing vetiver essential oil when working or studying may help to boost productivity and can lead to better concentration, while inhaling it before bed can promote calm and reduce chances of heavy snoring.
Vetiver is also a handy scent for promoting meditative and spiritual practices, so feel free to add a few drops to your spaces to really feel these grounding effects.
Massage
The hormone-balancing effects of vetiver oil can be massaged gently into the abdomen as relief from uncomfortable PMS symptoms like cramps.
Dilute some vetiver with your chosen carrier oil and apply as needed to affected areas. This oil can also be massaged into the temples or onto pulse points to promote concentration and act as a makeshift perfume.
Skincare
Vetiver oil is an antioxidant, making it a beneficial remedy against signs of aging, bloating, and lack of shine on the skin.
Combining a few drops of vetiver oil with a carrier oil and applying it as a daily toner could help to promote radiance and youthfulness in these areas.
Pest sprays
To prevent the possibility of harmful pests like termites, ticks, and mosquitos in your home, a DIY bug spray using vetiver essential oil can be a good trick for keeping bugs at bay.
Add 7-10 drops to a spray bottle filled with water and an emulsifier (like dish soap) and apply at will to pest-dwelling areas.
History of Vetiver Essential Oil
The first uses of vetiver as a medicinal remedy date back to Ayurvedic societies, where the oil was used extensively against muscular and joint pains, headaches, fevers, and loss of energy.
Vetiver was also valued in ancient Chinese medicine for balancing emotions and dispelling negative energies, leading to its nickname across the Asian continent as a "miracle grass".
Cooling, relaxing vetiver isn't just a great warm weather companion. Its many beneficial properties boost the mind and the body, strengthening both, and its aromatic scent can brighten and freshen spaces year-round.
| | |
| --- | --- |
| Product Name | 100% Pure Vetiver (Indian) Essential Oil |
| Botanical Name | Vetiveria Zizanoides |
| Scent Type | Earthy |
| Benefits & Uses | Antioxiant, Insect Repellent, Enhances Focus |
| Suitable for Diffusers? | Yes, this vetiver (indian) essential oil is perfect for diffusers. |
| Suitable for Candles and Soaps? | Yes, this vetiver (indian) essential oil is perfect for candle and soap making. |
| Extraction Method | Steam Distillation |
| Bottle Type | Tamper proof and UV resistant |
{ let idx = null; product.variants.forEach((v, i) => { if (v.featured_image && v.featured_image.id == $event.detail) { idx = i; } }); if (idx !== null) swiper.slideTo(idx, 0); }" x-init="() => { if (variants.length > 1) { const images = product.variants.map(v => { if (v.featured_image) { return `
`; } }) appendSlides(images); } else { if (product.featured_image) { appendSlides(`
`); } } }" >
{ if (visible && product == e.detail.data) return; ready = false; const articleTop = document.querySelector('[data-article]').getBoundingClientRect().top + window.scrollY; $nextTick(() => { product = e.detail.data; selected = product.variants[0].id; ready = true; setTimeout(() => { top = e.detail.target.getBoundingClientRect().top + window.scrollY - articleTop; show(); }, 10) }) }" @scroll.window="close()" >