5 min read / 5 January 2022 / Laura Garvin Gomez
Benefits and Uses of Black Spruce Oil
The fresh scent of black spruce is deeply cleansing and a powerful cure for insomnia.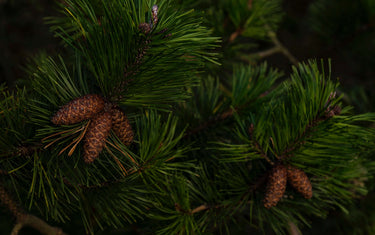 The Canadian black spruce is sometimes known as the 'bog spruce' due to its preference for swampy soil.
It is also is perhaps best known for its use as a popular Christmas tree choice for many years.
With a classic wintery appearance and a fresh forest scent, black spruce is often considered a seasonal oil. However, it has year-round health benefits that Native American and First Nation Canadian tribes once travelled hundreds of miles to collect.
Used then in salves and ointments and to promote spirituality and positive moods, black spruce oil is now used for many of the same properties.
What is Black Spruce Essential Oil?
Derived via steam distillation from the leaves and twigs of the black pine spruce tree, native to Canada, black spruce essential oil is just one of many varieties of spruce oils.
Norway spruce, hemlock spruce, and white spruce are all different versions of the same oil, with their botany varying slightly depending on the country of origin.
Black spruce in particular is known as Picea Mariana, and contains a distinctly sweet, woody aroma akin to that of Christmas trees. The oil is generally pale yellow to colourless in appearance and is perhaps most famous for its expectorant applications.
What are the benefits of Black Spruce Essential Oil?
Black spruce shares many benefits with other essential oils in the fresh family, carrying a number of respiratory benefits as well as a highly cleansing scent profile.
These qualities also make black spruce a useful oil for several other applications, including:
Cleaning
Improving sleep
Relieving congestion
Easing anxiety and stress
Reducing muscular pain
Is black spruce oil antimicrobial?
Black spruce was widely used as a primary ingredient for wound and bite healing balms for many years, largely as a result of the oil's strong antimicrobial and antiviral properties.
These properties are derived from the component a-Pinene, which is heavily present in black spruce. A study in 2019 found that pinenes display significant antimicrobial activity, which allows them to fight a number of microorganisms that spread diseases and cause bad odours.
These antimicrobial benefits have made black spruce an extremely popular ingredient for commercial home cleaners, meaning that the use of the essential oil in your own personal cleaning routine can be an effective way to eliminate bacteria.
Can black spruce essential oil improve sleep?
A versatile component, a-Pinene has also been shown to enhance non-rapid eye movement sleep, or NREMS. A study in 2016 found that a-Pinene enhanced the quantity of NREMS without affecting the intensity of NREMS, or the quantity of REM sleep.
Not only does this improve the quality of sleep overall but extending the length of NREMS helps the body to repair and regenerate tissues, as well as possibly clean out toxic waste from the brain.
This makes black spruce essential oil a remarkable choice for diffusing before bed, particularly in conjunction with other relaxing, earthy oils like cedarwood and frankincense.
Can black spruce oil help to relieve congestion?
Traditionally, black spruce was used for its decongestant properties which are still very much utilised today.
An decongesting oil can successfully facilitate the movement of mucus through blocked airways during illnesses like cold and flu, allowing for easier breathing and preventing further build-up.
Inhaling black spruce oil can therefore be very beneficial for sufferers of various respiratory conditions, including the common cold, the flu, and seasonal allergies.
Does back spruce essential oil lift low moods?
If you find yourself suffering from feelings of anxiety, stress, or low mood, black spruce may be able to help.
Black spruce oil is composed almost entirely of monoterpenes – a common chemical compound found naturally in many relaxing essential oils.
Not only does this constituent contribute to black spruce's pleasant, refreshing scent, but it is also able to easily pass through the blood-brain barrier in a way that other chemicals cannot.
From here, it is able to stimulate hormone production and create changes in mood. Many people have reported that inhaling black spruce oil leaves them feeling more positive, more grounded, and less stressed.
Is black spruce good for pain?
Black spruce is naturally anti-inflammatory, and so has been known to reduce pain caused by swollen joints and sore muscles by reducing redness and inflammation in affected areas.
It is also a natural antispasmodic, meaning it can help to prevent spasms in the muscular system – in turn relieving pain and discomfort caused by illness or injury.
How do you use Black Spruce Essential Oil?
Aromatherapy
Black spruce's balsamic, sweet, and woody scent profile lends itself perfectly to a cosy winter vibe and is commonly diffused around the festive period for this exact reason.
It can also help to protect the body against respiratory illnesses, as well as relieve any existing symptoms as a result of its expectorant properties.
Adding a few drops of black spruce essential oil to your chosen diffuser or oil burner can furthermore create a peaceful environment for sleep, particularly if you find yourself struggling with low-quality rest or difficulty settling before bed.
Massage
Because of its notable anti-inflammatory and antispasmodic qualities, adding a few drops of black spruce to a carrier oil can create a useful tool for a restorative, healing muscle massage.
Massage gently into affected areas, including swollen joints, and reapply as needed.
Skincare
While black spruce is not as well known for its skincare applications, the anti-inflammatory properties it possesses make it undoubtedly useful for common skin conditions like acne and eczema.
Its traditional wound healing associations also help support this, so feel free to try a small amount of black spruce oil with a carrier oil and see how your skin transforms overtime.
Remember to always perform a patch test before using relaxing essential oils on the skin.
Cleaning
Famously antimicrobial, antibacterial, and antiviral, black spruce is a popular choice for home cleaning sprays and other domestic products.
Combine some black spruce essential oil with water and an emulsifier into a glass spray bottle and use as an effective DIY cleaner, or for topping up the cleanliness of certain surfaces.

History of Black Spruce Essential Oil
Aside from its infamous properties as a healing balm in Native American tribes, black spruce was also used around this time to create what was known as "spruce beer" – an infused beverage said to help prevent scurvy and chronic rheumatism.
In fact, Captain James Cooke adopted the use of black spruce in this way to help protect the health of his crew, as well as prevent similar illnesses.

Black spruce is a wonderfully wintery oil – not only does it smell festive, but it protects us against cold-loving pathogens and improves our symptoms.
However, it shouldn't sit at the back of the cupboard until December rolls around. Its sleep-improving, mood-enhancing qualities can be beneficial well into the summer months.
| | |
| --- | --- |
| Product Name | 100% Pure Black Spruce Essential Oil |
| Botanical Name | Picea Mariana |
| Scent Type | Fresh |
| Benefits & Uses | Mood Boosting, Antibacterial, Decongestant |
| Suitable for Diffusers? | Yes, this black spruce essential oil is perfect for diffusers. |
| Suitable for Candles and Soaps? | Yes, this black spruce essential oil is perfect for candle and soap making. |
| Extraction Method | Steam Distillation |
| Bottle Type | Tamper proof and UV resistant |
{ let idx = null; product.variants.forEach((v, i) => { if (v.featured_image && v.featured_image.id == $event.detail) { idx = i; } }); if (idx !== null) swiper.slideTo(idx, 0); }" x-init="() => { if (variants.length > 1) { const images = product.variants.map(v => { if (v.featured_image) { return `
`; } }) appendSlides(images); } else { if (product.featured_image) { appendSlides(`
`); } } }" >
{ if (visible && product == e.detail.data) return; ready = false; const articleTop = document.querySelector('[data-article]').getBoundingClientRect().top + window.scrollY; $nextTick(() => { product = e.detail.data; selected = product.variants[0].id; ready = true; setTimeout(() => { top = e.detail.target.getBoundingClientRect().top + window.scrollY - articleTop; show(); }, 10) }) }" @scroll.window="close()" >