27 June 2023 / Laura Garvin Gomez
How to Start a Wax Melt Business
Unleash your entrepreneurial spirit and learn the process of launching a profitable wax melt business from scratch.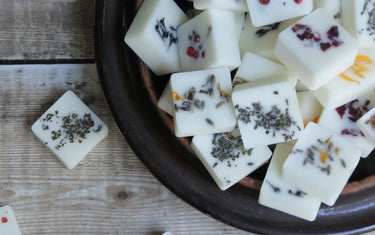 For those who are confident enough to take the next step, learning how to start a wax melt business could make a lot of sense.
Not only are they very easy to make, but they also have a very large customer base and offer a great way to earn a little extra money.
If you are curious, but are not sure how to start a wax melt business from home, we've put together a complete guide on what you need to do before you reach out to customers. Whilst there's quite a lot involved, with good research and preparation, there's no reason why you can't make a real success out of your new venture.
Are there any laws about selling wax melts?
When it comes to starting a wax melt business, you should begin by looking at some of the legal guidelines involved. Whilst there are no specific laws about wax melts, there are some general regulations about product quality and trading you need to be aware of.
The General Product Safety Regulations 2005 (GPSR) provide guidance on the European standards that need to be adhered to and offer information about candle safety. Be sure to read through these regulations and carry out the necessary research before you move on to the next step.
Do I need insurance to start a wax melt business?
Insurance isn't a necessity for selling wax melts, but it is well worth considering. No matter how well you prepare, there is always a chance that something could go wrong, and if you aren't covered, it could leave you in a difficult situation.
There are lots of options out there, covering everything from building cover and theft of takings to cyber cover and legal expenses, so look at what makes the most sense for you. Wax melts should also be sold with warning labels and CLP (Classification, Labelling & Packaging) stickers, as without these, your insurance policy could be voided should something go wrong.
Registering your business
Once you've set up your business and secured some insurance, the next step in starting a wax melt business is to register with HMRC as a sole trader, which will certify you as self-employed. This will require you to pay tax through Self-Assessment, a process that can now be done online. Your tax-free bracket as a sole trader is £12,750, so if you earn less than that, you won't have to pay a penny to the tax man.  
And if your turnover is less than £80,000 per year, you won't need to register for VAT. But if business is really booming and you are earning above that bracket, you will have to register. The main benefits of registering for VAT are that you can claim back VAT spent on buying equipment, stock and other business-related items.
Using essential oils in your wax melts
Whether you are using fragrance oils or essential oils in your wax melts, it's a good idea to keep things as simple as possible. Stick to one oil per wax melt, if possible, because blending multiple oils makes things a little more tricky when it comes to selling.
While it would be great to create an exclusive blend that isn't available elsewhere, it also means you'll need SDS (Safety Data Sheet) and CLP (Classification, Labelling and Packaging) documentation, as you will have created a new chemical mixture.
An industry professional will then need to assess and calculate the blend before it can be sold to the public, which can be quite expensive. This is for the safety of the customer, because if the blends are not correctly labelled, it could cause an allergic reaction (or possibly worse) and leave you having to deal with a very difficult legal situation.
But if creating your own essential oil blends is something you want to pursue, take your time to do thorough research about what is required legally before you sell them to anyone.
Test your wax melts before you sell them
Before you can start selling wax melts and sending them out to customers, you should go through a thorough testing process to verify their quality. Check they have a good scent throw, good wax quality and how long single and multi-packs will last.
Do this for every type of essential oil you are using in your homemade wax melts, as there are often important differences between them, and you don't want to make promises about the products that aren't true.
Carrying out this type of due diligence is important, and you should only start selling once you are completely happy with their quality. A good approach is to put yourself in the customer's shoes and imagine if you would be happy with paying for the quality of melts you are selling.
Finding reliable suppliers for your wax melt business
You'll need to have enough equipment and supplies to fulfil customer orders, which can arrive at any time. This means you should find a supplier that not only offers good quality materials but that can also be relied on. 
Trust is a big thing when it comes to suppliers, although there may be some trial and error involved in finding the right one. Before placing your first order, ask about shipping and delivery, wholesale prices and how often they restock.
Try not to base your decision solely on price, as that won't guarantee quality. Of course, you want to make a good profit on your wax melts, but you also need to ensure that the product you are selling is up to standard, because word quickly spreads about low quality items.
What is the best way to package wax melts?
Packaging your wax melts in polypropylene bags is an eco-friendly option if they are not already being sold in clam shells or similar wraps.
They are available in a variety of sizes and are also cost effective, so they won't add much to your production costs. Plus, they are a clean and presentable way of wrapping up the melts to send out to customers.
If you are an eco-friendly brand, then recycled plastic bags could work well, allowing customers to either recycle the bags after delivery. You may also want to add some colour into the packaging to complement your branding, although bear in mind that any extra packaging will add to your production costs and need to be factored into the sale price.
How do I label my wax melts?
As we mentioned above when discussing insurance, your products will also need to include a CLP label, as it is a legal requirement.
The law states that anything containing a hazardous substance, such as essential oils or fragrance oils, must have a CLP label. It will explain any allergens that may be present in the oil and other relevant warnings related to the product. You may also want to include contact details on the label so customers can get in touch if needed to raise any questions or concerns.
If you are selling wax melts with different oils, each CLP label will need to reflect the relevant information. There are professional label makers online that can provide templates for these to make things easier if you don't have the time to do it all yourself.
You can combine the CLP label with any relevant additional safety information or add a separate sticker to cover this. If it takes up too much space, or you feel it affects the presentation, create a care card that includes all the relevant information, so customers have everything they need.
Set a selling price for your wax melts
When you know how much you are paying for your supplies, you then need to do some calculations to determine how much it costs to make each individual wax melt, which will allow you to set a selling price.
Start by working out the amount of wax, colouring, essential oil, decoration, moulds and packaging used for an individual melt.
Find the cost for every element of the wax melt and decide how much of each item will be needed (grams, millilitres etc.) so you have separate unit prices, then add them together to get a final production cost.  And because they are made by hand and not in a factory, you can also charge a little extra for the time spent creating them.
Once you have a final production cost, you can settle on a retail price. Look at competitors to get an estimate, although remember you don't know what their production costs are, so only use them as a guideline.
Try not to go too high or too low but settle on a price you are comfortable with and that you think is fair for you and the customer. You could also put together some multi-buy deals to entice customers, using percentage discounts or buy-one-get-one-free type deals.
How do I promote my wax melt business?
Once you have everything set up and a good level of stock ready to sell, you need to let people know about your product. The easiest and cheapest way to start is through social media, with Instagram and Facebook being the best platforms, as wax melts are a visual product. They both allow you to list and sell items directly to customers through a shop feature, so you don't have to worry about setting up a website initially.
Etsy and eBay are also good alternatives to an e-commerce website, as you can set up a shop and sell to customers on their platforms. If you want to create a website, you can do so fairly easily through the likes of Squarespace and Shopify, although they do cost a little more and require more ongoing maintenance.
Also, give some thought to return policies and refunds, as this will likely be something you'll have to contend with at some point. It's helpful to provide this information alongside the product information online or include it with the item when it's sent out to the customer. A 14-day return period for unused and undamaged products is fairly standard, but it is entirely up to you.
Once you've done all the above and everything is in order, all that's left is to find some customers and start selling. Go through our wax melt business ideas step by step and make sure you are satisfied that every aspect has been dealt with before you start to sell. Not only are they important for your customers but also for your business, and they will give you more protection and make you look like a professional outfit. And who knows, if all goes well selling your wax melts, it might not be too long before you move onto candle making, soap making and a whole lot more.