13 May 2023 / Laura Garvin Gomez
Legal Requirements for Selling Candles & Wax Melts
Feeling lost on the legal requirements for selling your homemade candles and wax melts? We've condensed everything you need to know into this easy-to-follow guide.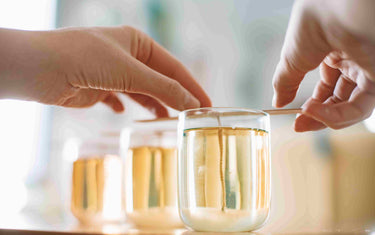 So, you've decided to start your very own business.
Everything you need is ready to go, from reliable suppliers and beautiful products to a handy website and custom branding. There's just one thing missing - the legal requirements.
Finding the right legal requirements for selling homemade candles and wax melts can feel like a nightmare without the right advice, and even then it can be difficult to judge what applies to your particular business.
If you're feeling stuck on how to finally get your small business off the ground, we'll be providing a handy checklist of all the legal steps you need to consider before you start selling.
What are the legal requirements for selling homemade candles UK?
The laws surrounding candles and wax melts in the UK are put into place for the benefit of your business and your customers. As a business owner, it is your responsibility to ensure you're following the correct regulations when selling.
If you're struggling with the logistics of how to sell your products from the off-set, you can refer to our candle and wax melt selling guide for more information.
Understanding the laws for your business
If you're selling your candles and wax melts on a retail level (i.e. directly to customers and not to other businesses), your local authority body will be the government's Trading Standards services.
All areas of the UK will have their own local Trading Standards office that you can use to ensure your products are meeting the correct legal requirements for selling. Find your local Trading Standards Office here.
The current law that applies to the overall safety of goods is The General Product Safety Regulations 2005 (GPSR).
While these regulations don't cover any laws that specifically relate to candles, they do cover the official "European standards" which give clear guidance on candle safety.
It is recommended that all business owners adhere to these standards in order to demonstrate "due diligence" under the GPSR.
Indicating who you are
By law, your customers have the right to know who they're entering a contract with. Legalities in this area are mainly covered by the Companies Act 2006.
In order to be compliant with this legislation, businesses must provide the full business name, legal ownership name, and the complete company address on any legal documents. This includes receipts, invoices, orders, and business correspondence (e.g. emails).
This information should be clearly visible at all times and not hidden away in the small print. Having these details readily available to your customers will make them more likely to trust you and, ultimately, buy your products.
The importance of CLP labeling
CLP labels are key when it comes to keeping your business out of legal trouble. CLP stands for the EU's Classification, Labelling and Packaging Regulation, and refers to any non-cosmetic product containing hazardous materials.
Under UK law, essential oils and fragrance oils are classed as "hazardous" due to the potential risks they can pose - depending on the scent and its constituents. For this reason, unscented products will not require a CLP as long as they use a non-hazardous base.
CLP labels must be clearly affixed to your product and should be horizontally legible at all times. If you're including any outer packaging for your products, the CLP label must also be included here.
Failing to provide accurate CLP information is considered a legal offense, so make sure you're getting it right before you start selling. Learn more about CLP labels and what must be included in them.
Do I need insurance for my candles and wax melts?
No matter where you're selling your candles - whether it's through your own website, marketplaces like Etsy and Amazon, or even at local craft fairs - you'll need insurance to cover your business and your products.
For candles and wax melts, you'll need craft insurance in particular to protect your brand from unforeseen circumstances. This is available through most insurance companies.
While it may not seem like a major issue for you, there's always a chance of things going wrong where retail is concerned. For instance, if a customer experiences a house fire, they could easily pin the blame on your candle and take you to court.
Without the right insurance in place, this claim could be the difference between your business thriving and some very, very expensive fines.
What information do I need on my website?
Just as with any legal documents that you produce as a business, you'll also need to include certain details about yourself on your website to be compliant with the right regulations.
This is the case whether you choose to sell purely via e-commerce, or if you simply have a website as a backup for your physical shops and stalls.
On your website, you'll need to provide the following details:
Full business name AND any legal names
Geographical address
British Candlemakers Federation Membership (BCF) - if applicable
VAT number if you're registered
When customers order online, please note that you'll be entering a legal "distance contract" with them. Under this contract, you must give customers a 14-day right to return any products. You must also supply relevant pre-contract information.
Do I need a cosmetic safety assessment for my candles and wax melts?
You may have heard of the Cosmetic Product Safety Report (CPSR) when researching the necessary legislation for your business.
While cosmetic safety assessments are relevant for some products that use essential oils and fragrance oils, they are not required for candle or wax melt businesses.
Candles and wax melts are considered "non-cosmetic products" under UK law as they are not (generally) applied topically to the skin or hair.
If you're thinking of producing candles that also double up as skincare products though, you will need cosmetic safety solutions in order to be compliant with regulations.
What are the rules surrounding imitation food candles and wax melts?
Particularly in wax melt making, there is a common temptation to create products that somewhat resemble food.
For instance, if you're making a wax melt with the aroma of cupcakes, you may think it a good idea to form a cupcake mold for your product. This, however, can very quickly land you into trouble.
Under The Food Imitations (Safety) Regulations 1989, any product that children or vulnerable adults could confuse with food is seen as illegal. This includes seemingly harmless products such as chocolate-scented wax melts with neutral colourways like brown or cream.
Even if you include warnings like "Do No Eat" on your product labels, there will still be grounds for individuals to take rightful legal action against you in the event of serious injury or death.
In short, it's better to be safe and just avoid these types of products altogether.
What are the rules surrounding insect repellent candles and wax melts?
Candles or wax melts that are marketed for the purposes of "repelling insects" must be registered with The Health & Safety Executive (HSE).
Insect repellents are monitored and controlled by the HSE, so if you aren't a part of their official register, or you don't have any scientific claims to back up your product, you could face a lot of legal issues.
Even pictures of insects on your candle packaging can be considered misleading, so it's best to register if you don't want to get caught out.
Can you create custom blends for candles and wax melts?
Custom blends are a great way to add some unique flair to your candles and wax melts. Everyone out there might have a candle scented with lavender oil, but your individuality really ramps up if you can combine three or even four different scents into one product.
While custom blends are a great idea for your business, there are some points to keep in mind when it comes to the legal side of things.
Firstly, each custom blend MUST have its own Safety Data Sheet (SDS) available to customers upon request. Secondly, each blend must have its own CLP label specific to each oil combination and its percentages.
You cannot, for instance, simply list the CLP information for the individual oils in your blend and expect it to be compliant - it's not.
If you want to learn more about creating SDSs and CLPs for custom blends, you can refer to our CLP labeling guide. You can also contact a member of the Nikura team at support@nikura.com to receive this documentation free of charge.
We hope this guide helped you to better understand the legalities behind selling candles and wax melts in the UK.
While understanding all the regulations you have to follow might seem like a bit of a hassle, the rewards you'll reap once you start selling will be well worth the effort. Plus, the world will then be able to see all your beautiful, carefully-crafted creations!
If you're curious about starting your own business, or you still haven't found the right supplier for you, check out our wholesale sign-up page for the chance to access all our trade pricing - without MOQs or additional fees.
Please note that we are offering this advice to the best of our own knowledge. This post is for guidance purposes only. It is ultimately the responsibility of the business owner to conduct their own research and to ensure their products are compliant with UK legislation.