10 May 2023 / Laura Garvin Gomez
How to Sell Your Handmade Candles & Wax Melts
If you're thinking of starting your own candle or wax melt business, this comprehensive guide can help set you in the right direction.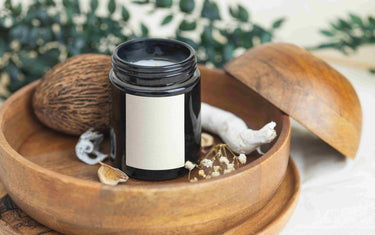 After years of crafting your own creations at home, you've finally decided you're ready to start your own business.
That's great! The only issue is, now what? How does one sell wax melts and candles to a wider audience? More importantly, what are the laws on selling homemade crafts around the UK?
Whether your expertise is in unique candle making or homemade wax melts, we're providing you with all the facts you need to know to get your small business off the ground.
What are the rules surrounding trade in the UK?
Before worrying about anything else, it's very important to first understand the laws and regulations surrounding trade. These rules are there to protect your business as well as your customers, so should be of the highest priority.
If you're selling at a retail level, your local Trading Standards Authority services will be the primary body to focus on. This authority will help to ensure you're trading legally and will also allow you to report any illegal activity you see elsewhere. Find your local trading standards office.
It's also important to follow legislation under The General Product Safety Regulations 2005 (GPSR) when starting your business.
While this regulation doesn't contain any specific laws for candles and wax melts, it does provide the general European Standards that should be adhered to when selling. Failing to comply with these standards can be seen as a lack of due diligence.
What do I need if I'm selling online?
E-commerce is the most popular way to sell candles and wax melts due to its national (and perhaps even international) reach. Whether you're selling via social media or a designated online store, there are a few things to keep in mind for safe practice.
First of all, read up on The Consumer Contracts Regulations 2013. This regulation details the legally binding agreement between you and your consumer. When selling online, you're entering a "distance contract" with your consumer and so must give them a 14-day right to cancel, as well as supply any pre-contract information.
The following business details must also be included on your website or social media platforms:
Business name
Legal ownership name
Geographical address
Email address
VAT number (if you're registered)
These details should also be provided on any receipts, invoices, or emails sent out to your customers. If you're a member of the British Candlemakers Federation, this is also a good detail to include for the sake of consumer trust in your product.
If you're planning to run your business solely in person or via social media, it's probably a good idea to have a backup website just in case. This will give your business a stable online presence and will also protect you from any hacks or glitches on social media apps.
Do I need candle making insurance?
While insurance isn't mandatory, it's highly recommended. Regardless of whether you're selling at your local fair or on a much grander scale, insurance will cover your business and your products in the event of unforeseen circumstances.
As a candle or wax melt maker, you'll need crafting insurance in particular to help protect your assets. Several insurance companies will offer this, so we recommend looking around for the best cover at the best price.
Even if you think you've done everything right, there's always the chance of a customer taking you to court for one reason or another, so make sure you're prepared at all times.
How do I label my candles and wax melts?
Aside from including your own personal touches like logos and colourways, there's a very big factor you must consider when selling crafts: CLP labels.
CLP stands for the EU's Classification, Labelling and Packaging Regulation. This regulation states that any non-cosmetic product containing hazardous materials MUST be clearly labeled in accordance with their guidelines.
While the wax for candle making isn't considered a hazard, the essential oils or fragrance oils you use are considered as such. Unscented products won't require a CLP for this reason.
CLP labels must be affixed clearly and horizontally on your product, as well as any external packaging your choose to include. This label will feature product identifiers, allergens, warning statements, and hazard pictograms relating to the relevant oils in your product.
Failing to provide accurate and legible CLP labels is considered an offense and could result in legal action. It can also lead to the loss of any related insurance.
Learn more about CLP labels and what must be included in them.
Understanding food imitation laws
If your candles or wax melts closely resemble food, you could get in trouble with the law for selling "food imitation" products.
The best way to avoid this is to simply stick to products that have no risk of looking or smelling like food, but this can be tricky in some instances. For example, snap bars can easily look like food if they aren't in bright or glittery shades.
Similarly, a brown-coloured wax melt with a sugary aroma could easily resemble a chocolate bar, while a natural-looking candle in a latte glass could be mistaken for the real thing.
In simple terms, anything that children or vulnerable adults could confuse with food will be prohibited under The Food Imitations (Safety) Regulations 1989. That's because accidental ingestion of waxing candles or melts could lead to serious injury or even death.
Even if you put disclaimers on your packaging such as "Do Not Eat", this may not be enough to prevent legal action. If you're unsure of the rules regarding your own products, check in with your local trade standards office for their opinion before you start selling.
How to avoid false claim reports
Finding a great unique selling point (USP) for your products is all well and good unless it's just plainly untrue.
Occasionally, candle makers will try and make false claims regarding the fragrance efficiency or burn time of their products. This, too, goes for wax melts and their proposed scent throw.
To avoid getting caught out by these claims, you must have evidence to factually support these statements. The Consumer Protection from Unfair Trading Regulations 2008 cover any professional diligence and misleading actions, meaning failure to support these claims could wind you up in trouble under this regulation.
Similarly, if you're looking to sell "insect repellent" candles or wax melts, you must register your product with The Health & Safety Executive (HSE) or have sufficient scientific evidence to back up your claim.
How much stock should I carry for my business?
When figuring out how to make wax melts to sell, it's important to find just the right stock for your target market - and to have enough of it once you do.
Running out of stock may seem like a major problem on the offset, but it's generally not something you'll need to worry about until your business really gets off the ground.
When you're just starting out, it's recommended to keep a little bit of stock available for each scent you'd like to sell. That's because, without giving the products some selling time, it's simply impossible to tell which scents will become popular and which are a waste of your time and money.
Remember that scent is subjective, so what might smell nice to you may be completely opposed by your customers, and vice versa. After a while of selling your products, you'll naturally figure out which ones have a better chance of selling at a particular point in the year.
From there, you can buy stock to accommodate the demand for a particular product.
Why is finding a reliable supplier important for my business?
Finding the right supplier is integral to your business' success. You need to make surer they can provide you with what you need at a moment's notice, whether that's candle wax, wholesale oils, or decorative elements.
Make sure you find a supplier that you trust right from the beginning. Before making large purchases, enquire with your potential supplier about wholesale rates, shipping, and delivery costs as well as how much stock they can provide on demand.
It's also a good idea to look at their range of essential oils and fragrance oils to find the best ones for your business. The greater the variety, the better for you and your sales.
Here at Nikura, we're proud to offer a fantastic wholesale program with excellent customer service, a wide range of high-quality fragrances, and first-class delivery speeds.
There are also no minimum order quantities when you purchase through our wholesale, so you'll never have to worry about spending more than you need to. Sign up for wholesale here.
Once you've tested your creations, set up your business, and dealt with all the legal aspects, you're ready to start selling.
While it may seem like a lot to remember in the short term, ensuring the right practices for your business can be the difference between success and failure, so don't give up!
If you ever have any questions about your business, free free to contact us at support@nikura.com for more information.
Please note that we are offering this advice to the best of our own knowledge. This post is for guidance purposes only. It is ultimately the responsibility of the business owner to conduct their own research and to ensure their products are compliant with UK legislation.