12 May 2023 / Laura Garvin Gomez
CLP Labels: A Complete Guide
CLP labels are a very important step for any small business owner. Find out if you need one and how to use them correctly in this complete guide.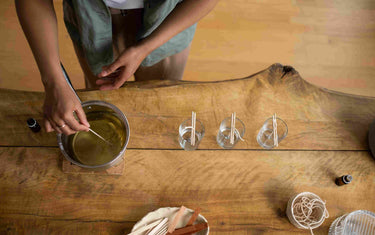 Are you an aspiring business owner looking to sell candles, wax melts, or reed diffusers? If the answer is yes, then this guide is for you.
As a business owner, it's likely you've come across the term "CLP" at least once in your research. CLPs are an extremely important part of the selling process, but it can be difficult to figure out exactly what's required of them if you've never come across the term before.
To ease your stresses, we'll be running through everything you need to know about CLP meanings, where CLP labels belong, and what you need to include in order to help your small business thrive.
What are CLPs and what does CLP stand for?
In the UK, candle labelling is covered by the EU's Classification, Labelling and Packaging Regulation - also referred to as CLP.
This updated regulation has been in effect since 1st June 2015 and states that all new products containing hazardous substances MUST be labelled in accordance with their guidelines.
Candles, wax melts, and reed diffusers all use (or tend to use) essential oils or fragrance oils as their scent base. Since these are classified as hazardous substances, a CLP label must be provided for any non-cosmetic products of any size containing them.
Products that don't use essential oils or fragrance oils, such as unscented candles, are not classified and do not require a CLP label under CLP regulations. The wax itself is not considered a hazardous substance in candles.
Why are essential oils and fragrance oils deemed as "hazardous"?
Essential oils and fragrance oils generally contain ingredients that may pose a risk of irritation to the skin or eyes. They may also contain substances that are considered environmentally hazardous.
If present in certain concentrations, these oils will trigger health and environmental warnings as well as precautionary statements and safety pictograms. All this information must be included in your CLP label (more on this later).
Why are CLP labels important?
Failure to appropriately label any non-cosmetic product with the correct CLP label can result in legal action and loss of insurance for your company.
Incorrect CLP labelling is considered an offence in the UK, and it's down to you as the business owner to ensure your labels are displaying the necessary and correct information.
What should a CLP label look like?
All CLP information should be legible horizontally and firmly affixed to your product at all times. Here's what they should look like.
CLP labels should display the following information relative to the essential oil or fragrance oil you're using:
Product Identifiers

Allergen Information

Single Word Markers (e.g. "warning")

Warning Statements

Precautionary Statements

Warning/Hazard Pictograms

Supplier Information (i.e. your business name, address, and contact details)
Not all essential oils or fragrance oils will trigger warning pictograms or statements, so don't be alarmed if your label looks a little empty for some scents. It will very much depend on the ingredients or natural components within the oil.
If there are no warning pictograms on your label, then a yellow warning triangle will need to be included instead.
How should I position my CLP candle labels?
Candle CLP labels should be affixed to the packaging that immediately contains the hazardous substance. In most cases, this is the candle glass itself.
For this reason, many candle makers prefer to use round labels that can be comfortably affixed to the bottom of the candle.
If you're boxing your candles in any way, then your CLP label should also be visible on the outer side of the box. This allows customers to view the information without having to touch the candle itself.
If your candle is too small or has a unique shape, it still requires a CLP. In these cases though, you may be able to use ties, tags, or fold-out labels as alternatives.
Where do I place CLP labels for wax melts?
As with candles, CLP labels for wax melts should be attached to the immediate packaging where the product is visible.
Any outer packaging that does not show the wax melts should also have a label clearly affixed in a horizontal, legible position.
What fragrance load percentage should I use for my CLP labels?
When creating your CLP label, you must use the correct fragrance load percentage present in your product. This can be an overestimated percentage (e.g. a marker of 10% on your label when the value is actually 9%) but never an underestimated one.
The maximum recommended fragrance load for candles and wax melts is 10%. Reed diffusers, room sprays, or plugins can fall in a range between 15-25% depending on the product.
Any hazardous bases used in your product - like augeo or alcohol - must also be present at the appropriate percentage in your CLP label.
If I'm not selling my products, do I still need a CLP label?
If you're not selling your products directly to an end user, then a CLP label is not required.
Any non-cosmetic products made for personal use only will not need to comply with the regulations as they're at the risk of the maker themselves.
What else is required of me as a seller?
Alongside your CLP label, you will also need an up-to-date Safety Data Sheet (SDS) for your essential oils or fragrance oils in order to be compliant with regulations.
This information does not need to appear anywhere on your physical product, but you should still have it to hand.
The Safety Data Sheet will outline all the ingredients and allergens in your oils as well as any potential hazards, storage methods, or emergency information. It should also contain your supplier's contact details.
SDSs will always be provided by your essential oil or fragrance oil supplier, and it is their responsibility to ensure these documents are easily accessible and available to customers at all times. If you're using Nikura oils, you can find these technical documents here.
Most of the time, Safety Data Sheets can be made up to accommodate for the particular fragrance load and base of your product (such as 10% in candle wax). There will also be a 100% version that is relevant to the raw oil itself.
Where can I find the information I need for my CLP label?
Most CLP information can be found via the SDSs of your chosen oils, but it can be quite confusing and time-consuming to locate the relevant hazards if you're just starting out.
Thankfully, if you're using Nikura oils in your products, then you needn't look any further than right here for all the information you need.
We provide CLP documents free of charge for all our oils (these can be found on our technical documents page). Contact us at support@nikura.com to request information for your business.
Do you supply CLP labels for your blends?
If you're looking to add one of our bespoke essential oil blends to your product collection, we're here to help provide you with all the CLP information you need.
This goes for custom blends too, so feel free to send us your creations for a detailed breakdown of what's required to help your business flourish.
CLP labelling may seem like an uncertain venture in the beginning, but with the right amount of time and research, the process will soon become easy to repeat.
If you're ever unsure about anything regarding your CLPs, contact the Nikura Support Team for further guidance on how to make your products safe for trade.
You can also sign-up for wholesale to access all of our bulk business prices. Signing up is completely free and will not require any minimum order quantities to qualify. Happy selling!
Please note that we are offering this advice to the best of our own knowledge. This post is for guidance purposes only. It is ultimately the responsibility of the business owner to conduct their own research and to ensure their products are compliant with UK legislation.