21 May 2023 / Laura Garvin Gomez
How to Package Wax Melts Cheaply and Professionally
Master the art of affordable yet professional packaging for your wax melts with expert tips and techniques, ensuring a polished presentation that will captivate customers.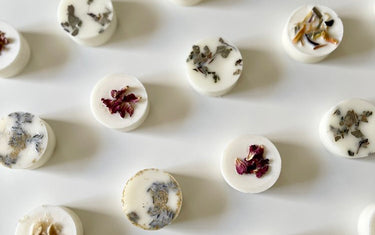 Wax melts are wonderful little creations that allow you to enjoy your favourite essential oil around the home.
They are quick and easy to make and are ideal for little gift ideas – or you could even start your own side business selling them online.
Whilst there are plenty of recipes online, packaging for wax melts is not something that is discussed too often. So, we thought we'd give you a few simple gift-wrapping ideas for present giving or just to keep them safe until you are ready to use them.
Why do I need to package my wax melts?
It's always a good idea to package your wax melts to give them more protection. With so much time and effort spent making them, it makes sense to ensure they last for as long as possible. Unpackaged wax melts can start to lose their scent and colour and pick up dust – and if left close to heat sources, they could even start to melt.
There is also a safety aspect to consider, especially if you have children or pets. Because wax melts contain essential oils, they should be kept wrapped up and out of reach of children and pets, as even simple contact can cause allergic reactions.
And if you have made max welts with the intention of giving them away as presents, wrapping them up will add a wonderful finishing touch. Gift wrapping can make all the difference when it comes to receiving a present, even if it is only something small, as it shows you really thought about the gift.
What is the best wax melt packaging?
We've put together a few wax melt packaging ideas that you can put together at home without too much fuss:
1. Put them in sectional boxes
Using a divided or sectioned box allows you to place your wax melts inside and create the perfect display. When done well, it can look like a present straight out of a boutique store and will add something special to any gift or storage area.
Most sectional boxes have 4, 6 or 8 divided spaces inside and you can either go for a pre-branded box from a supplier offline or create your own. Making your own wax melt boxes at home gives you more control over the colour, style and size of your presentation, although it will require you to dig further into your arts and crafts toolbox.
2. Package your wax melts inside clamshells
Clamshell packaging is usually a plastic container that opens like a clamshell, with two identical sides that use tabs to keep the lid shut. You can buy quite a few of these without having to spend too much money and they are a great match for wax melts.
Instead of packaging a pre-made wax melt inside, you could also just pour the wax melt mixture directly into the clamshell packaging, allow it to cool and you have ready-made packaging. The main thing to be wary of when following this process is to pour the wax at a lower temperature, as the plastic packaging could warp or melt.
3. Store them in cellophane bags
Another great way to protect and package your wax melts is to store them in biodegradable cellophane bags. The advantage of buying biodegradable bags is that they are an eco-friendly option, as they can be composted or sent to landfill to naturally biodegrade.
Like clamshells, cellophane bags are cheap to buy and allow you to place a wide range of wax melt shapes inside. The wax melt can be seen clearly inside the bag, whilst being fully sealed shut, so it doesn't pick up dust and can't be opened easily by children or pets.
How to take care of your wax melts
There are lots of other ways you can protect your wax melts and ensure everyone is safe at home. Try some of the following ideas:
Keep your wax melts out of direct light (natural and artificial) when not in use to avoid colour fade.
Remove any debris or dust before you light a wax melt.
Cover the wax after it has completely cooled to protect it from dust and dirt that will collect on the surface, as this could cause a fire hazard.
If the melt no longer produces a scent, or when less than ½ of the wax remains, remove for safety reasons.
Do not dispose of wax down toilets or drains. Instead, pour it back into the original container, taking care of the temperature. Once cooled, you can dispose along with your household rubbish.
Always make sure you have good ventilation and use the appropriate amount of wax melts, as the scent throw can become overpowering in small spaces.
There are lots of other ways to package your wax melts at home, such as using a pillow box or kraft pouch, so you can start by using our ideas above, or get creative to see what you come up with. Always take care when handling hot wax, and be sure to keep them out of reach of pets and children. And you don't have to be a packaging pro to get started – all you need is a little spare time and creative flair and you'll be surprised what you can come up with!