7 December 2022 / Laura Garvin Gomez
How to Make Christmas Wax Melts
Try making your own Christmas wax melts this holiday season and enjoy the festive scents and the joy of giving homemade gifts.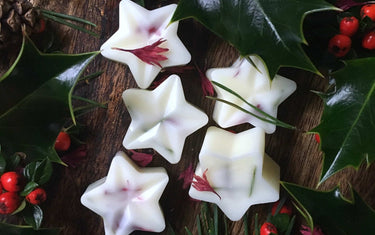 Wax melts are a wonderful little addition to your home at any time of the year and work especially well around Christmas time.
They are easy and affordable to make and will leave a wonderful scent lingering around your home to help you get the most out of the festive season. If you haven't made them before or if you are looking for some ideas, we've put together a guide on how to make Christmas wax melts this year.
What are Christmas wax melts?
Christmas wax melts are almost identical to ordinary wax melts – the important difference being they are scented and shaped with a Christmas theme! Just like standard wax melts you do not need a wick, and you can use an almost endless combination of scents and shapes to create a relaxing and uplifting mood for you and your loved ones.
What are the best essential oils for Christmas wax melts?
Bring some festive cheer with a Christmas Collection Essential Oil Gift Set
Whether it's for the Christmas period or to bring some warmth and cheer to your home during the winter season, our Christmas Collection Essential Oil Gift Set ensures you have an array of aromas to enjoy. It includes the natural essence of cinnamon bark the cleansing properties of clove bud and the relaxing sensation of lavender. You can also try the lighter scent of pine needle or the sweet, heart-warming aroma of orange, letting it drift across your home to create a calm and inviting ambience.
Enjoy longer-lasting aromas with a Christmas Collection Fragrance Oil Gift Set
If you want an aroma that is a little more specific to your tastes, then our Christmas Collection Fragrance Oil Gift Set could be a better fit for your wax melts. The set includes Cinnamon Stick, Forest Fresh Pine, and Candy Cane, along with Apple & Cinnamon and a White Christmas fragrance. The difference here is that fragrance oils are specifically designed for use in candles and soaps so you can enjoy your favourite scent for even longer. It's a wonderful Christmas set all delivered in a handy bundle to help you get the most from your wax creations this year.
Happy Holidays Fine Fragrance Oil will fill you with the festive spirit
Sometimes the usual scents just won't do, especially if you have a few favourites that you alternate between across the year. As we head into the Christmas period, it offers a great time to shake things up a little with a brand-new scent in your home. Add a few drops of Happy Holidays to your wax melts, and you'll be bowled over by its rustic sweetness, triggering all those good feels that come Christmas time. You can also use it in potpourri, soap, bath salts and in diffusers, giving you plenty of options to enjoy it around the home.
Clementine & Cinnamon Fine Fragrance Oil recall Christmas' of old
Clementine and cinnamon are an effortless blend that is reminiscent of Christmases' past, a timeless aroma that allows you to reminisce back to childhood days of wonder and excitement. There is an innocence to the combination that makes it so appealing and adding Clementine & Cinnamon to your wax melt ensures everyone can enjoy this classic during the holidays. Once the oil burns into the air and tingles your senses, it will be enough to get everyone in the mood for Christmas.
Festive Essential Oil Blends are made for Christmas time
Of course, if the suggestions above aren't quite hitting the spot, you may want to handpick your own Christmas wax melt favourite. Our selection of Festive Essential Oil Blends covers all the Christmas favourites and much more, including gingerbread, mulled cider and pumpkin spice. Each one offers its own unique health-related properties and benefits, and they can also be used in diffusers, soaps and as bath salts. So, if you're looking to create the perfect seasonal ambience at home this Christmas, these could be just what you are looking for.
How to make Christmas Wax Melts
You will need:
300g soy wax flakes
40g oils
A heatproof glass jug
Silicone moulds in your preferred shape
To learn how to make Christmas wax melts, follow the step-by-step guide below:
Take a heatproof glass jug and pour the wax inside.

Place the jug into a microwave and let it melt for 30 seconds. Take it out, stir it, and place it back inside for a further 30 seconds. Carry on this process until the wax is fully melted.

Keep a close eye on the wax as you need to ensure it doesn't overheat, and that small white spots don't start appearing. While this won't affect the burn quality or the effectiveness of the scent, it will make them look less visually appealing.

This is the point where the wax dye should be added if you want to include it in your melt. If not, you can add the essential oils of your choice when the wax has cooled (although not to the point of solidification). Make sure to stir your essential oils well, so they blend fully into the wax.

Take your Christmas mould and pour the wax carefully inside. Place them in a cool place so the wax can cool fully and harden, which usually happens if left overnight. Avoid placing the moulds into the fridge as it will likely be too cold for the wax and could cause it to crack.

When the wax has fully hardened, remove it from the moulds, and they are ready to use wherever you wish around the home.
If you're all out of ideas for extra little presents to give to friends and family this Christmas, wax melts could be the answer to your prayers. Use them as a stocking filler or place them around the house to invigorate your home with a delicious new scent, setting the mood as everyone starts to wind down for Christmas. And who knows, once you give it a go, it could soon become a new hobby that you take into the new year and beyond.
{ if (visible && product == e.detail.data) return; ready = false; const articleTop = document.querySelector('[data-article]').getBoundingClientRect().top + window.scrollY; $nextTick(() => { product = e.detail.data; selected = product.variants[0].id; ready = true; setTimeout(() => { top = e.detail.target.getBoundingClientRect().top + window.scrollY - articleTop; show(); }, 10) }) }" @scroll.window="close()" >