2 June 2023 / Laura Garvin Gomez
How to Make a Soap Sponge
Discover the art of creating your own luxurious soap sponge with our step-by-step guide, elevating your bathing experience to new heights of indulgence.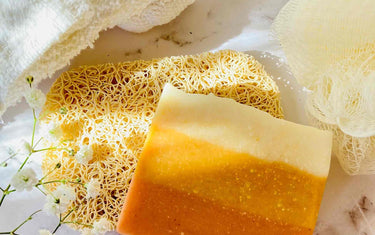 Having a ready-made sponge filled with a wonderful smelling soap sounds like heaven – and it's something that you can make at home without having to spend a fortune.
These wonderful little inventions are called soap sponges and are not messy or difficult to make. We explain how to make soap sponges and everything else you need to know to get started.
What is a soap sponge?
Soap sponges are soap filled sponges that create a lather you can use to exfoliate and cleanse your skin, essentially combining a sponge and soap into one easy-to-use item. Soap sponges are used as a bathroom accessory and are typically made from loofah or cellulose.
Why use a soap sponge?
As you already have soap and a sponge in your bathroom, you may be wondering, why should I use a soap sponge? It's a fair question to ask, although as you begin to learn more about soap sponges, their benefits become more obvious.
Firstly, using a soap sponge takes the hassle out of exfoliating your skin daily. That's because the soap is already in the sponge, so you can quickly remove the dead skin to rejuvenate and refresh. Where body scrubs can sometimes feel a little harsh, a soap sponge is softer and kinder to the skin and is ideal for anyone who is more sensitive.
And if you want to cut down on your plastic usage, switching to a soap sponge is a good way to start. Body washes, and other beauty and cosmetic products all come in separate packaging, and over time this contributes to a large amount of wastage. And even when the soap has gone from the sponge, you can repurpose the sponge for general household cleaning chores, so it isn't just thrown away after its initial purpose has expired.
How to make soap sponges
You can easily make your own soap sponge at home using a handful of simple ingredients. All you need is the following:
When you have all the ingredients, follow the step-by-step instructions below on how to make soap sponges:
Using a digital scale, weigh out around 225g of clear melt and pour soap base.
Cut the melt and pour soap into small cubes, about one inch in size.
Melt in a microwave using 30 second bursts - or you can slowly melt in a saucepan on a medium heat. For both methods, make sure to stir the soap regularly so it heats evenly.
Next, add 2-6 grams of your essential oil mix to the soap base and stir well.
Use heat resistant gloves to dip the sponge into the hot, melted wax mixture. Start with each edge, followed by the top and bottom. Gently squeeze the sponge to remove any excess soap that is left over.
If the soap starts to solidify, reheat using the same process as before.
The soap sponge can then be left to dry and once it is completely cooled and hardened, it is ready to use to exfoliate your skin.
How to use a soap sponge
Using a soap sponge offers an easy way to cleanse and exfoliate your skin every day, whilst cutting down on the number of products you need to use.
Wet the sponge under water – either in the shower, bath or at the sink.
Gently rub the sponge over your skin to build up a lather.
Use the exfoliating side of the sponge to remove areas of dry skin and the softer side of the sponge on more sensitive areas.
When finished, rinse the sponge, and leave it to air dry.
Most soap sponges should last for up to 4-5 weeks when used daily. So, over the course of a year this can save you quite a bit on body washes and cut down your plastic wastage.
Which melt and pour based is best for a soap sponge?
For our soap sponge recipe, we have included the Clear Transparent Melt & Pour Soap Base. It is completely free from SLS (sodium lauryl sulphate), a foaming agent typically included in many commercial brands, which can be harsh and irritating on the skin.
The base also offers fantastic moisturising properties that can create a soothing lather and foaming for your skin. Another advantage of using a transparent base is that it doesn't cover up the original sponge colour and if you decide to add your own colours, they will also shine through with more clarity.
Of course, the melt and pour soap base you use for your recipe is entirely up to you. There is no right or wrong option, only the one that works best for you. But if you want to minimise your exposure to any unnecessary chemicals and enjoy a soap sponge that produces a wonderful foam and lather, then this is well worth considering.
How much essential oil do I need to use?
When you are making a soap sponge, you should only add up to 3% of essential or fragrance oils to the recipe. This is based on the weight ratio of the finished product, which means that no more than 3% of the total weight contains essential or fragrance oils.
For example, if you use 225g of melt and pour soap base, 3% of that weight would equal 6.75 grams. You should always use a volume measurement to weigh your oils, rather than millimetres, because some are thicker than others, which affects how much they weigh. Using grammage will ensure you don't add too much oil to the recipe, which could be harmful to your skin.
Can I use any essential oil in my soap sponge?
Essential oils are highly concentrated and in some cases can cause irritation, redness, itchiness or an allergic reaction. This means safety is always an important consideration when using an oil, so you should ensure that it is safe to use on the skin.
When you buy from a responsible supplier, they should also provide you with an IFRA Certificate that explains the toxicity of the oil. Find 'IFRA Category 9' on the document and this will tell you how much percentage can be used. Some oils do not have a percentage limit, but we would always advise to use no more than 3% in your soap sponge, just to be safe.
Can I add colours to my soap sponge?
Just like making soap using moulds, you can also add colourants to your soap sponge. Mica powders tend to work very well with melt and pour soaps, with a wide range of colours available. The trick is to use a plain sponge so you have more control over the colour mix and the end result, which will allow the shades to shine right through to create a fun and unique finish.
Making soap sponges couldn't be easier, with only a few ingredients and a short amount of time required to make one. Not only are they great for exfoliating the skin, but they are eco-friendly and can help you save money by cutting out unneeded bathroom products. Always take care when handling essential oils due to their high concentration levels and never use more than 3% in any recipe to minimise the risk of allergic reactions.
{ let idx = null; product.variants.forEach((v, i) => { if (v.featured_image && v.featured_image.id == $event.detail) { idx = i; } }); if (idx !== null) swiper.slideTo(idx, 0); }" x-init="() => { if (variants.length > 1) { const images = product.variants.map(v => { if (v.featured_image) { return `
`; } }) appendSlides(images); } else { if (product.featured_image) { appendSlides(`
`); } } }" >