5 min read / 6 December 2022 / Laura Garvin Gomez
Christmas Soap Recipes
Learn how to make melt-and-pour soap bars, and take a look at our favourite Christmas scents to use in soap recipes.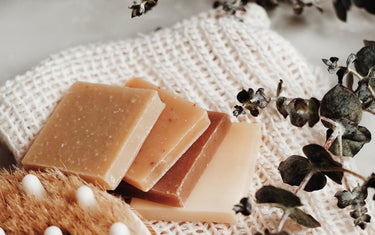 If you are looking for Christmas soap recipes this holiday season, we've compiled a list of our favourite oils and fragrances to use in your Christmas soap recipes.
DIY Christmas soaps make for the perfect present, especially when you are struggling to come up with ideas for anyone that may be difficult to buy for. They are also a wonderful stock-filler present that adds a special extra treat for someone special. Take a look at some of our best Christmas soap scents for some additional ideas.
What are melt and pour soap bars?
Unlike the cold press process which involves the making of soap from scratch, melt-and-pour bars are easier to make and can be used as soon as the mould is ready. Once the base has been melted and the fragrance and dye added, it can be poured into the mould where it can set.
This often makes it the preferred choice for beginners, while experienced crafters also enjoy the versatility it offers. It is also a safer alternative to the cold process as you do not have to handle lye in its natural form, which is a very strong chemical and needs to be treated with care.
For a helpful beginners guide that goes into what kind of equipment you'll need and more detail about how to make soap using essential oils click here.
How to make melt and pour soap
Take your ready-made lye and pour it into water in a pan. Turn up the heat to medium and wait until it has fully dissolved before setting the pan aside.

On a low heat, melt your preferred soap base (coconut oil and shea butter are popular options) and wait for them to melt. Place to one side once finished.

Mix together castor oil, olive oil and essential or fragrance oil in a separate container. Once they have been blended, pour the mixture into the same pan as the melted soap base.

Once this has been mixed for a while, allow it to cool at around 35-38 degrees (keep a close eye on the temperature) while ensuring the lye water is at the same temperature.

Take the lye water and pour this through a sieve into the pan of oils.

Manually stir this for a while before using a stick blender for a couple of seconds to bring it all together. Stop and repeat the manual stir/blender routine until the mixture starts to 'trace'. At this point, it should have a thin, custard-like consistency.

Quickly take the mixture and pour it into your chosen mould, tapping it to allow the mixture to settle.

If you leave the mixture in the fridge overnight and take it out the next day, after 48 hours you should be able to remove the soap from the bar so you can cut it.

You can use the soap at this point, although it is advised to let it cure for a further 28 days to improve its quality, helping it to last for longer. If you want to cure for this period of time, keep the soap in a cool dry place with good airflow.
Our Fine Fragrances for long-lasting scent bring back memories of Christmas
Fine fragrances are different to essential oils because they are specially formulated for use in homemade soaps (as well as candles, diffusers and more). These high-quality scents are available with a wide range of aromas to choose from, with many evoking special memories, moments or locations that allow you to revisit them time and again. And with the likes of Apple & Cinnamon, Frosted Berries and Alsatian Gingerbread all part of the line-up, these will make a great inclusion in your Christmas soap recipes.
Liven up your soap recipe with Christmas Fizz Essential Oil Blend
The scent and taste of sugar is everywhere you look during Christmas time, with no shortage of delicious goodies to tuck into and enjoy. The Christmas Fizz essential oil blend brings some positive yuletide cheer with its sherbet-scented aroma, mixing together a natural blend of lavender, lemon verbena and juniper berry. When used in soap, it can leave your skin feeling refreshed and revitalised thanks to its healing and antibacterial properties, making it a wonderful addition to your bathroom.
Our Christmas Essential Oil Gift Set offers a ready-made recipe to go
Sometimes it can be tricky trying to find the right blend of essential oils for your soap, especially if you are still learning how it all works. So having a ready-made set of oils that can all blend together offers the ideal solution and an easier way to get started. The Christmas Essential Oil Gift Set brings together 4 x 10ml bottles of cinnamon bark, clove bud sweet orange and pine needle that can be used separately or paired for fantastic results.
If you want to branch out and also make candles, why not try out this candle recipe using Cinnamon, Clove and Orange essential oils from the above gift set.
Christmas Cosy Night in Fine Fragrance Oil Set offers luxury comfort for your skin
Another gift set that is ideal for Christmas has a slightly cosier appeal is our Christmas Cosy Night In Gift Set. As the name suggests, this is all about Christmas, with 5 x 10ml bottles including Apple & Cinnamon, Cosy Fireplace, Happy Holidays, Mulled Wine and Winter Spices. The names of these fragrance oils alone are enough to make you start dreaming of the holidays, and that's before they allure your senses with their unique aromas. If you can't get enough of Christmas and want to make it an integral part of your bathroom routine, then these oils are a must-have.
Whether you are gathering Christmas present ideas for loved ones or just curious to find out more about soapmaking, these oils and fragrances are a great place to start. These are just some suggestions to get your creative juices flowing, so if you want to try some alternative oil blends, there are lots of others you can try. Essential oils in particular also offer a host of health benefits, so you can smell great and also improve the condition of your skin.
{ if (visible && product == e.detail.data) return; ready = false; const articleTop = document.querySelector('[data-article]').getBoundingClientRect().top + window.scrollY; $nextTick(() => { product = e.detail.data; selected = product.variants[0].id; ready = true; setTimeout(() => { top = e.detail.target.getBoundingClientRect().top + window.scrollY - articleTop; show(); }, 10) }) }" @scroll.window="close()" >