4 min read / 26 November 2022 / Laura Garvin Gomez
Best Christmas Soap Scents
These ten festive oils are the perfect ingredients for a magical homemade gift.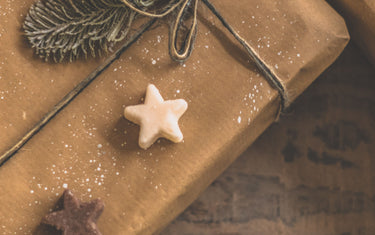 If you're looking for a unique Christmas gift, handmade soaps are the way to go.
Their versatility in sizes, colours, and scents make them a universally appreciated present that can be shared endlessly and customised depending on your giftee's preferences.
Soaps are also a fantastic opportunity to kickstart a new festive hobby, as they are generally easy to make and won't burn an unnecessary hole in your pocket.
If you're new to soap making, our beginner's guide can help set you other the right path before getting started.
For those that are seasoned soap makers, the holidays always present themselves with new opportunities to explore scented wonders for the year ahead - so why not start now?
We're counting down our top Christmas soap scents to share with loved ones this festive season.
What are the best Christmas soap scents?
If you're wanting to create good quality Christmas soaps, fine fragrance oils are a safest and most effective choice.
They are specifically designed for soap making, and can provide your handmade creations with a long-lasting scent throw as well as an easy-to-work-with, high quality aroma.
As they are made by perfumers, fragrance oils come in the widest variety of unique scents, making them the most versatile choice out of all the scented oils.
Here are some of our favourite fragrance oils for Christmas soaps:
Apple & Cinnamon Fine Fragrance Oil
Sweet soaps are all the rage during the festive season, and our Apple & Cinnamon Fine Fragrance Oil provides the perfect base for baked festive comforts.
Combining classic notes of cinnamon with sugary apple pie, there's no going wrong with this nostalgic aroma.
Frosted Wonderland Fine Fragrance Oil
Prefer the natural scents of the Winter time? This Frosted Wonderland Fine Fragrance Oil joins together all the refreshing scents of a snow-dusted forest with a woody and aromatic twist.
Notes of eucalyptus, pine, and cedarwood create the ideal backdrop for a more refined scent profile, while still bringing in all the magic of the festive season.
Frosty Christmas Rose Fine Fragrance Oil
Another pioneer for more natural aromas, this Frosty Christmas Rose Fine Fragrance Oil adds a romantic floral twist to the manic Christmas period.
Light and refreshing, this scent works well for recipients who aren't keen on overly sugary treats, or who would prefer to keep their cosmetics on the most subtle side of festive.
Can I use essential oils to make Christmas soaps?
While fragrance oils provide the gift of endless variety, some of us prefer not only the more familiar scents of botanicals, but also the numerous wellness benefits that come with them.
Essential oils are a better choice in this case, as they can facilitate a nourished mind and body as well as smell great in light of the Christmas season.
Cinnamon Essential Oil
A classic ingredient for an festive treat, there is no going wrong with the timeless aroma of Cinnamon Essential Oil.
Warming and comforting, cinnamon is a sweet and spicy favourite with impactful benefits against bacteria, making it the perfect choice for creating a fun but functional Christmas soap.
Sweet Orange Essential Oil
An ode to chocolate oranges and sweet Christmas fruit cakes, our Sweet Orange Essential Oil is a zesty year-round staple with a versatile aroma.
Known for its ability to lift spirits and ease stress, the scent of orange is a welcome companion that can lend itself well to any kind of festive soap.
Pine Needle Essential Oil
If a freshly adorned Christmas tree is your highlight of the season, then the earthy aromas of Pine Needle Essential Oil may be just what you need in your soap.
A natural air freshener with powerful antibacterial properties, the balsamic notes of this forest-like oil are incomparable in their functionality, versatility, and familiarity.
Will essential oil blends work well in soaps?
Essential oil blends are expertly-crafted, handmade creations made out of a mix of pure essential oils.
If you don't feel like experimenting with natural aromas yourself, they can be a good alternative to achieving a particular festive scent without the headache of trial and error. Pre made blends like Pumpkin Spice or Christmas Fizz will give you the festive feelings as well as some other of our beloved Christmas blends.
Christingle Essential Oil Blend
The perfect nostalgic blend of seasonal treats can be found in our uplifting Christingle Essential Oil Blend.
Made using cinnamon, clove bud, and orange, there's no greater festive combo for your holiday soaps.
Gingerbread Essential Oil Blend
Sweet and warming, a café filled with festive bakes awaits you within our Gingerbread Essential Oil Blend.
Ginger, cinnamon, and clove leaf come together to provide an effective natural alternative to sugary Christmas aromas.
We Three Kings Essential Oil Blend
The magic and mystery of the Christmas season is truly realised inside a bottle of our We Three Kings Essential Oil Blend.
Combining frankincense, myrrh, ginger, and cinnamon, the spiced but earthy notes of this unique aroma will bring new life to your Christmas soap creations.
Whether you're a lover of all-natural scents or an explorer of new, unique aromas, there's a festive scent for every kind of soap maker available.
Try out a mix for your different giftees, or simply stick to an old favourite that you know will last you all season long.
Shop our fragrance oils
here
.
Shop our essential oils
here
.