7 min read / 25 August 2023 / Laura Garvin Gomez
Is Lavender Essential Oil Safe During Pregnancy?
Unveil the facts about the safety of lavender essential oil during pregnancy in our informative blog.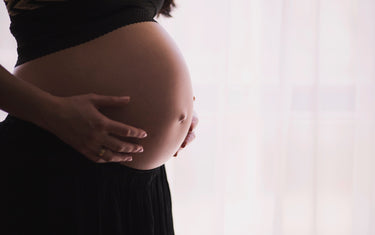 Is lavender essential oil safe in pregnancy? It's an important question relevant to the lives of pregnant people who are used to relying on essential oils.
For anyone who wants to ease adverse pregnancy symptoms, such as nausea, stretch marks or swollen ankles, lavender oil could work as a natural remedy.
We offer some clear-cut lavender oil pregnancy advice, so you can see how the oil can be used, when to avoid it and whether other types of essential oils offer any help during what can feel like a long 9 months.
Is it safe to use lavender oil during pregnancy?
Experts advise that you avoid lavender oil – and all other essential oils – during the first trimester of your pregnancy. Research has found that use during the first 13-week period could cause uterine contractions that can adversely impact the baby.
When you enter the second and third trimesters you can start to use lavender oil and other types of essential oils to support your pregnancy. For example, certain oils may be able to provide relief from things such as swollen ankles, stretch marks and nausea, all of which you may experience at some point.
What other essential oils can I use during pregnancy?
We know that lavender essential oil and pregnancy can work together in the 2nd and 3rd trimesters, and we've also made a list of the other types of essential oils that are considered safe:
1. Peppermint essential oil could offer aromatherapeutic benefits
Early evidence from a 2013 study suggested that Peppermint Essential Oil could be very useful in combating nausea in pregnant people. However, this is still a hotly contested issue, as homoeopathic and aromatherapeutic practitioners say pregnant people should avoid it completely. If you are unsure, consult with your doctor before trying this oil.
2. Calm feelings of nausea and vomiting with lemon oil
A 2014 study in pregnant women found that Lemon Essential Oil could be used to reduce the frequency of nausea and vomiting in pregnant people. It involved a clinical trial where 100 pregnant women inhaled the oil over a fixed period, concluding that the oil had some beneficial effects that could help ease morning sickness.
3. Lavender essential oil is safe for the latter stages of pregnancy
Inhaling or diffusing Lavender Essential Oil is perfectly safe in the 2nd and 3rd trimesters, and there is a lot of research that verifies this claim. A review of studies even made the claim that use of the oil could reduce labour pain, encouraging health policymakers and gynaecologists to consider it as part of the birth procedure.
4. Create a calm, relaxing mood using rose oil
Like lavender, Rose Geranium Essential Oil can also help you to de-stress and relax, calming feelings of anxiety and enabling you to get a better night's rest. Although more research is needed, a 2014 study suggested that rose geranium oil could also be used to ease feelings of anxiety during delivery. It could be an alternative option to lavender if you want something a little softer to inhale.
5. Geranium oil can offer anti-anxiety benefits
If rose or lavender oil is not to your liking, another floral option you could try during labour and delivery is Geranium Essential Oil. A randomised clinical trial found that inhaling geranium oil during the first stage of delivery helped to ease feelings of anxiety.
6. De-stress and unwind with chamomile oil
Many people find drinking chamomile tea to be very relaxing, and it can also do similar in its essential oil form. This is not an oil you can drink but instead inhale or apply topically, with one 2014 study finding that it helped to reduce migraine attacks and encouraged relaxation. Some people also dilute and use the oil to reduce the appearance of stretch marks.
Other essential oils you can use during pregnancy
There are quite a few other essential oils you can use during pregnancy, whether it's by inhalation, diffusion or topical application:
Benzoin
Bergamot
Black pepper
Cypress
Eucalyptus
Frankincense
Ginger
Grapefruit
Juniper
Mandarin
Neroli
Petitgrain
Sandalwood
Sweet orange
Tea tree
Ylang ylang
First time users of any essential oil should complete a patch test to ensure it is suitable for your skin. Add a few drops to the inside of your elbow, cover with a plaster for 24 hours and if you experience redness, swelling or inflammation, wash the oil off your skin and discontinue use.
Essential oils to avoid during pregnancy
So, what essential oils should you avoid during the entire pregnancy? Any oil that can potentially cause uterine contractions should be avoided, which includes:
Aniseed
Arnica
Basil
Bitter almond
Boldo leaf
Broom
Buchu
Calamus
Camphor (brown or yellow)
Cassia
Cedarwood/thuja
Chervil
Cinnamon
Clary sage
Clove (bud, leaf, or stem)
Coriander
Costus
Deer Tongue
Dwarf pine
Elecampane
Fennel
Horseradish
Hyssop
Jaborandi leaf
Juniper berry
Melilotus
Mugwort
Mustard
Nutmeg
Origanum
Parsley
Pennyroyal
Red thyme
Rosemary
Rue
Sassafras
Savin
Sweet birch
Tansy
Tonka
Wintergreen
Wormwood
You can use this list of essential oils as a guideline during pregnancy, labour and breastfeeding. If you are unsure about using any essential oil, speak with your doctor who can provide professional medical advice.
How to use lavender essential oil during pregnancy
If you feel comfortable enough to use lavender essential oil during the 2nd and 3rd trimesters, here are some application methods you can try:
Easing nausea: If you have an upset stomach or are feeling a little queasy, you can inhale lavender oil directly from the bottle, or add it to a cotton ball or tissue. Alternatively, apply some diluted oil to your skin so you can inhale the scent as you naturally breathe.
Repairing stretch marks: Mix lavender oil with a carrier oil (it goes well with coconut oil or almond oil) and gently massage into the target area 1-2 times a day. Once in the morning and once in the evening usually works well.
Relieving swollen ankles and feet: If your ankles and feet are swollen and feel painful, mix 3-5 drops of lavender with a carrier oil in a roller ball and massage into the area as and when you need.
Supporting the baby bump: Carrying a baby around isn't exactly easy, and there are times when it can feel awkward and uncomfortable. Combine lavender oil with a carrier oil and massage into the abdomen to provide a little more comfort.
General aches and pains: If you need some relief from general aches and pains, dilute some lavender oil and add to a warm bath for you to soak in and enjoy.
Use in a candle recipe: You can buy lavender-infused candles to create a calm, relaxing atmosphere at home, or make your own following an online recipe. Burning a lavender candle can ease feelings of anxiety and also help you get some much-needed rest.
The general rule for diluting all essential oils is to dilute about one tenth of the oil with a carrier oil. This will make it safe to apply and significantly reduce the risk of experiencing an allergic reaction.
Is lavender essential oil safe if I ingest it?
You should not ingest lavender oil during any stage of the pregnancy as it can cause an upset stomach. Whilst inhaling from a bottle, cotton ball or tissue is perfectly fine, ingesting the oil can irritate the sensitive mucus membranes of the stomach because the body struggles to manage the oil as it does not dissolve in water.
Inhale lavender oil using our suggestions above or try a diffuser that will disperse the aromatherapeutic benefits into the surrounding space. Most experts agree that it is safe to apply lavender oil topically during pregnancy, although they also agree that aromatherapy is an even safer option for pregnant people.
Safety guidelines for using essential oils during pregnancy
As we mentioned above, all essential oils should be avoided during the first trimester (13 weeks), as this is the most critical period of any pregnancy. If you feel comfortable using essential oils during the 2nd and 3rd trimesters, please use the points below for guidance:
Do not ingest any essential oil during your pregnancy (this also applies outside of pregnancy). Even when diluted correctly, the mixture can pose toxicity risks if ingested, which could be harmful to you and the baby.
Always follow the dilution instructions provided with the product before use. One drop of essential oil to ten drops of carrier oil will make it safe for topical application.
Topical application is considered safe when correct dilution ratios are used, although many medical experts agree that aromatherapy is an even safer option.
Follow the application guidelines and do not exceed the recommended dosages – especially if they are being applied topically.
Lavender oil can offer relief for a wide range of common pregnancy symptoms, giving you a natural alternative to pharmaceutical medication. From easing feelings of nausea and repairing stretch marks to helping pregnant people to calm their anxiety and get more sleep, it's an oil that could play an important role in your life as your unborn baby continues to develop and grow.
Always ensure that essential oils are diluted correctly before topical application, and do not use lavender oil or any other essential oil during the first trimester of your pregnancy. You should also consult with your doctor before you use essential oils during any stage of your pregnancy to ensure it is appropriate for your circumstances.
{ let idx = null; product.variants.forEach((v, i) => { if (v.featured_image && v.featured_image.id == $event.detail) { idx = i; } }); if (idx !== null) swiper.slideTo(idx, 0); }" x-init="() => { if (variants.length > 1) { const images = product.variants.map(v => { if (v.featured_image) { return `
`; } }) appendSlides(images); } else { if (product.featured_image) { appendSlides(`
`); } } }" >