7 min read / 3 May 2023 / Laura Garvin Gomez
Essential Oils and Eyecare: A Comprehensive Guide
Essential oils should never be used directly in the eyes, but these external methods may lend a hand in tackling some common issues.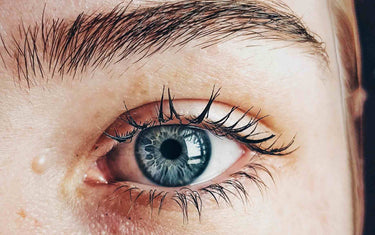 Our eyes are very delicate, so it's not uncommon to experience issues with them now and again.
While there are plenty of medically certified ointments out there, many of us prefer to employ a well-trusted home remedy before rushing straight to the pharmacy.
Essential oils are one such remedy that has seen increasing popularity for all things eye-related: from soothing irritation to combatting wrinkles.
If you've ever wondered how essential oils could help your optical health, we're providing a comprehensive guide with all your frequently asked questions.
Can essential oils damage eyes?
First of all, placing any essential oil directly in your eyes is ALWAYS a bad idea. Any advice in this guide will strictly relate to external use only in the areas surrounding the eye.
When using essential oils on your face, under any circumstances, always dilute them with a carrier oil first. You should also perform a patch test to ensure you're not allergic to any components in the oil.
Direct application of essential oils in your eye can and will cause damage - so don't do it. There are ways to treat small amounts of essential oil that accidentally end up in your eye (more on this later), but intentional application is a big no-no.
Essential oils for allergies, itchy eyes, and irritation
Seasonal allergies are common in the spring and summer, but that doesn't stop them from being any less annoying when itchiness starts infiltrating our vision.
These two oils are proven powerhouses when it comes to tackling allergies.
Lavender oil
There's nothing quite like the versatility of lavender oil to calm your senses. According to a 2014 study, lavender can prevent allergic inflammation as well as halt the enlargement of mucous cells along the digestive tract.
This, in turn, reduces all symptoms of reactions including unpleasant itchiness, sneezing, and stuffiness. Try using a diffuser to disperse the scent of lavender oil throughout your home.
Peppermint oil
Peppermint essential oil is another known reliever of irritation, with a 2010 review confirming its anti-inflammatory effects.
As it's quite a minty essential oil, it's best combined with a gentler remedy like lemon or lavender when used for itchy eyes. This will prevent them from watering too much while still tackling areas of inflammation.
Topically apply the oil solution with a carrier oil to your temples or diffuse it into the air as needed.
What essential oil helps with dark circles under eyes?
When sleep feels like an endless struggle, finding the best essential oil for eye bags is certainly an appealing solution. Here are a few popular options to choose from.
Geranium oil
Floral geranium oil is packed full of amazing benefits for the skin, including the possible reduction of dark circles.
Thanks to its gentle nature and its skin-tightening abilities, geranium oil can reduce signs of aging as well as promote a more even skin tone with frequent use.
Dilute a few drops of geranium with a carrier oil for your very own essential oil eye cream.
Frankincense oil
The pentacyclic triterpene structure of frankincense oil makes it ideal for boosting the appearance of skin.
In fact, many researchers have coined this structure as "steroid-like" due to its shocking effects. These same benefits can impact undereye bags as well as help eliminate toxins from the skin.
Frankincense's calming scent can also help facilitate better sleep, preventing dark circles from coming back at all.
Cypress oil
Cypress may be a lesser-known essential oil, but its effects against eye bags are certainly worth noting.
With natural skin-tightening properties and the ability to increase blood flow, a few drops of diluted cypress oil under your eyes can help banish eye bags for good.
It's also great for reducing potential signs of sagging around the eye area.
What is the best essential oil for puffy eyes?
Puffy eyes are caused by a build-up of fluid in the surrounding tissue and can occur as a result of excess stress, lack of sleep, or even too much salt consumption. Here are a couple of our favourite oils for remedying them.
Lemon oil
Lemon oil is an astringent, meaning it can naturally improve elasticity in the skin and tighten up its appearance.
When applied to puffy eyes, lemon oil can use these astringent effects to shrink inflamed tissue, leading to a reduction in irritation as well as a smoother look overall.
It's important to only use steam distilled lemon oil on your skin, as cold-pressed oils can have phototoxic effects.
Clove leaf oil
If you have particularly dry skin, astringent oils are best avoided, so clove leaf oil is a good alternative to tackle puffiness without the risk of extra irritation.
Naturally warming, clove oil can boost circulation in the skin and reduce excess fluid retention, leading to the elimination of swelling.
Always use clove leaf oil instead of clove bud oil when applying topically, as clove bud may irritate the skin.
What essential oil is good for dry eyes?
Dry eyes are a stubborn side effect that tends to creep up as you age. Dryness can also be caused by contact lenses, excess screen use, and smoking among other factors.
Tea tree essential oil has been observed for several years as a potential remedy for dry eyes, but more conclusive research is needed.
Many scientists believe the effectiveness of the oil depends on the cause of the dryness. For instance, a 2017 study noted its success in helping to treat blepharitis, but this hasn't been the case for all conditions.
Try applying a small amount of diluted tea tree oil to your under eyes and observe its anti-inflammatory effects over time.
Is there an essential oil for wrinkles around eyes?
Want to banish wrinkles? Essential oils can certainly help with that. Carrier oils, too, have their own set of powerful benefits to eliminate signs of aging.
Using both together has a long history of proven success, and these essential oils are a couple of the best in the game.
Lemon oil
As we mentioned previously, lemon oil is a highly effective astringent with pore-shrinking, skin-tightening abilities.
These effects translate perfectly to the removal of wrinkles, and lemon is a very common ingredient in commercial eye creams for this very reason.
Lemon oil is also packed full of vitamin C and antioxidants, which a 1999 study found could help reduce damage caused by oxidation. Lemon may also help prevent sun damage - another leading cause of premature aging.
Ylang ylang oil
Ylang ylang oil is often referred to as "the flower of flowers", bearing a sweet fragrance that is famously recognised in Chanel No. 5 perfume.
Its strong anti-aging properties are said to derive from active constituents in the oil known as terpenoids, which have been proven to effectively tackle skin issues.
Ylang ylang oil is also a strong antioxidant. One 2015 study showed its ability to rebuild proteins and fats in the skin while simultaneously fighting harmful free radicals.
Can you use essential oils for pink eye?
Essential oils can be used to treat symptoms of pink eye, but never through direct application. Instead, try diffusing these essential oils in water vapour or adding them to a humidifier.
You can also add a few drops to a small bowl of hot water and let the steam gently reach your face.
Some popular essential oils for treating pink eye include:
You can also try using an aromatherapy eye pillow to help treat symptoms in between steam sessions.
How to treat an eye stye with essential oils
Tea tree essential oil is a very popular home remedy for treating styes. With anti-inflammatory, antibacterial, and antifungal properties, here's how to use tea tree oil on a stye.
You will need:
Method:
Mix your tea tree oil and carrier oil together in a small bowl.
Dip your cotton bud/ball into the mixture, being careful not to add too much.
Gently (very gently) hold the mixture on the affected area for 10-15 seconds, being careful to stay as far from your eye as you can.
How to get essential oils out of eyes
Have you ever frantically Googled "accidentally got essential oil in eye" after opening a fresh bottle? It's happened to the best of us, but it's worth taking note of what to do if you do choose to use essential oils around the eye area.
We've broken the process down into three simple steps:
Upon contact with the eyes, immediately rinse out with milk or cream. Water won't work as oils and water don't naturally mix.
Once the burning sensation stops (this should happen straight away), wash away the milk or cream with fresh water.
Pat your face dry with a clean cloth or towel.
And there you have it! Now you know everything there is to know about essential oils and eyecare.
While there may seem like a lot of precautions to keep in mind, the two main rules to follow are: never put the oil in your eye, and always dilute it before use. Once you've done that, feel free to enjoy the benefits of aromatherapy.