18 October 2021 / Caitlin Devlin
How to Make a Rosemary and Lavender Hair Mask for Glossy Hair
This beautiful herbal blend is designed to unlock your hair's natural shine.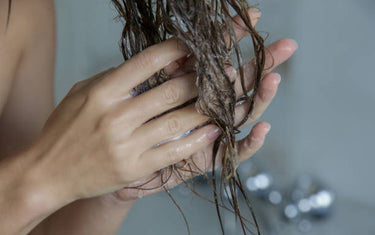 Nourish your scalp and bring out your hair's natural shine with this softening and moisturising homemade hair mask.
The longer your hair is, the more important it becomes to moisturise it properly. Our rosemary and lavender mask acts as food for dry, brassy hair, and uses all-natural ingredients to coax out a natural shine, without assistance from harsh chemicals.
As every head of hair is slightly different, you may find yourself adjusting the quantities of this recipe to best suit your hair needs – just remember to try and keep the ratio of oils to other ingredients roughly consistent.
Learn more about how rosemary oil benefits your hair.
How to make a lavender and rosemary hair mask
Ingredients:
1 very ripe banana
2 tbsp used rosemary tea leaves (you can also use brewed rosemary tea for a more watery consistency)
2 tbsp oats (or replace with oat milk for a more watery consistency)
1 tsp honey
5 drops Lavender Essential Oil
5 drops Rosemary Essential Oil
OR 10 drops of Hair Health Essential Oil Blend
Method:
Mix all of the ingredients together using a bullet or stick blender. Do not hand-mix – the banana must blend completely smoothly in order for the mask to wash out easily.
How to use:
Apply to damp hair. If you have made your mask with brewed tea and oat milk, you also have the option to apply it to dry, clean hair.
Leave on for at least 30mins. You can leave the mask on for much longer than this if you wish – it depends on your hair type and the results you want to achieve.
Rinse off and enjoy soft, nourished hair.
Feeling lazy? Why not try our pre made
rosemary oil for hair
blend that you can used straight out of the bottle.
{ let idx = null; product.variants.forEach((v, i) => { if (v.featured_image && v.featured_image.id == $event.detail) { idx = i; } }); if (idx !== null) swiper.slideTo(idx, 0); }" x-init="() => { if (variants.length > 1) { const images = product.variants.map(v => { if (v.featured_image) { return `
`; } }) appendSlides(images); } else { if (product.featured_image) { appendSlides(`
`); } } }" >
{ if (visible && product == e.detail.data) return; ready = false; const articleTop = document.querySelector('[data-article]').getBoundingClientRect().top + window.scrollY; $nextTick(() => { product = e.detail.data; selected = product.variants[0].id; ready = true; setTimeout(() => { top = e.detail.target.getBoundingClientRect().top + window.scrollY - articleTop; show(); }, 10) }) }" @scroll.window="close()" >