28 June 2023 / Laura Garvin Gomez
How to Make Wax Melts to Sell
Master the art of crafting and selling irresistible wax melts with our expert guide to create high-quality, in-demand products that will captivate customers and boost your business.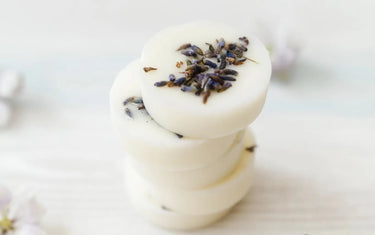 There's a lot of love and passion that goes into making your own candles and wax melts at home, and you could also go one step further and start selling them online.
It can be extremely rewarding, although before you get started on running a wax melt business from home, there are a few things you need to be aware of so you can make the most of your new venture. Here we explain how to make wax melts to sell, including some of the pros and cons and decoration tips that could help to take your creativity to the next level.
What are the pros of selling wax melts?
If you want to sell wax melts, it's helpful to be aware of the pros of starting a home-based business. Starting with the positives, the main pros of selling wax melts are:
Low cost: You don't have to spend a lot of money on the materials or packaging needed to sell wax melts. Everything can be done at home, so you don't need to set up in an office or retail space, reducing the financial risk involved.
You're in control: Selling wax melts at home enables you to spend as much or as little time as you wish on the business. So, if you work or have a family, you can focus on it in your spare time and set a schedule that works for you.
Creative freedom: The wax melts you sell can be as decorative or simple as you want, as you decide how creative you want to be. If you are a creative soul, then you could try out new fragrances and designs that you like and that will appeal to customers.
Build a customer base: When you start to sell wax melts, it's exciting to build a customer base of clients who enjoy your hard work. You'll build new relationships and friendships along the way and can offer a more personalised service, unlike the larger companies selling similar products.
What are the cons of selling wax melts?
Whilst selling wax melts is largely a positive venture, there are some cons to consider too:
Storage space: Depending on how well the business is going and the amount of time you commit, it may become difficult to find space for all the wax, fragrances, dyes, decorations and packaging involved. Try to create a dedicated workspace and ensure everything is well organised and not mixed in with household items, so you have a clear separation between the two.
Smaller resources: As a small business, you may not have the same level of marketing or distribution compared to large brands, which can be frustrating. The key is to start small and not to overstretch yourself and only to commit to what you are comfortable with.
Dealing with distractions: Running a home-based business can mean you also have to deal with distractions such as pets, children and other responsibilities. Try to create a clear separation between home life and the business and set aside time when you can focus purely on the wax melts without distraction.
How to make wax melts to sell
Before you learn how to make wax melts to sell, check that you are stocked up with the right ingredients:
Candle wax
Candle dye (optional)
Clamshell moulds or silicone ice cube trays
Double boiler (you can make your own)
Stirring utensil for the wax
Pouring jug
Weighing scales
Thermometer
Steps on how to make wax melts to sell
You can use the steps below to learn how to make wax melts that you can sell:
Prepare the wax: Fill a medium-sized pan with water and place it onto the hob, turn on the heat and allow the water to simmer. Meanwhile, weigh 450g of wax and place it into a heat-proof container that can fit into the pot, so the base sits above the water without touching it.
Blend in the oil: Remove the wax from the cooker once it has melted and reached a temperature of 70°C. Add in 10g of essential oil or fragrance oil (the wax supplier may provide recommendations on how much to use) and slowly mix into the wax.
Pour in the colouring: You'll also likely be adding colour to the mixture and once the oil has been fully blended, add in the recommended amount of dye to the mixture and slowly stir it in until there are no visible colour streaks.
Pour the wax into the moulds: The easiest place to start when you decide to sell wax melt is to use clam shell moulds, with a standard-sized mould holding around 70g of wax. If you are not adding any further decoration to the melt, you can leave the wax to harden and cure.
Embed objects into the melt: Some people may want to dress their melt by embedding objects into the wax. This can be things such as dried flowers or herbs, which needs to be done before the melt cools. Cut and shape the items to the appropriate size and carefully position them in the wax whilst avoiding touching it with your bare hands as it will still be very hot.
Add a little glitter: Another option for decorating your wax melts is to add some glitter sprinkles to the wax before you pour the wax into the mould. It's an easy and fun way to create an eye-catching design on the melt without having to get involved with complex crafting techniques, which is ideal if you are making them for the first time. 
Some people use more than one dye colour for their wax melts to create a marble effect finish. This can create an eye-pleasing effect and if you are tempted to try it, plan the colours so they will complement each other once blended. 
Once you learn how to make wax melts to sell it can quickly become a rewarding and profitable venture. Before you start, weigh up the pros and cons to see if it will be a good fit, and if you decide to start your own business, try not to stretch yourself too thinly in terms of the time, energy and money you put into it. Selling wax melts can be a great way to express yourself creatively, so the most important thing of all is to make sure that you enjoy what you are doing.