30 June 2023 / Laura Garvin Gomez
How to Make Soy Wax Melts
Discover the art of crafting homemade soy wax melts and fill your space with captivating aromas using our expert tips and easy-to-follow tutorials.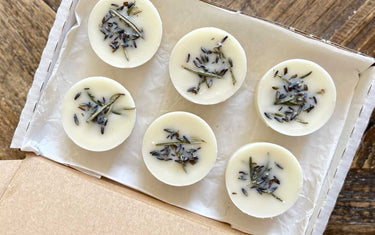 For anyone looking for a natural way to scent your home, then soy wax melts offer the perfect solution.
Soy wax is 100% natural because it does not contain any additional chemicals, so you can burn the melts without having to worry about polluting the air or your body.
If you want to learn how to make soy wax melts, you won't need any candle making experience, as the process couldn't be easier. Use our guide below and follow the step-by-step instructions so you can enjoy your favourite essential oil or fragrance oil in a new and exciting way.  
What are soy wax melts?
Soy wax melts are wax melts that are made from soy wax. There are many different types of wax melts, with gel wax melts, beeswax wax melts and palm wax melts being some of the natural options available.
Soy wax melts are one of the most popular varieties, as the wax is not expensive to buy, whilst it is also eco-friendly, and when purchased from a good supplier it offers many hours of burn time.
Some people also make soy wax melts to give away as small gifts, as you can decorate them with embeds such as flowers or even add some glitter for a little extra sparkle. There is even the possibility of making soy wax melts to sell, which can be a good way to make some extra money.
How to make soy wax melts
You don't need many ingredients to make soy wax melts. Check off the list below to ensure that you have everything you need before you get started:
Soy wax flakes (300g)
Colour dye (optional)
Silicone moulds or silicone ice cube trays (clamshells are ideal for beginners)
Double boiler
Stirring utensil
Steps on how to make soy wax melts
Follow the steps below to start making your soy wax melts:
Prepare the wax: It's always helpful to work from a clean, clear space in the kitchen, so make sure you have enough room to do everything you need. Next, weigh 300g of soy wax and set aside.
Melt the wax: Now it's time to create your double boiler. Take a medium-sized pot and place it onto the cooker. Pour about 2 inches of water into the pot and turn on the heat so the water starts to simmer. Place a heat-resistant container that fits neatly onto the rim of the pot, so the base is just above the water but not touching it. Add the wax into the container and leave the heat on low, gradually stirring as the wax melts.
Add the colour dye: If you want to add some colour, once the wax has fully melted, remove the pot from the cooker and let it cool for a couple of minutes. If the dye does not offer instructions on how much to use, add it slowly to the melted wax little by little, stirring each time until you are happy with the tone.
Add the fragrance: You should use a fragrance ratio of 10%, which means for 300g of wax you add 10g of essential or fragrance oils. Pour this into the mixture and stir.
Pour into the mould: The soy wax mixture is now ready, so you can carefully pour it into your moulds. They should take around 3-4 hours to cool and harden.
Remove from the mould: Once the soy wax has hardened, you can remove them from their moulds. Give the melts 24-48 hours to cure so the fragrance spreads evenly in the wax and then they are ready to use.
You probably won't be using all your soy wax melts in one go, so place the melts you are not using in a cool, dry, dark space away from direct and indirect heat sources, preferably inside a plastic container so they do not lose their fragrance.
How do I use soy wax melts?
Using soy wax melts is easy and you only need an oil or electric burner to enjoy their wonderful fragrance.
Simply add 1-2 melts to the burner (depending on the size of the tray and how large the room is) and turn on the heat source. The wax will then slowly start to melt and release the fragrance.
After turning off the heat source the wax will cool and harden and will be ready to use whenever you want to turn on the burner.
Once you know how to make wax melts with soy wax you may get the creative bug and want to try your hand and other types of wax, or maybe try your hand at candle making. It's a fun pastime that allows you to learn a new skill, whilst enjoying the aromatherapeutic benefits that can come with burning essential oils. Always take the necessary safety precautions when handling undiluted essential oils and hot wax and carry out a patch test if you are unsure about experiencing an allergic reaction.