29 May 2023 / Laura Garvin Gomez
How to Make a Reed Diffuser
Unleash the power of fragrance as we unveil the secrets to crafting your very own reed diffuser, transforming any room into a captivating haven of delightful scents.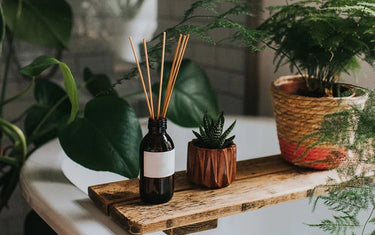 If you are looking for an easy, natural way to fragrance your home, then reed diffusers could be the answer.
Adding a refreshing aroma can transform any room into a vision of relaxation and comfort, whether it's helping you to sleep at night or giving you a positive perspective first thing in the morning.
Not only are they easy to make, but you don't have to spend much money to get started, so here we show you how to make reed diffusers that you can enjoy in any room in your home.
What is a reed diffuser?
A reed diffuser is a natural diffuser that does not use electricity or heat sources to release its fragrance. Instead, rattan, bamboo or fibre reeds are placed into a small glass bottle that contains carrier oils and essential oils, soaking up the liquid to emit a pleasant aroma into the room.

How do you use a reed diffuser?
Not only are reed diffusers easy to make, but they are also easy to use. Once the reeds have been placed into the oil mix and left to soak for a few hours, they can be flipped around so the saturated ends are in the air, allowing the fragrances to be released.
Place your reed diffuser in a relatively busy part of your home to enjoy the fragrance, and keep it away from heat sources or open windows, as they tend to reduce the power of the scent throw.
What are the benefits of reed diffusers?
If you are unsure about whether a reed diffuser is for you, take a look at some of the benefits it could bring to your home:
Improves mind and body: When used with essential oils, reed diffusers can offer a host of aromatherapy benefits that aid your mind and body. Lavender oil, for example, produces a calming effect, whilst citrus oils like lemon could improve your energy levels.
Saves money: Reed diffusers are a cheaper alternative to electric diffusers and can last for several months. They are ideal for small and large spaces and release a consistent, pleasant fragrance that everyone can enjoy.
Low maintenance: Once you set up a reed diffuser, the only thing you need to remember is to regularly flip the reeds and occasionally change the oil. They are extremely low maintenance and can be left unattended without any concerns.
Stylish and elegant: You'll love the fragrance released by a reed diffuser and the wonderful aesthetic it adds to the space. Whether it's in the hallway, living room, bathroom or anywhere else, you can easily customise the diffuser to complement your existing décor.
How to make a reed diffuser
If you want to know how to make a reed diffuser with essential oils, make sure you have the following ingredients before you get started:
Reed diffuser bottle (or small glass bottle with a narrow neck)
125ml grapeseed carrier oil
3-5 rattan skewers (bamboo skewers are also fine)
Your preferred essential oil (30 drops)
When you have everything ready use the instructions below:
Clean the reed diffuser bottle with warm, soapy water, before leaving it to air dry.
Add the carrier oil to the bottle, followed by the essential oil.
Cut the pointy end off each reed and place one into the bottle, before slowly stirring the mixture.
Place the rest of the skewers into the bottle.
Leave the skewers to rest for a few hours, and then take them out and turn upside down in the bottle. The unscented ends should be placed into the bottle, so the scent can be released into the air.
Ideally, you should flip the reeds at least once a week to refresh the fragrance, so you can enjoy a stronger and longer-lasting scent in your home.
What is the best carrier oil for reed diffusers?
The best carrier oil for reed diffusers is down to personal choice, although there are few things to factor into your decision:
Choose a carrier oil that is thin enough to travel up through the reeds without too much restriction. It should be liquid at room temperature, so avoid using jojoba oil or unrefined coconut.
The carrier oil should not have a strong fragrance that interferes with the scent of the essential/fragrance oil. Neutral carrier oils tend to give the best results.
Some carrier oils are also coloured, so if the glass bottle is transparent, think about how it will look in the room or space against the existing décor.
Whether you are using an essential oil or fragrance oil, you should always dilute it with a carrier oil, as they are highly concentrated, and the fragrance can feel too strong.
Can I make a reed diffuser with fragrance oils?
If you want to know how to make a reed diffuser with fragrance oil, you can follow the instructions above and simply swap the essential oil with your preferred fragrance oil.
Whilst fragrance oils are not able to provide the same therapeutic benefits as essential oils, they can last a little longer and produce a wonderful scent for you to enjoy. Essential oils are extracted from natural sources, so this might also be something you want to consider.
Now that we've shown you how to make diffusers with reeds and essential oils, you can start to fill your home with all kinds of wonderful fragrances. So, whether you're new to essential oils or are a seasoned pro, this gives you an exciting new way to transform the ambiance in an instant. Always take care when handling essential oils due to their high concentration levels, and keep the diffuser out of the reach of children and pets at all times.